2 Things We Leanred About Auburn Football in Win Over Vanderbilt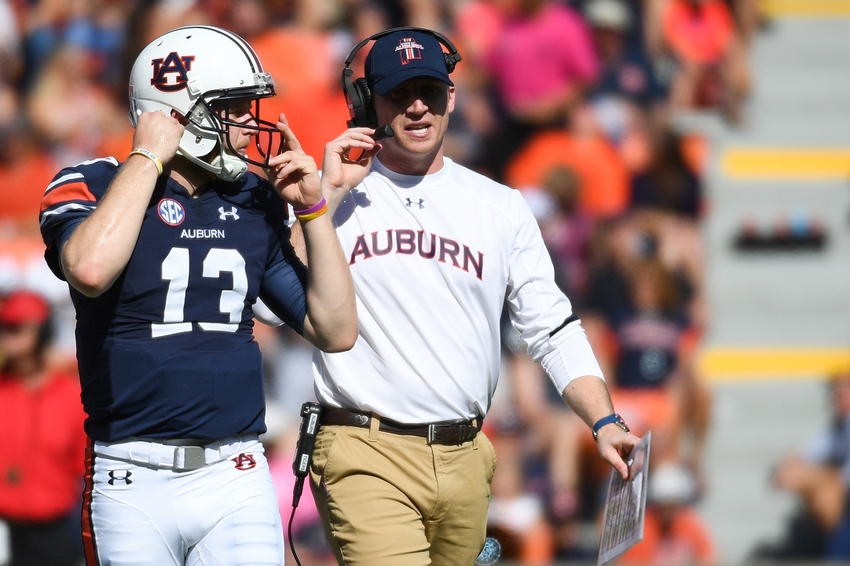 Auburn football didn't play its best game Saturday, but they found a way to come away victorious regardless.
It wasn't pretty, but Auburn football kept things moving by holding on to be Vanderbilt 23-16 Saturday morning.
Vanderbilt is a much better team now than they were at the beginning of the season, but there is still no way they should have hung around with Auburn.
However, I think this game will end up being good for Auburn. Sometimes a team needs to face some unexpected adversity to see what they're made of.
Good teams find ways to win football games even when they don't play their best.
Auburn started the game without their best quarterback in Sean White.
You figured Auburn football could find enough offense with John Franklin III to beat Vanderbilt, but after finding themselves down 13-10 at halftime a change had to be made.
We saw two major things happen in the second half of this game that carried Auburn to victory.
First, we learned that Sean White is the unquestioned leader of this offense.
After splitting quarterback duties with Jeremy Johnson last year, and then still having to fight for his job this offseason, you still didn't feel like Sean White was the guy.
The fact that he wasn't 100 percent, but asked the coaches to put him in anyway when the offenses was struggling shows his toughness and leadership.
The fact that the coaches trusted a 75 percent Sean White over Franklin shows just how wide the gap is at quarterback.
Sean White is our quarterback, so get used to it; and after what he did Saturday he's now the leader of this team.
Secondly, the defense stepped up when it had to.
Things were not pretty in the first half for the Auburn defense. You could tell they thought they could just go through the motions and dominate Vanderbilt.
That wasn't the case as they got pushed around by Vanderbilt's offensive line in the first half.
They have up 13 first half points to a team that only averages 20 points a game.
In the second half they proved that they're still a great defense by shutting down Vanderbilt.
They gave up just a field goal after halftime, forced three punts and allowed just 125 total yards.
That after giving up 216 yards and 13 points in the first half.
Vanderbilt's offense is bad, but I'm still proud of the way the defense stepped up when they had to in this game.
In this game we learned that Sean White is the leader of this team, and our defense is capable of getting big stops when we need them.
Those two reasons are why we escaped with a win Saturday, and why we have a chance to win the SEC.
War Eagle!
This article originally appeared on