10 Things USC Football Fans Can Be Thankful For In 2016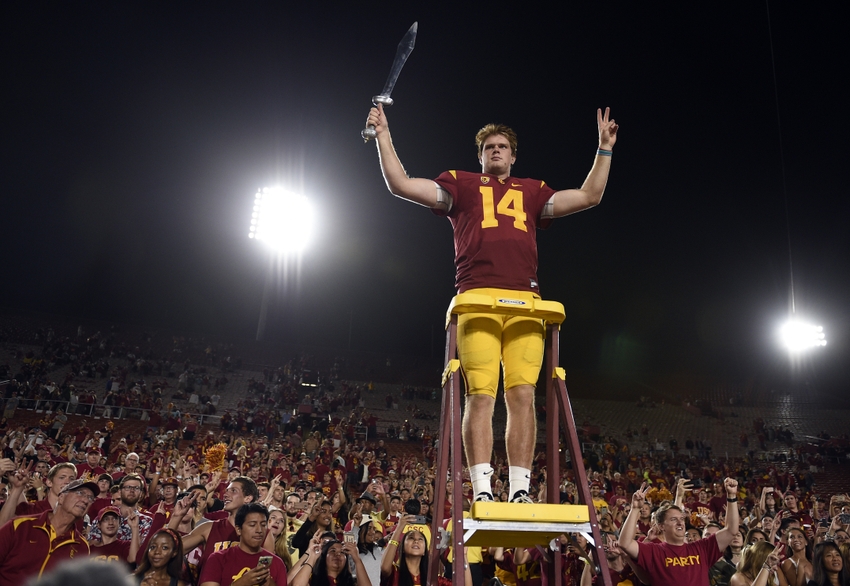 It has been an up and down 2016 season for USC football, but thanks to a seven-game winning streak, there is plenty to be thankful for this Thanksgiving.
The holiday season begins with Thanksgiving, a time which seems to fit Clay Helton's motto of "Faith, Family, Football" to a tee.
So, of course, now is the time to take stock of all the things there are to be thankful of as the USC football season nears it's end.
So without further ado, here's ten things for USC football fans to be thankful for in 2016…
1. Scramblin' Sam Darnold
ESPN's Kyle Bonagura probably put it best this week with a column entitled, "Thanks to Sam Darnold, USC football is fun again."
Darnold's play in 2016 has been nothing short of magical, with daring escapes from the pocket, a big arm and a bold and infectious confidence which has given USC's offense new life.
The Trojan quarterback leads all freshmen with a passer rating of 162.38 — that mark is good for eight in the country among all quarterbacks. And that's not the only statistic Darnold owns for first year signal callers. He boasts the highest completion rating and most touchdowns of that group as well.
USC's change of fortune this season can be directly related to the elevation of Darnold to starter at the end of September. And since he is only a redshirt freshman, USC fans can look forward to a whole lot more from No. 14. Be thankful for that.
2. Knowing Adoree' Jackson
Future All-American, Thorpe and Hornung Award finalist and three-way star Adoree' Jackson has been nothing short of spectacular in 2016.
Granted, Jackson had been something special in 2014 and 2015, but there were no guarantees that his junior season could possibly live up to expectations. It has.
Jackson leads the Pac-12 with four interceptions, nine pass break ups, 13 passes defended, a kick return average of 28.3 yards, a punt return average of 14.75 and two special teams touchdowns. He's also gained 37 yards on four rushing attempts.
And while USC's defense has improved immeasurably since the beginning of the season, Jackson has been the one constant from Week 1 to now. He was exceptional shutting down Calvin Ridley against Alabama and more recently nabbed two interceptions to seal the Trojans' upset against Washington.
So give Jackson his due praise now, because a future in the NFL is calling and it'll be a long while until Trojan fans see another player of his once-in-a-generation talent in cardinal and gold again.
3. Clancy Pendergast
USC head coach Clay Helton doesn't mince words when it comes to how much he values his defensive coordinator.
"Every day I got to bed and thank God for three things: My wife, my children and Clancy Pendergast," Helton said.
When you put it that way, it's easy to see why Helton opted to part ways with Justin Wilcox at the end of the 2015 season, putting all his eggs in the Pendergast basket. After a rough September, that faith in Pendergast has paid off in spades.
It took a month for the Trojans to find their feet, but since the start of October no offense has been able to unlock USC's defense. During the seven-game winning streak, the defense has averaged a defensive percentile performance of 84 percent, per Football Study Hall, including a near-perfect 99th percentile performance against Washington.
The Trojan defense now ranks 15th nationally in defensive S&P+, an opponent adjusted advanced metric.
As much as USC's offense has transformed since Sam Darnold took the reins, the Trojan defense has been just as key to the seven-game win streak, holding opposing teams to 24 points or less in each of those wins.
4. Running Back Depth
At the start of the 2016 season, USC's embarrassment of riches at running back produced a conundrum.
How would the Trojans balance the use of the veteran all-around back Justin Davis and home run-hitting Ronald Jones II? Where did up-and-coming runner Aca'Cedric Ware fit in? What about the shifty all-purpose threat Dominic Davis or the impressive freshman Vavae Malepeai? Could they all play a role?
The short answer is no. But as luck would have it, the injury bug chose the running back group as its victim in 2016, giving USC fans good reason to be thankful for such a full stable.
The Trojans have had three backs eclipse the 100-yard mark this season.
First it was Davis who held the reins for the first half of the season while Jones appeared to be slowed by a rib bruise. When Davis sprained his ankle against Colorado, Ware came through with a big performance against Arizona then Jones made his mark by rushing for 223 yards against Cal.
When Ware suffered his own ankle injury, Jones carried the load against Oregon, supplemented by the other Davis.
USC has always had a back ready to pick up the slack this year. Another reason to be thankful.
5. Big Kenechi Udeze
There was reason to be optimistic about Kenechi Udeze's hiring. After all, the former All-American coached the defensive line to their best performance of the season ahead of the 2015 Holiday Bowl.
Still, Udeze had no experience as a full-time assistant coach and was a late, seemingly last-choice hire for the Trojans at a critical position.
Thankfully, everything worked out with Udeze, who has his defensive line unit exceeding expectations in nearly every way.
The improvement of Rasheem Green is undeniable under Udeze while back ups like Josh Fatu and Christian Rector have transformed into reliable fill-ins. Meanwhile, Utah transfer Stevie Tu'ikolovatu has only gotten better week to week.
It's not an exaggeration to call the progress and performance of the defensive front as the single most important factor in USC's season-defining upset over Washington.
Clay Helton made a bold move, putting his defensive line in the hands of a rookie coach, but it has paid off, thankfully.
6. Tight End Touchdowns
There are few things more gratifying than seeing a 6-foot-4, 240-pound human being going up at full stretch to catch a football. That is what tight end Daniel Imatorbhebhe has been treating USC fans to with regularity in 2016.
The Florida transfer had just one catch in USC's first five games, but since catching a touchdown against Colorado, Imatorbhebhe has become an integral piece in the Trojan passing game.
Imatorbhebhe now has 14 total catches on the year with four touchdowns to his name. Those receptions include multiple diving completions in the endzone and an impressive juggling grab worthy of the highlight reel.
Of course, Imatorbhebhe isn't the only weapon USC made use of at the tight end position. Tyler Petite has added ten catches for 156 yards and two touchdowns. The veteran Taylor McNamara is also in the double-digits this season with ten catches for 93 yards and a touchdown.
USC's willingness to target the tight end this season has been a change in course from previous campaigns when the position seemed all but forgotten. Now, the the Trojans are giving opposing defenses nightmare match ups to worry about.
7. Standout Seniors
Thanks to sanctions, it has been awhile since USC had a senior class with so many players capable of contributing in their final season of eligibility. Undoubtedly, the 2016 senior class is a special bunch. Most interestingly, with a few exceptions, most of the group saved the best for last, only becoming major contributors in their final go-around.
On offense, Justin Davis led the Trojan rushing attack, averaging 5.62 yards per carry, before an ankle sprain sidelined him. Senior offensive linemen Zach Banner and Chad Wheeler have helped clear the way up front, as has tight end Taylor McNamara.
Darreus Rogers has established himself as USC's most consistent receiving option, second on the team with 47 receptions for 605 yards and three touchdowns. Impressively, Rogers has a perfect conversion rating on third down, with all nine of his catches on that key down picking up the first down.
Beyond the starters, De'Quan Hampton made his mark by catching two touchdowns against UCLA, proving that it's never too late to make an impact.
It's been the same on the defensive side of the ball, with seniors providing the core of the defense. Defensive lineman Stevie Tu'ikolovatu has been one of the most important additions of 2016 anchoring the defensive line. Michael Hutchings emerged as a surprise starter at inside linebacker and captain and has more than earned both roles. Meanwhile, Leon McQuay III has finally lived up to his billing in the secondary, providing a steady presence at nickel and safety.
So ahead of Senior Day at the Coliseum, it's right to be extra thankful for a group that has been pivotal to USC's success in 2016.
8. Perfect Days
A "Perfect Day" involves USC winning while both UCLA and Notre Dame lose. And there have been a lot of them in 2016.
That alone is a surprise in and of itself considering how the season started for USC. While UCLA and Notre Dame started a disappointing 2-2 and 1-3 respectively, things were just as bad for the Trojans in September.
Thankfully, things turned around in a big way for USC in October. The same cannot be said of the Bruins and Irish.
On October 8, the Trojans got their first Perfect Day, beating Colorado while UCLA lost to Arizona State and Notre Dame lost to NC State. The very next weekend, USC bested Arizona, UCLA fell to Washington State and Notre Dame was beaten by Stanford.
The first week of November supplied a third Perfect Weekend as the Trojans topped Oregon, the Bruins lost to Colorado and the Irish lost to Navy.
Finally, this past weekend, USC blew out UCLA and Virginia Tech stunned Notre Dame for a fourth Perfect Day in 2016.
The best part of that wealth of Perfect Days is how clearly it put the Trojans seven-game win streak in perspective — things could have turned out as badly for USC as it has for UCLA and Notre Dame. Thankfully it didn't.
9. College Football Playoff Committee Rankings
USC has two roads to the Rose Bowl. The first is a traditional route — one which requires Colorado to lose to Utah this weekend, thereby sending USC to the Pac-12 title as South division champions. From there, the Trojans would simply have to beat the winner of the north to win the conference and earn a bowl berth.
There is another viable way for USC to make their way back to Pasadena in January, one which will depend on the College Football Playoff rankings. If Colorado downs Utah to become the South champion while Washington beats Washington State to represent the Pac-12 North in the conference title game, the Huskies could earn a berth in the College Football Playoff as a one-loss Pac-12 champion.
In that scenario, the Rose Bowl would have an open bid to give to the highest-ranked Pac-12 team not in the playoff. As of right now, USC and Colorado are separated by just three spots in the College Football Playoff rankings with the new poll set to arrive Tuesday night.
That is notable because USC's rise in the rankings appears directly related to the committee's philosophy of examining the whole resume of a team. The committee ranked the Trojans No. 20 before the AP and coaches polls had USC ranked at all.
In a universe where the playoff rankings didn't exist, it's a safe bet that USC would be ranked significantly lower in both the AP and the coaches polls, who appear to have course corrected to have their ranking align more closely with the CFP.
So be thankful for the playoff committee and the "body of work" philosophy of voting, it might get the Trojans to the Rose Bowl.
10. Clay Helton Coming Good
The biggest concern around USC going into 2016 surrounded the head coach. Clay Helton went 0-2 in 2015 after being hired on as the full-time head coach. Things didn't get any better across his next four games in 2016. Losing three games in the month of September seemed to validate all the skepticism about the hire in the first place.
After seven-straight victories, including quality wins over Colorado and Washington, Helton is having the last laugh. That's a great thing for USC, as the whole point of the Helton hire was to bring stability to the program. A Helton who has guided the Trojans to such consistent success over the past two months now has the opportunity to truly settle the waters around USC.
The important thing about the Trojans' rise under Helton is that it has been on his terms. He got the defensive coordinator he wanted and then was willing to wait for the payoff while that Clancy Pendergast defense worked out the kinks. He promoted the offensive coordinator he wanted and had faith that Tee Martin could learn on the job. He made the tough decision to sideline Max Browne and make the switch to Sam Darnold, a choice which has more than paid off.
Helton still has a long way to prove that he can be a championship level head coach, but in 2016 he at least showed that the Trojans can find success under his leadership. That deserves thanks.
This article originally appeared on