Georgia's Hand-Drawn Portraits Raise the Bar on Recruiting Mail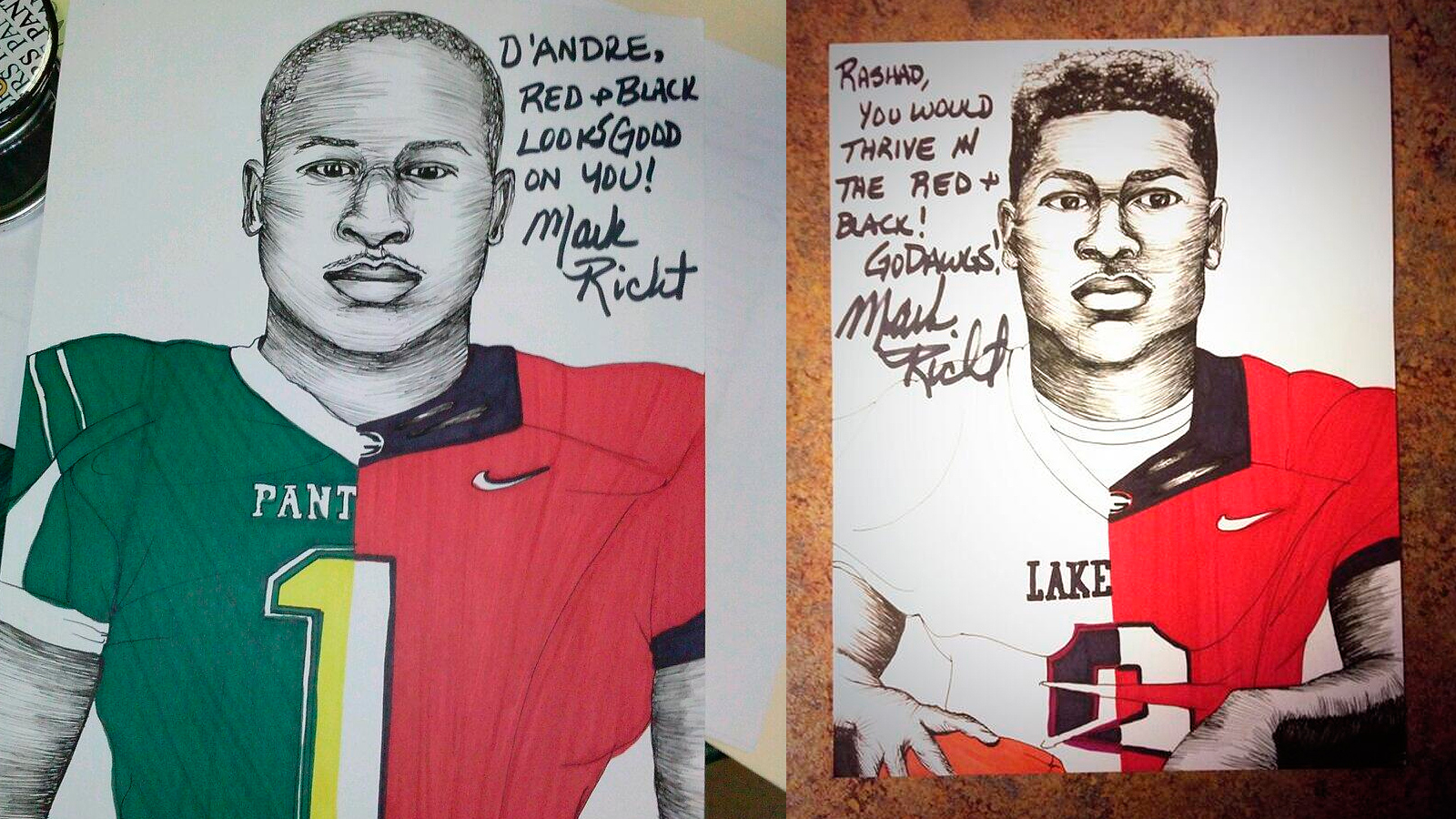 Why go down to the carnival and get your portrait done when you can just start getting recruited by the University of Georgia?
Several prospective Bulldog recruits tweeted photos of mailers sent this week with hand-drawn images of the recruit half in their high school uniform and half in a Georgia jersey. An original and eye-catching move considering the mounds of generic mail these recruits receive.
Now any recruit who chooses a school on the basis of how cool their mailers are is getting bad advice, but it does show a little extra care and creativity and you can bet it will keep Georgia in the minds of these kids. Rashad Roundtree, a four-star safety from Lakeside High in Georgia tweeted that the portrait was the "best mail yet" and that it "really makes an impact."
Is there any doubt this will be copied? And in the world of recruiting, where coaches and programs are always looking to one-up each other, I'm expecting some pretty incredible works of art. I'm talking paintings, comic book covers, heck, maybe even clay sculptures (although I don't believe that would be legal).
If I were a recruiting coordinator, what would I send? Here are some ideas:
Commencement Announcements: For 2014 recruits, send what looks like an invitation to his graduation in 2018. It emphasizes academics and shows the recruit and his family that getting a diploma from the school is just as important as playing football there.
Pride Stickers: I'm not sure if this one is legal, but imagine if Ohio State sent you a Buckeye sticker for your high school helmet or just as a keepsake?
Future Articles: I'd send newspaper clippings or mock internet articles of future games. For instance, let's say I'm Alabama and I am recruiting the nation's number one running back, Sotonye Jamabo, I'd send him a printout of a game story we wrote titled "Jamabo's four touchdowns lifts Tide to Victory," detailing how his once in a lifetime game lead the Tide to victory in the SEC title game. I'd include the names of other top recruits in it so they can envision themselves playing together.