Wisconsin wouldn't have hit a buzzer-beater if not for this egregious flop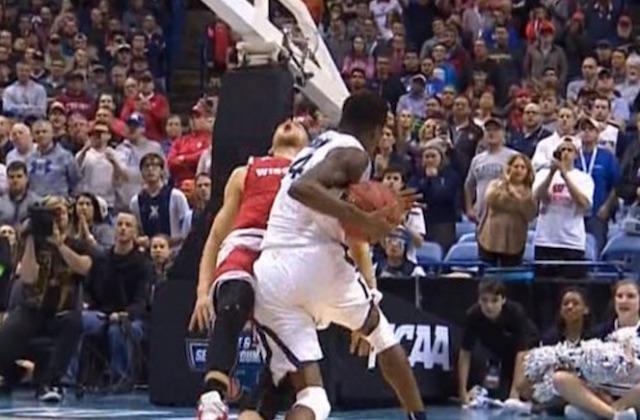 Xavier blew an eight-point lead with five minutes left. The team turned the ball over, missed layups, took bad threes and was unable to defend a Wisconsin inbound and three-pointer with 2.0 seconds remaining that gave the Badgers a buzzer-beating victory.
Brian Anderson with the call, summing up Wisconsin's incredible win #MarchMadness https://t.co/Ic7pdjyEeZ

— March Madness TV (@MarchMadnessTV) March 21, 2016
So, the only people they have to blame for their second-round elimination were the ones in the white jerseys. But, man oh man did the refs ever foil the Musketeers.
With five seconds left and the game tied, Xavier's Edmond Sumner began his drive to the hoop for a potential game-winning shot (or, like in other games this tournament, a miss that's tipped in for a win). As he started his burst, he "ran into" Zak Showalter, who was both moving his feet and falling backward upon contact. It was a flop worthy of the World Cup final. The bad call was worthy of an NFL replay official trying to determine a catch. You can't call a charge there unless it's a push-off or the ball-handler is out of control. That was a garbage call.
R.I.P. random Wisconsin player who got shot pic.twitter.com/VipXvusFDO

— Isaac (@WorldofIsaac) March 21, 2016
Wisconsin took possession, called timeout past halfcourt and won the game on the three. Again, Xavier lost this game by themselves, but the guys in black and white nudged that loss along.