Wisconsin Basketball: Five reasons why the Badgers will win it all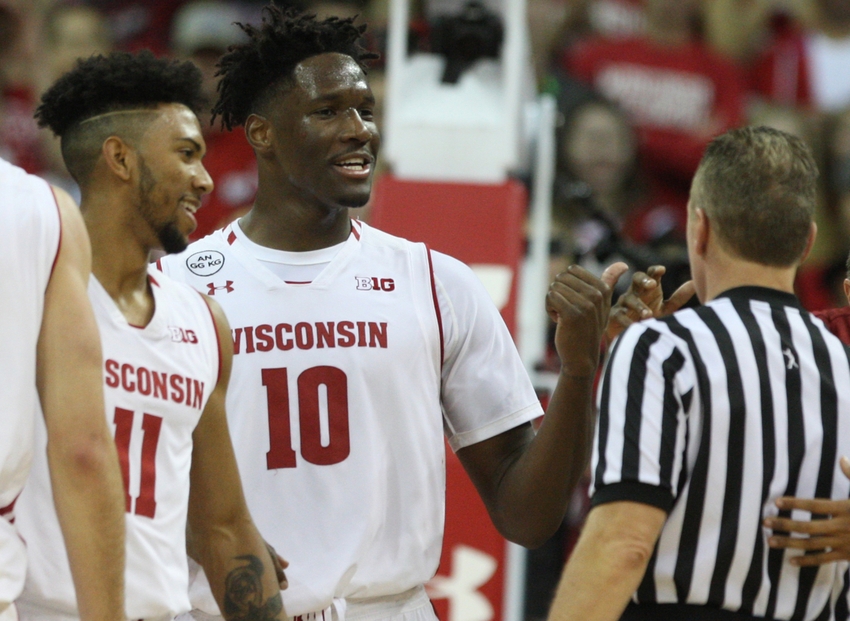 How can the Wisconsin basketball end up champions of the college basketball world come April?
Anything can happen in the NCAA Tournament. These days, it seems like any team seeded one through 10 has a legitimate shot to win the whole thing. I'm not so sure people would be wise to pick that in their brackets, but hey, it's possible.
Wisconsin probably has better chance than a 10-seed though – at least it appears that way right now. After a Sweet 16 appearance last year, and a heartbreaking loss to Notre Dame, the Badgers are back for more.
They've looked great at times, like in their recent wins over Oklahoma and Syracuse. But at other times, they've looked like they did in January of last year, like in their losses to Creighton and North Carolina.
Clearly, they have both the talent and ability to win it all. They just need to put it all together at the right time. Winning six games in a row in March is not an easy task, but here are five reasons why the Badgers will be celebrating a championship come the end of the season.
5. They are one of the most experienced teams in the country
The Badgers' starting five of Bronson Koenig, Zak Showalter, Nigel Hayes, Vitto Brown, and Ethan Happ has combined to appear in 47 NCAA Tournament games.
The duo of Hayes and Koenig were key cogs in back-to-back Final Fours, including the 2014-15 team that took Duke down to the wire in the championship game.
Wisconsin returned every single rotation player from last year's Sweet 16 team, and according to Kerry Miller of BleacherReport.com, Wisconsin returned 99.7 percent of their scoring from last year, the most in college basketball. The Badgers might not be the most talented team in college basketball, but you would be hard-pressed to find a squad that's been around the block as many times as these Badgers.
4. They are as deep as they have ever been
This years Badgers squad currently does not have a single player averaging over 30 minutes per game. Their leader is Bronson Koenig at 28.8, followed by Nigel Hayes at 28.7. They have nine players averaging double digit minutes per game and Charlie Thomas IV isn't far behind as the 10th man, averaging nine minutes per game.
Not only does this mean that the Badgers' best players, Koenig, Hayes, and Ethan Happ, will be fresh for March Madness, but it also means that this bench is legitimately good. Freshman D'Mitrik Trice, younger brother of former Michigan State point guard Travis Trice, is the best true point guard the Badgers have. He also might be their best outside shooter other than Koenig, which will be extremely valuable in March.
Sophomore Khalil Iverson leads the Badgers is blocks and block percentage, which is impressive given that he's only 6'4″. This isn't to say he's some great rim protector, but his off-the-charts athleticism means he can effectively guard four positions on the basketball floor. Think of him as a defensive swiss army knife.
Alex Illikainen has struggled to start the year, and is losing some of his minutes to Thomas. However, Illikainen is versatile for his size (6'9″), and both him and Thomas are capable of stepping out and knocking down the three.
Thomas at 6'9″, 252 pounds is by far Wisconsin's largest presence in the paint, and outside of Happ, might be the Badgers' best rebounder.
And I haven't even mentioned Jordan Hill, who knocked down almost 37 percent of his threes in 20 minutes per game in Big Ten play last season. He gives the Badgers another point guard option and another shooter.
3. Ethan Happ is as good as any big man in the Big 10
The Big Ten is absolutely loaded with big men this year. Between Ethan Happ, Miles Bridges, Thomas Bryant, Caleb Swanigan, and Isaac Haas, the Big Ten has five big men that are probably better than any big in the Big 12 (with all due respect to Johnathan Motley).
As a freshman last year, Happ was just the fourth first year player in the Big Ten since 1993-94 to record 12+ points and 7+ rebounds per game in conference play:
Perhaps more impressively, Happ led the Big Ten in steals as a center. He was the first player in the Big Ten since the 1993-94 season to record 12+ points, 7+ rebounds, and 2+ steals per game (note that the 1993-94 season is as far back as sports-reference.com's stats go, so it is not just some arbitrary cut-off date).
As great as Happ's freshman season was, he's improved thus far during his sophomore season. After a rough start through three games, Happ is averaging 16 points and 10 rebounds per game since. That includes a 24-point, 13-rebound performance against Syracuse.
After taking 85 percent of his shots at the rim last year, and shooting 59 percent on those shots, he has upped those numbers to 96 and 70 percent, respectively, this season.
His rebounding has rocketed up as well. After having a defensive rebounding rate of 23.8 percent last year, he's upped that to 29.5 percent thus far in 2016. His offensive rebounding rate has also jumped from 10 percent to 16 percent.
2. Nigel Hayes will eventually stop shooting so many threes
In 2014-15, arguably the best season in Wisconsin basketball history, Frank Kaminsky and Sam Dekker were the one-two punch for the Badgers.
Then there was Nigel Hayes. Hayes averaged 12 points and six rebounds per game, shot 39.6 percent from three and drilled 54 percent from inside the arc. He was the perfect third scoring option.
When Dekker and Kaminsky sucked the defense in, Hayes was open on the outside for a three. When they needed a post-up with Kaminsky struggling, Hayes could do it. He could take defenders off the dribble too, and his passing led to open threes for Kaminsky, Dekker, Koenig and Josh Gasser.
Needless to say, when Kaminsky graduated and Dekker left for the NBA Draft, the fate of the Badgers fell into Hayes' hands. While he didn't disappoint, averaging 15 points, six rebounds, and three assists per game last season, I think many people imagined him being a bit more efficient than shooting 36 percent from the floor and below 30 percent from three.
He headed into last year as a potential lottery pick in the NBA Draft. Instead, his stock fell to a late-first, early-second round pick and he elected to stay in school for this season. His DraftExpress scouting report read:
If he can re-establish himself as a shooter and make better decisions creating with the ball in his hands, he could help rebound his stock headed towards the 2017 NBA Draft.
Hayes is clearly aware that he needs to become a better shooter to improve his NBA stock. Through the first eight games of this season, 41.3 percent of his shots were from the three-point line, and he was only making 30 percent of them.
Meanwhile, he's shooting almost 66 percent at the rim, where he's clearly more effective for the Badgers. But only 30 percent of his shots are coming from there.
Then, in Saturday's win over Oklahoma, Hayes erupted for 28 points. And only two of his 13 field goal attempts were from three.
The previous two seasons, just 30 percent of Hayes' shots came from three.
You'd have a hard time convincing me that all the threes he is taking isn't because he's trying to improve his NBA Draft stock.
And there's nothing wrong with that. But if they aren't falling, at some point, he has to start taking more shots at the rim. He did so on Saturday, and we saw the results. Him living inside makes the Badgers a whole lot better and makes him more of a threat to score, thus unlocking more of his passing ability.
1. Bronson Koenig has been aggressive
Bronson Koenig is the ideal point guard for the system that Bo Ryan, and now Greg Gard, runs. He barely turns the ball over and is a fantastic three-point shooter, sitting at 37.5 percent for this career.
So when Koenig was asked to shoulder a greater scoring load last season, I, along with many other people, had doubts as to what that would look like. He was fantastic when teamed with guys like Frank Kaminsky and Sam Dekker, but how would he look as one of the primary options? After all, he really was a spot-up shooter on the 2015 Final Four team.
So of course, there were growing pains. He wasn't bad last season, but he shot under 40 percent from the floor, and scored 13 points per game. His 21.1 percent usage rate was just fourth among rotation players. This year, it's as if Gard channeled his inner Mel Gibson from Signs. Fire away, Bronson. Bronson, fire away!
Koenig's usage rate of 26.9 percent is the highest among Badger rotation players, and highest for a Badger point guard since Jordan Taylor in the 2010-11 season. That was the year Taylor single-handedly carried the team to a comeback win over Jared Sullinger and Ohio State. Point being, Taylor was very good.
Koenig's high usage has bitten the Badgers at times, like when he finished 1-of-13 with just two points against North Carolina in the finals at the Maui Invitational. However, he's picked it up the past two games, averaging 18 points per contest on 52.6 percent shooting from three – not to mention, he's taken almost 10 threes per game in that two-game stretch. On the season, he's at 8.4 threes per game.
If Koenig shoots this many threes per game at his near 40 percent clip from last year, that just makes the Badgers that much better. It also takes some of the pressure off of Nigel Hayes and Ethan Happ, and even more importantly, keeps the floor spread.
This article originally appeared on