Wisconsin Basketball: Badgers defeat Marquette in rivalry clash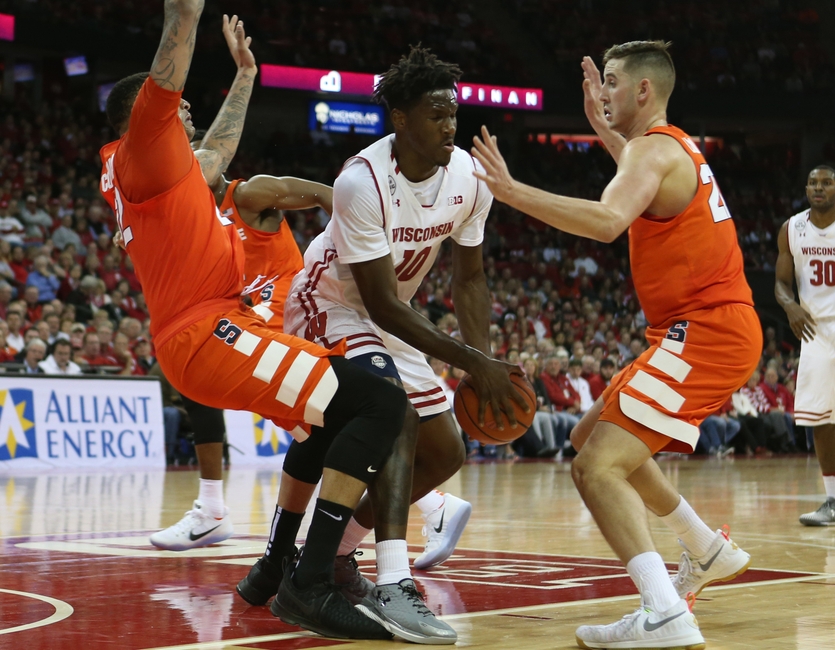 Wisconsin basketball used a second half rally to defeat in-state rival Marquette in Milwaukee.

93

84
Marquette head coach Steve Wojciechowski said his team could earn a "signature" win with a home victory over rival Wisconsin on Saturday afternoon at the Bradley Center. For one half, it looked like the Golden Eagles were on their way to victory.
However, Wisconsin woke up in the second half and used a 15-0 run to blow open a close contest. The Badgers ultimately prevailed, winning 93-84.
Senior Bronson Koenig was excellent with 18 points on an array of big-time shots. Senior Nigel Hayes had 17 points on an efficient 7-of-10 shooting. Sophomore forward Ethan Happ overcame first half foul trouble to finish with 11 points. The Badgers also had a great game from forward Khalil Iverson, who chipped in 16 points – 13 more than his season average.
For the Golden Eagles, it was an opportunity missed. As mentioned, they looked very strong in the opening half, as they hung tough despite turnover issues. They actually led 40-35 at the intermission.
However, the lack of defense and tendency to foul led to Marquette surrendering 58 second-half points. This despite an offensive day that included 47 percent shooting from the field, 45 percent from three, 87 percent from the line and five players in double figures.
Make no mistake, this loss will sting for Marquette. They look to be a tournament type team, but quality home wins against ranked opponents do not come around often. It seemed like the moment got to Marquette a bit, while Wisconsin remained steady and consistent.
What's next for these teams? For the Golden Eagles (7-3), they will wrap up non-conference play with two cupcakes before their conference opener vs. Georgetown. Wisconsin (8-2) will also have a few cupcakes, but a January 9th showdown now looms in Bloomington against the Hoosiers.
More from Busting Brackets
This article originally appeared on