Wisconsin Basketball: Badgers advance to Maui final following 73-57 win over Georgetown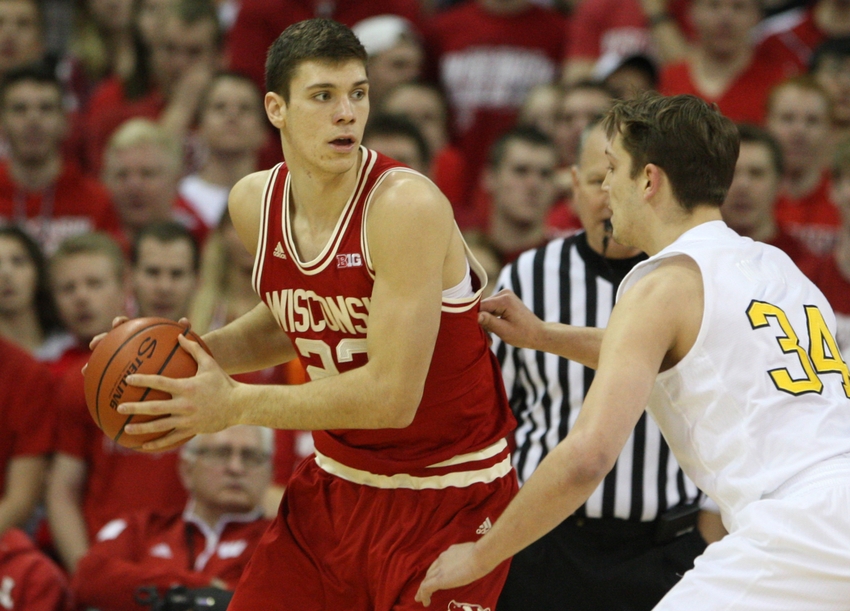 The Wisconsin Badgers are heading to the Maui Invitational championship following a 16-point victory over the Georgetown Hoyas.
Ethan Happ dominated the glass and Bronson Koenig continued his scoring streak Tuesday night as the Wisconsin Badgers coasted to a 73-57 victory over the Georgetown Hoyas in the semifinals of the Maui Invitational Tuesday night.
Happ had a monster game, stuffing the stat sheet with 19 points, 15 rebounds, two blocks and two steals, while Koenig dropped 20+ points for the third time in four games. The Badgers are now 2-0 in the Maui tournament and will face the winner of the Oklahoma State-North Carolina game Wednesday night for the title.
Both the Badgers and Hoyas were coming off games in which they led by 17 points, only to have the opposing teams, Tennessee and Oregon, storm back and make a game of it. This time, neither team was able to get off to that fast of start as the biggest lead of the first half was only seven points, which was held by the Badgers.
After allowing ten straight points to Tennessee in the opener out of halftime, Wisconsin did not let history repeat itself versus Georgetown. The Badgers took the 32-29 halftime advantage and ran with it to start the second half, scoring the first six points and preventing the Hoyas from trimming the deficit lower than six at any point.
Wisconsin had just three players score in double digits, but had eight different players make a field goal, including Khalil Iverson who provided a few highlight finishes off the bench, and contributed ten points as well.
The difference in the game was rebounding. Wisconsin out-rebounded Georgetown 50-21, including 20 on the offensive glass compared to the Hoyas' one. The second chances showed up in the box score for Wisconsin, as they attempted 18 more shot than their opponent.
L.J. Peak led the way with 18 for Georgetown, who now sits at 2-3 and will take on the loser of the Oklahoma State-North Carolina game Wednesday night.
Wisconsin will await the other semifinal game before playing for the trophy Wednesday night at 8:30 pm CT. The Badgers will then have the weekend off before heading home to take on Prairie View A&M next week.
More from Badger of Honor
This article originally appeared on