What Alabama Can Learn from Loss to Dayton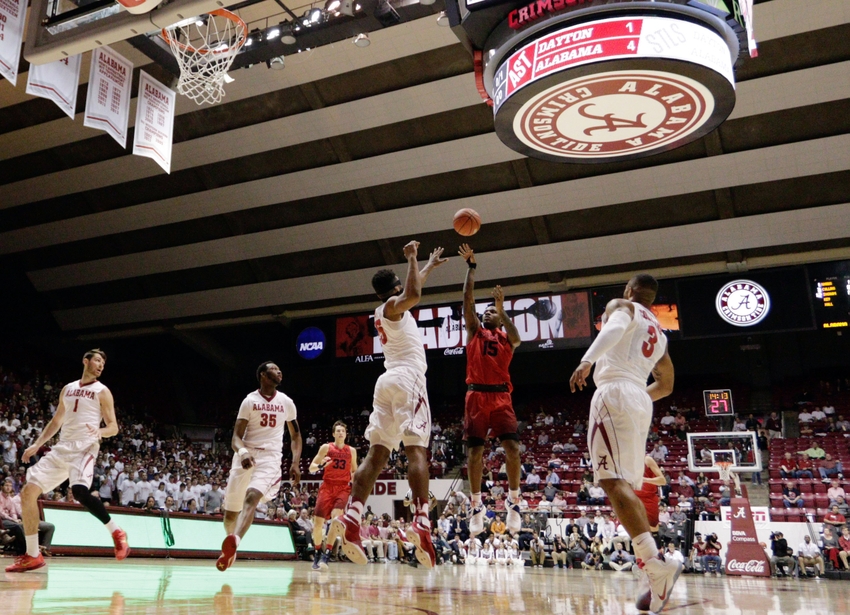 Today, Alabama basketball lost to the Dayton Flyers in a 77-72 finish. The game was entertaining from start to finish, a well-fought contest between two teams with high expectations. Alabama played well until the end, but was unable to keep up with Dayton's scoring in the final minutes.
Alabama fans will note that this game was significantly closer than last year's 80-48 drubbing to the Flyers. This was legitimately a good performance from the Crimson Tide, even if it didn't end in a victory. There is still a lot to build on, though, and this game brought to light many of this team's strengths and weaknesses.
First of all, Alabama easily won the rebounding battle, outpacing Dayton 40-28. Perhaps even more encouragingly, Corban Collins emerged as a go-to player, scoring 15 points and making several key baskets down the stretch. For now, at least, the question of who will succeed Retin Obasohan seems to be answered. Collins' veteran experience and ability to score in multiple ways have established him as a key offensive threat.
However the same shooting woes from last season continued to plague Alabama basketball. The Tide shot 39% from the field (26.1% from 3-point range), a statistic that clearly won't win this team many games. Given that Dayton shot 54.5% for the game, the fact that the game was this close is somewhat surprising. Alabama's shooting shouldn't be this poor for most games (it's still early in the season, after all) but field goal struggles will be something to keep an eye on if this continues.
Collins shot well today, going 6-14 from the field and 2-5 from 3-point range, and his skills could be something to build on. The Crimson Tide have players who are certainly capable of making key shots, so these team percentages should go up as the year continues.
Ultimately, Alabama looked like a team still finding its identity today. There has been a lot of roster turnover from last season, and retooling around players like Collins (and Dazon Ingram to an extent) may take some time. Scoring and defense could be problems for the Tide, but strong rebounding bodes well for the rest of the season. If Corban Collins can emerge as a go-to player to lead this team, the future will be bright.
More from Bama Hammer
This article originally appeared on