Wake Forest Basketball: Will Danny Manning's team avoid the ACC basement?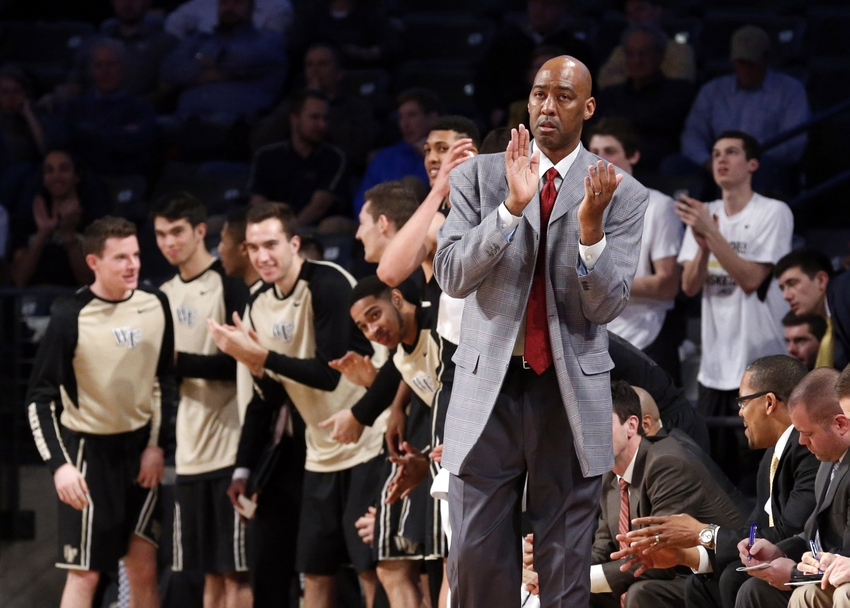 What three questions does Wake Forest basketball need to answer in order to escape the basement of the ACC?
Remember when Wake Forest had forward Tim Duncan in the mid-90s? Or when the Demon Deacons had Chris Paul in the early-to-mid 2000s?
It was a while ago, but Wake Forest is one of the most historic programs in the ACC. They made the Final Four in 1962, reached seven straight NCAA Tournament's in the 90s (1991-97) and earned five straight berths in the Big Dance from 2001-2005.
However, since last making March's grand event in 2010, Wake Forest has become one of the worst teams in the ACC. In four of the last five years, the Demon Deacons have finished under .500, including two lousy records under now-third year head coach Danny Manning.
The former Kansas Jayhawk and NBA talent was hired to bring the program back to its old days, but thus far it hasn't paid off.
To be fair, Manning cannot be judged off of just two years on the job. He has finally reeled in an ESPN top 100 recruit that can make a difference for the program, 2017 shooting guard Chaundee Brown, so maybe the Demon Deacons will see some sort of progress in the years to come.
But Wake Forest fans won't be seeing much of a step forward in 2016-17. The Demon Deacons lost two of their top three scorers, Devin Thomas and Codi Miller-McIntyre, and have just two seniors currently on their roster.
Guard Bryant Crawford, the best returnee, has a shot to make an All-ACC team, but Wake will need Konstantinos Mitoglou, Mitchell Wilbekin, Doral Moore, John Collins and Greg McClinton to also step up.
The Demon Deacons do add a few new pieces to the mix though, as Milwaukee graduate transfer Austin Arians, Charlotte transfer Keyshawn Woods, four-star point guard Brandon Childress, three-star small forward Richard Washington Jr., three-star English center Samuel Japhet-Mathias and two-star power forward Donovan Mitchell make their way to Winston-Salem.
While Wake Forest has a lot of bodies and the Demon Deacons have a nice core group of players for the future (they will likely return 8 of their top 13 players next season), the true development may not be seen in 2016-17. That will be especially true if they are unable to answer these three burning questions.
3. How impactful will Austin Arians be?
With a dearth of capable small forwards, Milwaukee graduate transfer Austin Arians will be an important piece to the puzzle in 2016-17.
Arians, who stands at 6'6″, 230 pounds, has the size and strength to defend on the wing and in the post, and can make plays on the offensive end of the floor.
Last season with Milwaukee, Arians averaged 11.4 points, grabbed 3.8 rebounds and dished out 1.3 assists per game. He shot 40 percent from the field overall, a solid 35 percent from beyond the arc and also finished his free bees (85 percent from the free throw strike).
Even though his production on the offense end will be especially valuable, Arians will also bring leadership to Wake Forest's locker room. He is one of just two seniors currently on the roster and will be the only one starting on opening night.
With the four other starting positions occupied by returnees, Arians is likely to beat out Greg McClinton, Richard Washington Jr. and Donovan Mitchell for that final slot.
Wake Forest is certainly not going to ask Arians to score 11 points a game like he did with the Panthers. But he is going to play a solid chunk of minutes, will need to score 5-to-7 points a night and must play strong defense to keep his starting slot and help Wake Forest win basketball games.
2. Does Wake Forest have enough depth?
The opening night starting five is expected to be Bryant Crawford and Mitchell Wilbekin in the backcourt, Austin Arians on the wing, and John Collins and Konstantinos Mitoglou in the front court.
That leaves Brandon Childress, Keyshawn Woods, Donovan Mitchell, Doral Moore, Greg McClinton, Sam Japhet-Mathias and Rich Washington Jr. to come off the bench.
But how many of those players will Danny Manning truly use?
Childress and Japhet-Mathias (who many have raved about this summer) should receive hefty minutes as four and three-star freshman respectively. Washington also checks in as a three-star recruit and will see time on the wing because of the lack of bodies. It's questionable as to whether Mitchell is ready or not given his status as a two-star freshman.
Meanwhile, Keyshawn Woods could be a key piece off the pine, as a backup guard, while Moore's size at 7'1″ gives the Demon Deacons a different dimension around the basket. McClinton played 11.1 minutes per game last season, so he too could see a boost in minutes depending on how Washington and Mitchell look at small forward.
That should put the Demon Deacons at about 10 deep, however, how many of their backups can truly compete against other second lines in the ACC?
Wake Forest has the bodies, but they could see a serious drop in production, especially when Crawford steps off the floor. The freshman are still learning and Woods is in a new system, so there will definitely be concerns when Manning goes to his bench.
1. Bryant Crawford capable of stardom?
Wake Forest's leading returning scorer from 2015-16 is sophomore guard Bryant Crawford. The 6'3″, 200 pound Silver Springs, MD native is a burgeoning star in the Demon Deacons program (and the ACC in general, for that matter).
Wake Forest Basketball: Demon Deacons get huge recruit in Chaundee Brown
He made our ACC Second Team All-Conference lineup and is ready to take reigns of Wake Forest's team with Devin Thomas gone.
Crawford averaged 13.8 points, 4.4 assists, 3.0 rebounds and 1.7 steals per game last season, making his presence felt in all areas of the game. He only shot 39 percent from the field and 68 percent of his free throws, but he hit 35 percent of his shots from long range.
In order to take a leap in year two, the guard must seriously cut down on his turnovers (3.5 per game in 2015-16). He'll have the ball in his hands even more this year, so making the proper decisions and not playing too fast should be a couple areas to hone in on.
It shouldn't be a massive concern though given that freshman normally make freshman mistakes. Now in year two, Crawford has already gone through ACC play. He has already faced the likes of Duke, North Carolina and Virginia, and played hefty minutes while doing so.
Even though he's not an upperclassmen, Crawford almost certainly will have a better feel for the game in 2016-17.
It's unlikely that the sophomore will single handily carry Wake Forest to victories, but he will prove that he is the face of the program moving forward. And that is just one of the reasons to have faith if you're a Wake Forest fan. Good things could be coming soon even if 2016-17 is another miserable campaign.
This article originally appeared on