Villanova Basketball: Wildcats adjust mid-game, knock off UCF Knights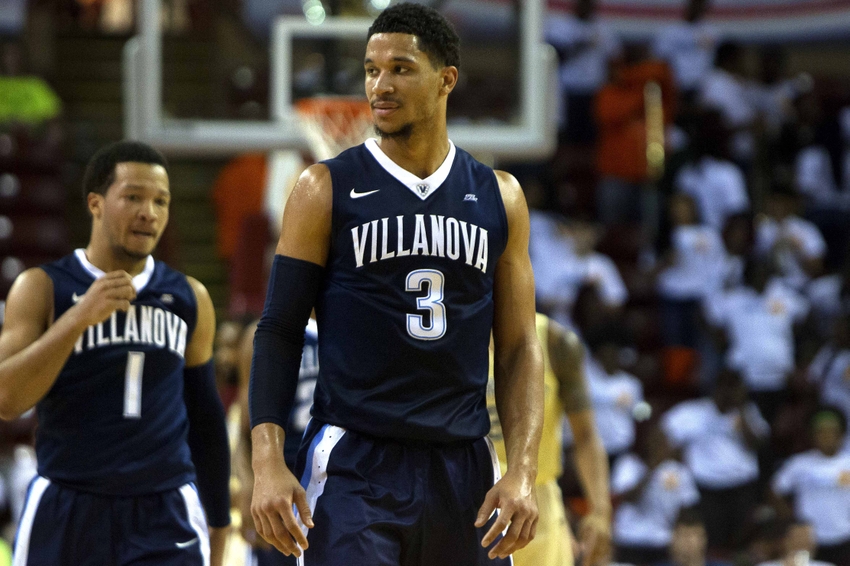 Five players finished in double figures as Villanova basketball beat UCF by double digits.

67

57
The UCF Knights hung around for nearly 30 minutes in Sunday night's Charleston Classic final against the 3rd ranked Villanova Wildcats.
But Johnny Dawkins' team couldn't keep up with the experience, balanced attack and adjustments that the Wildcats made in the second half.
In the end, Villanova defeated UCF, 67-57, to capture three wins in four days and a tournament title.
The Wildcats were led by five players who scored in double figures on Sunday evening. Josh Hart got out to a slow start, but he finished with 15 points on 6-of-11 shooting. Kris Jenkins and Jalen Brunson both finished with 12 points apiece, while Donte DiVincenzo had the best game of his college career with 13 points off the bench. Mikal Bridges was the final player who scored in double figures, as he dropped 10 points on 4-of-7 shooting.
While UCF could not simulate Villanova's veteran-laden roster and ball movement in the lead up to the game, they also couldn't overcome their mid-game adjustments.
The Wildcats weren't knocking down their threes (27 percent from the field) and couldn't finish at the rim thanks to the presence of Tacko Fall. Instead, Villanova, who is one of the best teams in the country in terms of exploiting opposing teams' weaknesses with their IQ and fundamentals, scored in the mid-range.
More from Busting Brackets
Hart hit multiple jumpers over the out-stretched arms of Fall, and Brunson, Bridges and DiVincenzo made their fair share of plays. The Wildcats also successfully attacked UCF's zone with plays out of the high post.
Villanova shot 42 percent from the field overall and also drilled all 12 of their free throws. They had 11 giveaways and only nine assists, but they seemed to be in total command on the offensive end of the floor in the second half as they got a feel for the Knights' defense and Fall's size/length.
'Nova is clearly a top-three team nationally even though they struggled with Western Michigan in the opening round of the Charleston Classic. They have already defeated Purdue on the road, blew out Wake Forest despite the Deacs hitting 50 percent of their shots and only turning the ball over four times, and knocked off an underrated Knights team.
On top of that, Villanova doesn't seem to have any opponent in it's way during the rest of their non-conference schedule. La Salle, Notre Dame and Temple are all decent teams, but are they truly going to have the chance to defeat a team as good as the Wildcats?
Back to that underrated team that I was talking about though, UCF looks like a program that could rise up the AAC standings this year. Tacko Fall continues to play like a man on a mission (20 points on 10-of-10 shooting and 13 boards against Villanova), Matt Williams can hit shots from deep and B.J. Taylor is the perfect leader at the point guard position.
They have some shot selection questions with Williams and depth issues (they had two walk-ons on the floor at one point), but you cannot deny their improvements under Dawkins so far. It was an intriguing  match-up between two interesting teams on Sunday night, but the 'Cats of Villanova snagged the victory and the title.
This article originally appeared on