USC Basketball vs. New Orleans: Trojans Roll Over Privateers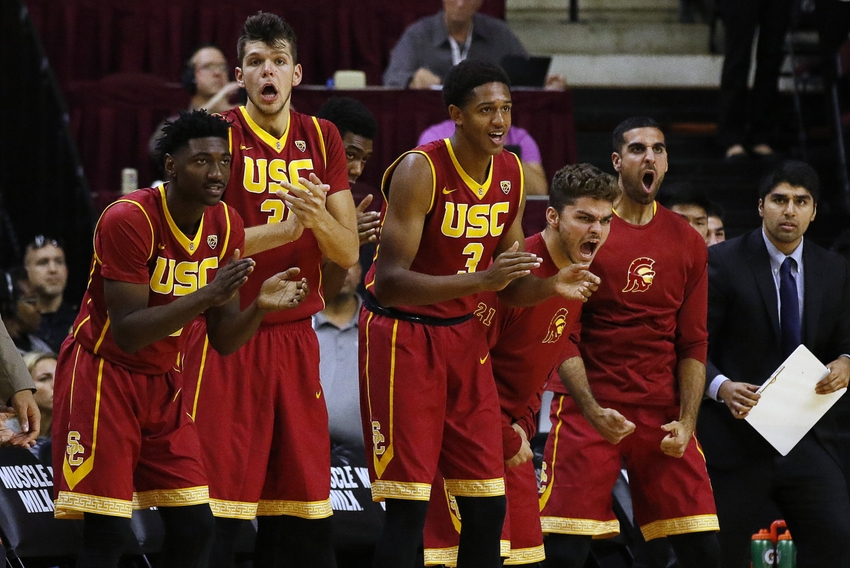 USC basketball rolled their way to a big victory over the New Orleans Privateers, 88-54 at the Galen Center on Tuesday night.
The lowdown: Unlike USC's first three games the season, the Trojans enjoyed a comfortable lead from the early portion of the game.
USC shot better than they had in previous games, but New Orleans kept the pace at the start of the first half. After the Privateers pulled within one point of the Trojans at 12-11, USC surged ahead and never looked back.
Shaqquan Aaron knocked down a three to start the run which extended to 15 unanswered points.
As the half progressed, Elijah Stewart supplied a highlight moment, hitting a triple then going down the other end to block a fastbreak layup. Near the end of the first half, Aaron reproduced the back half of that feat, knocking away another fastbreak attempt by New Orleans from behind.
At the end of the first half, the Trojans held a 42-25 lead, one they would not squander.
When play restarted, Stewart grabbed control of the game, helping USC extend their comfortable lead beyond 20 points.
When all was said and done, the Trojans triumphed 88-54.
The takeaway: Shooting woes and trouble with slow starts weren't a problem for the Trojans at the Galen Center against New Orleans. The outmatched Privateers could not keep up with USC when their shots started to fall.
The usual suspects were excellent with Elijah Steward leading all players in scoring while Jordan McLaughlin facilitated with ease, logging nine assists.
The sizable lead gave Andy Enfield the opportunity to give USC's youth valuable minutes on the court. Freshmen Jonah Mathews and De'Anthony Melton each scored in double figures. The former hit 3-of-4 attempts beyond the arc while the later had four steals.
Even Harrison Henderson got into the game for an extended period and scored his first points as a Trojan.
The only question for the Trojans on the night was Bennie Boatwright, who still appears rusty after missing the start of the season with back spasms. Boatwright was 1-for-7 on three point attempts and just 2-of-11 from the field.
Player of the game: Elijah Stewart, 21 points, six rebounds, two steals, 2 blocks.
Stat of the game: USC's 42 points in the first half were the most by the Trojans thus far this season.
Next on tap: The Trojans will host SMU at the Galen Center on Friday at 4:00 p.m.
This article originally appeared on