USC Basketball vs Montana: Trojans Win Opener 75-61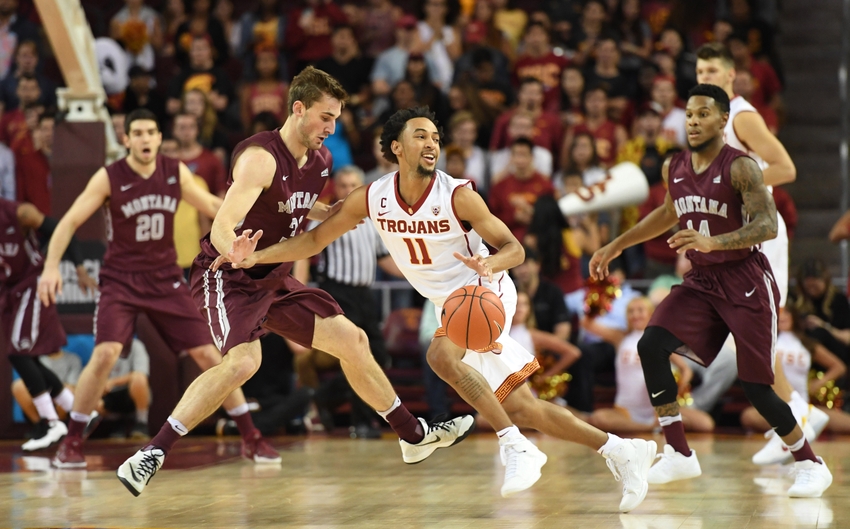 USC basketball won the 2016-17 season and home opener at the Galen Center Friday night against the Montana Grizzlies, 75-61.
The lowdown: USC struggled in the early going, giving up four three-pointers to Montana in the first five minutes with four turnovers on the other end.
As the Trojans settled down halfway through the first half, blocks by Chimezie Metu and De'Anthony Melton signaled the stiffening USC defense while Elijah Stewart provided the only offense to cut the Grizzlie lead.
Though Montana jumped out to a 14-4 lead, the Trojans went on a 16-4 run of their own to take the lead with just over five minutes remaining in the half.
Scoring surges from a dunking Metu and Shaqquan Aaron helped USC take control of the game, enjoying a 34-30 lead at the half.
USC started the second half on the right foot. Forcing a turnover, the Trojans got back down the court and Stewart slammed home a put back.
Montana was not willing to go away, however, fighting to keep the margin within single digits until just over five minutes to go when Stewart's hot hand put the Trojans up by doubt-digits.
From there, USC cruised to victory.
The takeaway: Bennie Boatwright sat out the game with back spasms and the Trojans noticeably missed his scoring ability early. However, eventually USC shook off the rust and leaned on Stewart to get them back into the game. His 30 points were a career-high.
Along with Boatwright's absence, the Trojans' early struggles seemed tied to opening game jitters as a new cast of characters needed time to ease into their roles. There were bright signs from freshmen guards Jonah Mathews and De'Anthony Melton, who saw plenty of time on the court in their debuts while Aaron should be pleased with 17 points and seven rebounds in his first outing as a Trojan.
The victory gives USC their seventh win in eight home openers while improving their record in opening games of the season to 8-6 in the last 14 years.
Player of the game: Elijah Stewart with 30 points and 7 rebounds.
Stat of the game: USC and Montana combined for 30 turnovers.
Next on tap: The Trojans will be back in the Galen Center on Sunday to face Omaha at 4:00 p.m.
This article originally appeared on