USC Basketball Makes AP Poll Debut At No. 24 With 9-0 Start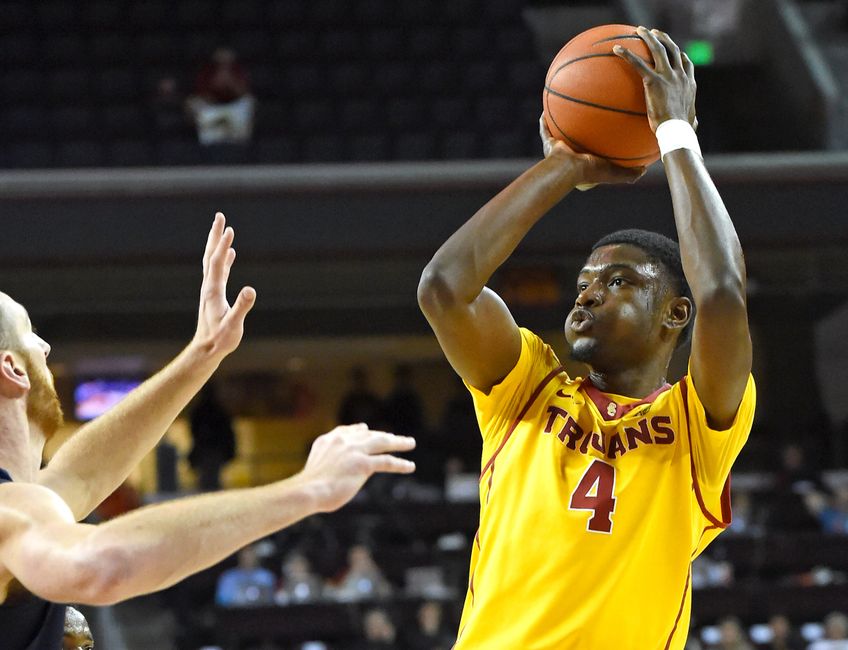 USC basketball made their season debut in the latest AP poll, juming in at No. 24, with the 9-0 Trojans off to their hottest start since 1971.
For the first time this season, and just the second time since 2008, USC basketball is among the nation's Top 25 teams.
The Trojans improved their record to a perfect 9-0 on Sunday night, demolishing outmatched Pepperdine at the Galen Center, 93-67, on the back of Elijah Stewart's career-high seven made three-point shots.
That perfect record earned USC a place at No. 24 in the AP poll as one of four Pac-12 schools represented. Crosstown rival UCLA sits No. 2, while Arizona checks in at No. 19 and Oregon at No. 22.
On their way, the Trojans won tough match ups with Texas A&M, SMU and BYU. The last one was an impressive comeback victory without star forward Bennie Boatwright, who sprained his MCL days earlier.
On Sunday, USC didn't let up against the Waves, letting the momentum of the season carry them forward.
"This is what I came here for, to change the basketball culture here," Stewart told reporters after the Pepperdine game. "That's what we've been doing. We'll continue to play basketball at a high level."
The culture change is visible, with the Trojans slowly but surely building a foundation for success.
USC was briefly ranked last season after besting UCLA at Pauley Pavilion in mid-January. Their No. 21 ranking was the first for the Trojans since 2008.
Unfortunately, in both instances USC was dumped out of the very next rankings thanks to losses. The 2008 team fell to Seton Hall while last year's Trojans were went on the road and lost to Oregon and Oregon State.
With the best start since at USC the 1971 team began the season 16-0, head coach Andy Enfield will hope his Trojans can buck the trend of climbing into the rankings before being humbled.
The path is clear at least, with two upcoming games against beatable opponents. First USC will host the 5-4 Troy Trojans on Saturday night. Then they'll continue their homestand against 2-5 Cornell on Dec. 19.
This article originally appeared on