USC Basketball: Bennie Boatwright Out Six Weeks With MCL Sprain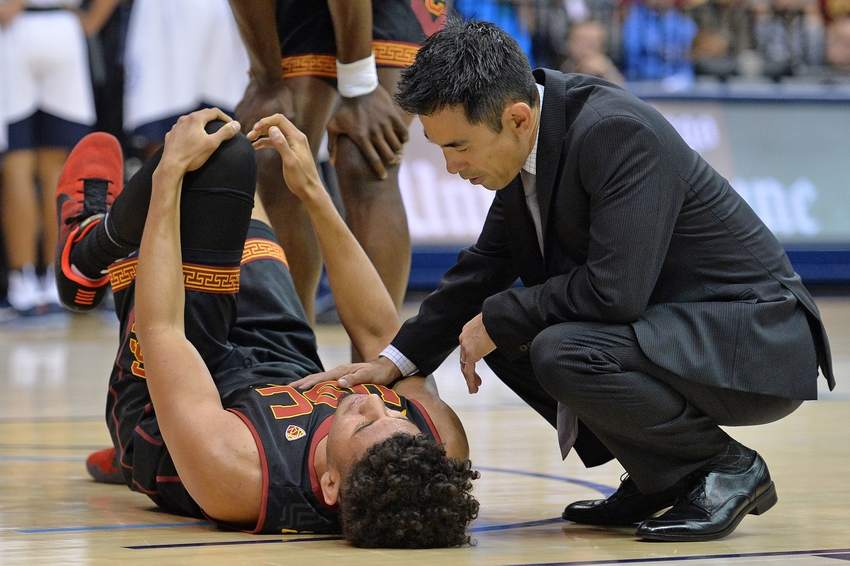 USC forward Bennie Boatwright was diagnosed with a Grade 2 MCL sprain, an injury he suffered during the Trojans win over San Diego. He will miss six weeks.
The good news? Bennie Boatwright did not tear his MCL in the early minutes of Wednesday's victory over San Diego.
The bad news? The USC power forward will miss the next six weeks with a Grade 2 sprain of his MCL.
Boatwright was fouled under the basket early in the game on Wednesday night and went down clutching his left knee. He was tended to by trains for a couple of minutes before teammates helped him off the court and his night was ended.
USC PF @benniebuckets__ was diagnosed with a Grade 2 sprain of the MCL in his left knee. Approximate recovery time is 6 weeks. #FightOn

— USC Men's Basketball (@USC_Hoops) December 2, 2016
After the game, head coach Andy Enfield indicated that the Trojans were hopeful the sophomore would miss weeks as opposed to the entire season — a wish that was confirmed by the MRI performed on Thursday.
If Boatwright's recovery remains on schedule, the forward will miss approximately ten games, including USC's first four Pac-12 contest. Those games include the trip to Oregon and Oregon State and a homestand against Stanford and Cal.
A tentative date of return would be Jan. 12 against Utah in Salt Lake City.
Boatwright missed USC's first two games of the season because of back spasms and had just gotten back into his groove with a big performance to help the Trojans beat SMU last week. He is averaging 10.8 points per game.
Without Boatwright, the Trojans will once more turn to freshman Nick Rakocevic, who started opening weekend in place of the injured player. However, players like Elijah Stewart and Shaqquan Aaron will have to pick up the slack without Boatwright's scoring ability on the floor.
This article originally appeared on