UNC vs. Wisconsin: Maui Invitational Title Game Preview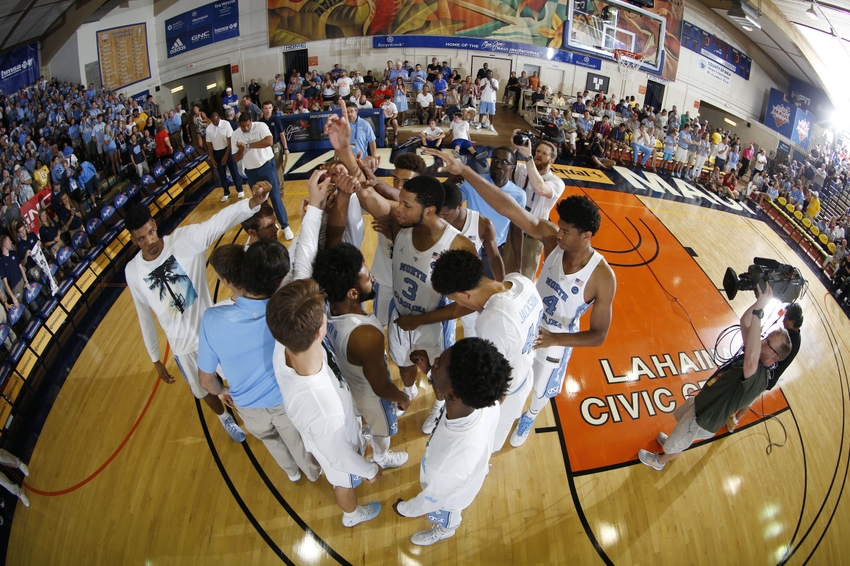 UNC and Wisconsin square off in the finals of the 2016 Maui Invitational. We break it all down for you
After two easy wins for North Carolina in the first round and the semifinals, the Tar Heels will face off against a scrappy and veteran Wisconsin team on Wednesday at 10:30 pm EST.
Wisconsin defeated Tennessee in the first round with a 74-62 victory and backed that up last night with a comfortable 73-57 win against Georgetown.
For North Carolina, they made easy work of host Chaminade in the first round with a 104-63 win and then blew out a very talented Oklahoma State team 107-75, led by Joel Berry II with 24 points.
Lets go in depth with a look at the Tar Heels next opponent, the Wisconsin Badgers.
Know Your Opponent
The Badgers come into the matchup with a 4-1 record, their lone loss coming to a talented #12 ranked Creighton team on the road.
The leading scorer for Wisconsin is senior guard Bronson Koenig (17.6 points per game). In Maui, Koenig is averaging 20.5 points on 51.8 percent shooting and 3.5 assists per game.
Whenever the Badgers needed a big bucket, Koenig has been the guy to take it.
They are averaging 72 points per game while shooting 46 percent from the field, 30 percent from three, and 72 percent from the free throw line.
Ethan Happ and Nigel Hayes round out the double-digit scorers with 11.6 and 11.2 points per game respectively.
Matchup To Watch
Everyone will be talking about the point guard matchup of Joel Berry II vs Bronson Koenig, as they should be, but there is another very intriguing matchup to watch for.
Ethan Happ vs Kennedy Meeks. What makes this so intriguing to watch is that both players are tremendous rebounders, especially on the offensive end, and great passers.
Thus far, Happ is averaging around four offensive rebounds per game and Meeks is grabbing five offensive boards a game.
Happ is coming off of a 19 point and 15 rebound performance against the Hoyas,where eight of those rebounds came from the offensive glass. He's averaging 17.5 points per game on 73.6 percent shooting, and 10.5 rebounds per game thus far in Maui.
Meeks, who has two double-doubles this year, will try to body up Happ all game. With almost a 30 pound advantage down low, Meeks will look to use that to his advantage when fighting for rebounding position.
In his two games in Maui, Meeks is putting up 15 points per game and nine rebounds.
Three Things To Look For
Rebounding:
Both Wisconsin and North Carolina are excellent rebounding teams. The Badgers are averaging over 15 offensive rebounds a game whereas Carolina is averaging over 17. The Tar Heels rebound almost 50 percent of their misses on offense allowing them to shoot close to 55 percent as a team.
The Tar Heels rank seventh nationally in rebounds per game (48.4) as the Badgers rank 28th (43.8).
Wisconsin has yet to play a team that holds the front line length and size that the Tar Heels have, so they will have their hands full boxing out the likes of Kennedy Meeks, Isaiah Hicks, and Tony Bradley.
Whoever wins the rebounding battle will have a great chance at winning the game.
Turnovers:
Wisconsin is turning the ball over at an alarming rate for a Badgers team. This year they are averaging 14 turnovers a game, whereas in the past three years combined they have only averaged eight a game.
With a Carolina team that is one of the best teams in transition, Wisconsin needs to limit their live ball turnovers to as few as possible. Allowing the Tar Heels, who are averaging 96.5 points per game, to get out in transition will be a signed death warrant for the Badgers.
If Carolina is forced to play the pace Wisconsin wants, then the Badgers will feel very good about their chances to leave Maui with a trophy.
Nigel Hayes:
The preseason pick for Big Ten Player of the Year has played like anything but that so far through five games.
Shooting just 37 percent from the field, Hayes is averaging only 11.2 points per game.
Most likely getting matched up with Justin Jackson, a 30 pound difference, Hayes needs to take advantage of that down in the post. Attempting a career high five three point attempts per game this year, Hayes needs to go back to his bread and butter down on the block to get some easy buckets.
If Hayes can get in a groove early on, it could set up a matchup problem for the Tar Heels, opening up some other opportunities for the rest of the Badgers.
More from Keeping It Heel
This article originally appeared on