UNC Recruiting Roundup: Updates on basketball recruits and Late Night With Roy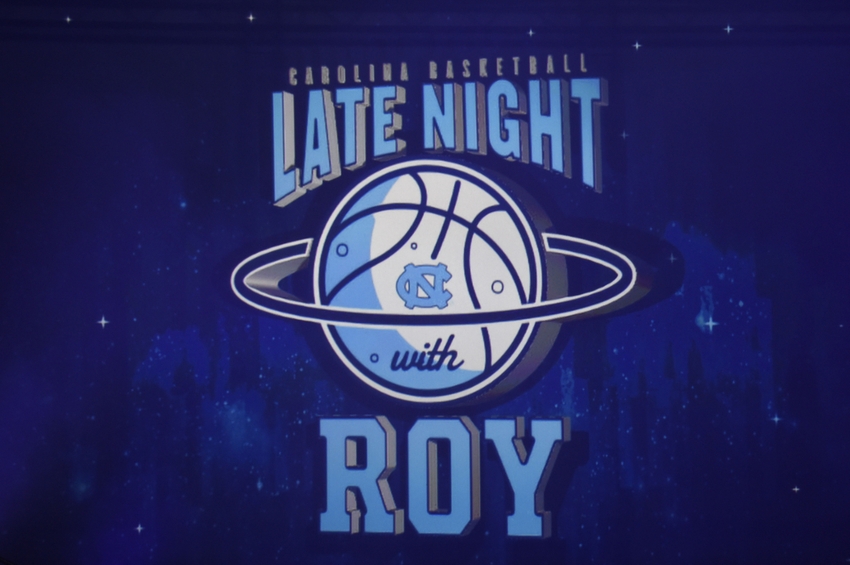 Keeping It Heel's Recruiting Roundup breaks down the week in recruiting and the results of Late Night With Roy
The University of North Carolina held its annual Late Night With Roy event at the Dean Smith Center on Friday evening.
A number of recruits were on hand to watch the event that was hosted by former UNC basketball player and football standout Jesse Holley.
The prospects looked on as UNC players and coaches participated in skits and games, marking the start of the 2016-2017 basketball season.
This week's Recruiting Roundup updates fans on the current happenings of UNC's top targets and the results of Late Night With Roy.
2017 power forward Sterling Manley commits to UNC
Less than 48 hours after attending Late Night With Roy, class of 2017 power forward Sterling Manley committed to the University of North Carolina.
The 6-foot-10, 230-pound power forward out of Pickerington, Ohio becomes the fourth commitment for the Tar Heels in the 2017 class.
On Sunday afternoon, Manley announced his college decision via Twitter.
In the tweet, he thanked all of the coaches who recruited him, but stated that North Carolina was the best fit for him and his family.
Joining Manley in Chapel Hill next season are guards Jalek Felton and Andrew Platek as well as power forward Brandon Huffman. The Tar Heels 2017 recruiting class now ranks 14th nationally according to 247Sports.
UNC continues its search for big men in the 2017 class, hopeful that either P.J. Washington, Jarred Vanderbilt or Kevin Knox will commit to the Tar Heels.
P.J. Washington visits Kentucky and eliminates Texas, down to four schools
6-foot-8, 225-pound P.J. Washington is one of the top uncommitted basketball players in the class of 2017 and one of North Carolina's most coveted prospects.
He's considered a top 15 player according to the 247Sports Composite rankings and the No. 1 player in the state of Texas.
Washington currently attends Findlay Prep in Dallas, Texas where his father, Paul Washington Sr. is the head coach.
The five-star power forward took an unofficial visit to the University of Kentucky this past weekend. He attended their Big Blue Madness event that takes place annually at Rupp Arena marking the start of basketball season.
"It was good," Paul Washington Sr. told Adam Zagoria of Zagsblog "The only thing we were looking for is the fans, that old Big Blue Nation. There was definitely a lot of people for sure."
Also in attendance at Big Blue Madness were class of 2017 five-star prospects Mohamed Bamba, Quade Green, Trae Young and Kevin Knox. Knox, like Washington, is one of UNC's top targets in the class.
Washington has also eliminated the University of Texas from his list, partially due to scheduling issues.
"It was just a matter of we couldn't quite get the visit on the dates that we needed to get them," Washington's father told Zagoria. "And at the end of the day, they decided to go in a different route. They already have two people at his same position so I get it."
Washington has made trips to North Carolina and Kentucky in recent weeks and plans to visit Arizona next week.
Washington is familiar with Arizona's top commitment and No. 1 player in the class, DeAndre Ayton, and looks forward to the possibility of playing alongside him next season. "He likes playing with DeAndre," Washington Sr. said. "He played with him in a couple of all-star games over the years and they like each other. I know they communicate. P.J.'s a team player so that's someone who will take the burden off of him."
Recent reports also suggest that Washington is looking to take an official visit to UNLV before making his final decision. He's currently looking at the first weekend in November to make his trip to Vegas to see the Runnin' Rebels.
UNC head coach Roy Williams visited P.J. Washington on Monday
UNC head coach Roy Williams was in Las Vegas on Monday to visit five-star power forward P.J. Washington.
The UNC coaching staff has dedicated an overwhelming amount of time to the recruitment of Washington, who is considered one of the best power forwards in the class of 2017.
Washington took an official visit to UNC in late September and had all good things to say about his trip to the campus in Chapel Hill, North Carolina.
"Some of the things that I have I been telling people is that Coach Williams is a good guy," Washington told CarolinaBlue following the official visit. "He is a down-to-earth type of guy. (P.J) did have a good time, I can tell you that. He had a great time. Roy is a very personable guy."
Washington isn't rushing his decision and will continue to work through the process before eliminating the teams that remain on his list.
The Tar Heels will continue to pursue the talented big man, hoping to snag another elite player to add to their 2017 class.
Jarred Vanderbilt attends Late Night With Roy, leaves impressed with UNC
Jarred Vanderbilt was one of the many recruits on hand to watch Late Night With Roy last weekend, and he left with a high opinion of the program.
In an interview with Scout's Evan Daniels, Vanderbilt stated that the Tar Heels had a lot to offer and packaged it all into a great presentation.
While on campus, UNC junior forward Justin Jackson chaperoned Vanderbilt, showing him some of the many ins and outs of the North Carolina basketball program.
The 6-foot-8, 215-pound small forward out of Bellaire, Texas was impressed with the team's comradery and relationship with the coaching staff. He also said that he could tell by watching the team that the players had all bought into the system.
Vanderbilt is a consensus five-star player and the No. 2 prospect from the state of Texas according to 247Sports.
Late Night With Roy
Late Night With Roy is the basketball program's premier recruiting event and it's often been the determining factor in a prospect's decision to attend North Carolina.
On Friday night, prospects from the classes of 2017, 2018 and 2019 got to witness the spectacle firsthand.
The following recruits were in attendance Friday night as players and coaches performed in front of friends, family, recruits and fans:
2017 SF Jarred Vanderbilt
2017 PF Sterling Manley
2017 CG Jalek Felton
2017 PF Brandon Huffman
2018 PG Rechon Black
2018 CG Coby White
2019 SF Joey Baker
While some are already verbally committed, others remain uncommitted and on the UNC radar. Continue checking back with Keeping It Heel for breaking news on UNC's commits and targets.
This article originally appeared on