UNC recruiting roundup: Updates on basketball and football programs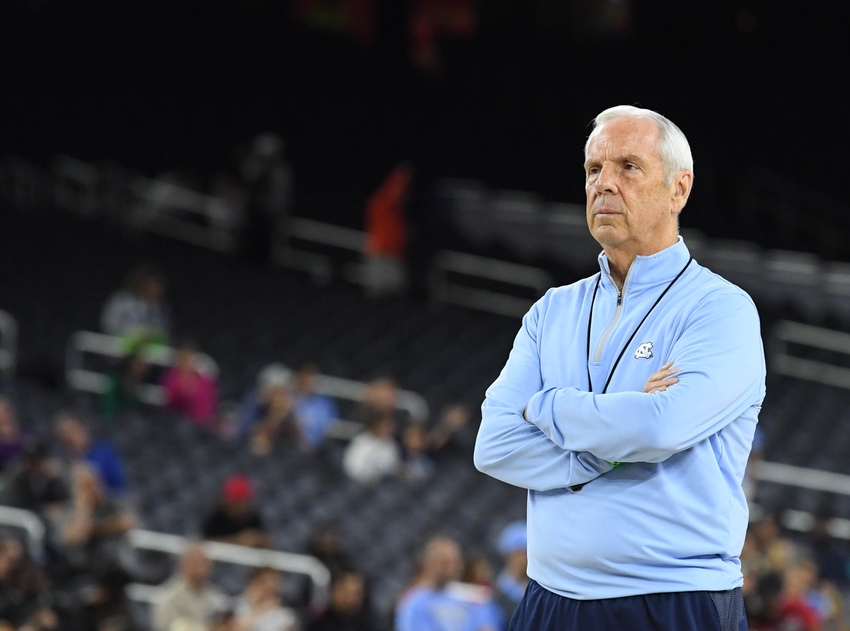 NCAA basketball recruiting is heating up with the start of the fall recruiting period
The fall recruiting period began last Friday and things didn't take long to get underway. Coaches from all over the country began making trips to see the high school players that they covet most.
This week we take a look at what UNC head coach Roy Williams has been up to, and where his travels have taken him at the start of the new recruiting period.
As offers begin flying and commitments start coming in, Keeping It Heel will be with fans each step of the way, updating and keeping everyone informed of all the breaking news.
UNC offers another big man in the 2017 class
Roy Williams and Hubert Davis traveled to Alabama over the weekend to meet with Garrison Brooks and offer him a scholarship to UNC.
The 6-foot-9, 215-pound power forward is the latest to receive and offer from the Tar Heels.
It's been well publicized that the Tar Heels are looking to sign three big men in the class of 2017. Brooks is an athletic three-star power forward who could fill such a role. A native of LaFayette, Alabama, he currently holds offers from Arizona State, Arkansas, Auburn, Georgia, Texas A&M, and Mississippi State.
Roy Williams checks in on Coby White
According to multiple sources, Roy Williams was in Winston-Salem to visit recent UNC commit Coby White.
Greenfield School head coach Rob Salter first broke the news, telling CarolinaBlue that Williams would be there at four o'clock Monday evening to visit the highly touted guard from the class of 2018.
White committed to the University of North Carolina on July 28th, shortly after Roy Williams extended him a scholarship offer.
Zion Williamson gets a visit from the UNC coaching staff
The fall recruiting period began last Friday and Roy Williams was at Spartanburg Day School to visit 2018 small forward Zion Williamson.
Roy Williams and assistant coach C.B. McGrath were there to talk with Williamson and watch him play. A number of other Division I coaches were there as well. Williamson is a 6-foot-7, 220-pound power forward out of Spartanburg, South Carolina.
Williamson is the top-rated small forward in the class of 2018 and currently holds offers from Clemson, Duke, UNC, Arizona, Florida, Maryland, Virginia, and UCLA, among others.
Roy Williams visits five-star recruit P.J. Washington
Roy Williams stopped by Findlay Prep to visit P.J. Washington on Sunday. Also in town to see the five-star forward was Arizona's Sean Miller, Kentucky's John Calipari, Kansas coach Bill Self and Mark Gottfried of North Carolina State.
Washington, is a 6-foot-8, 225-pound power forward who is one of the Tar Heels' top targets in the class of 2017.
Washington recently set dates to make official visits in the fall. He'll be in Chapel Hill from September 23rd to the 25th. The Tar Heels are hoping to sign Washington in an effort to acquire up to three bigs in the class of 2017.
Two-sport star chooses football and narrows list to five schools
Sage Surratt is a 6-foot-4, 210-pound wide receiver and shooting guard at Lincolnton High School in Lincolnton, North Carolina. He was an all-state player in both sports last year, but has recently decided to play only football in college.
Surratt is currently holding offers from Harvard, Indiana, North Carolina, South Carolina and Yale. He plans to visit Harvard on November 5th and Yale on November 22nd. He's working on getting dates scheduled for the three remaining schools.
Surratt is ranked by 247Sports as a three-star wide receiver in the class of 2017.
His brother, Chazz, committed to UNC and was named the Parade National Player of the Year. He's currently a member of the Tar Heels football team.
OrTre Smith picks South Carolina over UNC
As North Carolina picked up their first win of the season against Illinois on Saturday, they lost out on a recruit.
Class of 2017 wide receiver/athlete OrTre Smith is the composite 129th ranked recruit in 247's rankings. But he won't be taking those talents to Chapel Hill.
Smith committed to the University of South Carolina over UNC, Clemson and Georgia. The four-star recruit is a big get for head coach Will Muschamp.
More from Keeping It Heel
This article originally appeared on