UNC Basketball: What We Learned from Maui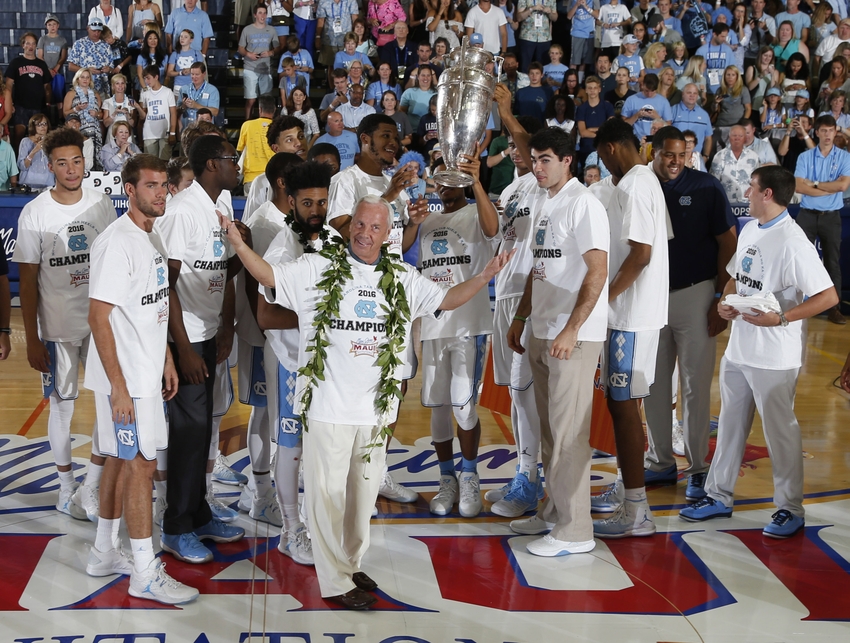 UNC leaves Maui as champions of the Maui Jim Invitational but what does it mean for the Tar Heels moving forward?
The North Carolina Tar Heels entered the Maui Invitational with injuries and questions surrounding their team and left with a Championship and what looked like the best team in the country.
After three comfortable double digit victories over Chaminade, Oklahoma State, and Wisconsin, Carolina lifted their fourth Maui Invitational trophy in program history.
Though it is still very early in the year, this is looking to be a better team than last year's National Championship runner up.
Here are the three main takeaways from Maui.
Defense
Last year, Carolina's ability, or lack there of, to play defense was the one reason why many people didn't think they would win a National Championship.
Once the Tar Heels realized they weren't going to be able to beat every team in the country by outscoring them, they locked in on defense and that was what eventually led them to the National Championship game.
So coming into this year, defensive intensity was one of the main topics of discussion within the program all off season. With very few tests before Maui, the defense was certainly tested against Oklahoma State and Wisconsin.
Holding all three opponents in Maui to less than 38 percent shooting, the Tar Heels showed that they are an elite defensive team.
One of the biggest tests was against an offensive juggernaut in Oklahoma State. Coming into the game, the Cowboys were ranked second in the country in points per game, scoring over 100 in every game.
The Tar Heels held Phil Forte III, who was averaging 21 points per game, one of the best three- point shooters in the country, to two points on 0 of 3 shooting.
All Carolina fans know that three-point heavy teams have been the Achilles heel for the Tar Heels  in previous years, so being able to lock in and make Forte a non-factor was tremendous.
Carolina held the Cowboys to just 26 percent from three and only 75 points.
In what was going to be an offensive struggle all game against Wisconsin, it would be crucial to match the Badgers' intensity on defense if they wanted to win. In a pace that strongly favored Wisconsin (less than 70 total possessions), the Tar Heels held the Badgers to 56 points on 38 percent shooting and won the game on the defensive end.
Joel Berry had this to say about holding Wisconsin leading scorer, Bronson Koenig to two points on 1 of 13 shooting:
"I wasn't worried about anything else but playing defense on him and trying to stop him because he was their best player…. And once I get myself going on the defensive end, I just feel like everything in my game clicks."
With a mindset like this, there is no saying how high the ceiling is for this North Carolina team.
Rebounding
One of the best offensive rebounding teams in the country each year, the Tar Heels have struggled in recent years to rebound the ball effectively on the defensive end.
This, along with the lackluster play on defense, has been the downfall to what could have been many special teams.
Coach Williams has been preaching the importance of rebounding all throughout the off season.
"But that's [rebounding] been a focus of ours since the first day of practice, even before the exhibition game, and after the exhibition game it's continued to be a focus. And they're getting better at it. There's no question…"
For the Tar Heels, defensive rebounding is one of the most important offensive pieces for them. This is what starts the fast break.
Due to Carolina's exceptional fast break offense, they want to get out and run every opportunity they get. But this won't happen unless they dominate the defensive boards.
After struggling early in the year, they Tar Heels really showed their ability to rebound at both ends of the floor against Wisconsin.
One of the best offensive rebounding teams in the country, the Badgers were held to only four offensive rebounds the entire game. The first one didn't come until midway through the second half.
Ethan Happ who is arguably the best offensive rebounder in the country, half of his rebounds coming from the offensive end, struggled greatly in the Championship game. The Tar Heels held him to only one offensive rebound the entire game.
Kennedy Meeks, who was guarding Happ almost the entire game, had this to say about the importance of rebounding:
"Like Coach said, that [rebounding] changes possessions, and I think when we get more possessions…. who wins the game most of the time. I think that's the most important part of the game, I think, when we do a great job rebounding."
If the Tar Heels continue to rebound the ball this effectively on the defensive end, they could become an even better offensive team, which is hard to believe is even possible.
Balanced Scoring
Each Carolina basketball team has seemed to have a one or two really good scorers surrounded by many role players but this year's team is different.
With so many offensive options on this team, their offense has become so much more difficult to guard. With five players averaging between 11 and 17 points per game, all shooting above 48 percent, it puts a lot of stress on the opposing defense.
Led by Joel Berry II, 17.1 points per game, the Tar Heels may have the most balanced attack Roy Williams has ever had.
Though Berry leads the team in scoring, he has scored in single digits twice through their first seven games and the offense hasn't lost a step. In fact, junior forward Justin Jackson (15.4 points per game) is the only Carolina player to score in double digits in every game this year.
Kenny Williams and Nate Britt have stepped into the role of replacing Theo Pinson. Both have scored in double digits once and have been a consistent offensive threat every game.
Though Williams is not a relied on double-digit scorer, his 44 percent from three has provided the Tar Heels with another dimension to their offense that was missing last year.
Freshman Tony Bradley has been a huge threat off the bench. Averaging 10.7 points per game and 6.3 rebounds, he has scored in double figures all but one game and scored at a high percentage (68 percent).
Once the Heels get hybrid wing Theo Pinson (foot) and forward Luke Maye (ankle) back, their offense will be even better with the playmaking ability of Pinson and the rebounding of Maye.
More from Keeping It Heel
This article originally appeared on