UNC Basketball: Top five John Calipari teams vs top five Roy Williams teams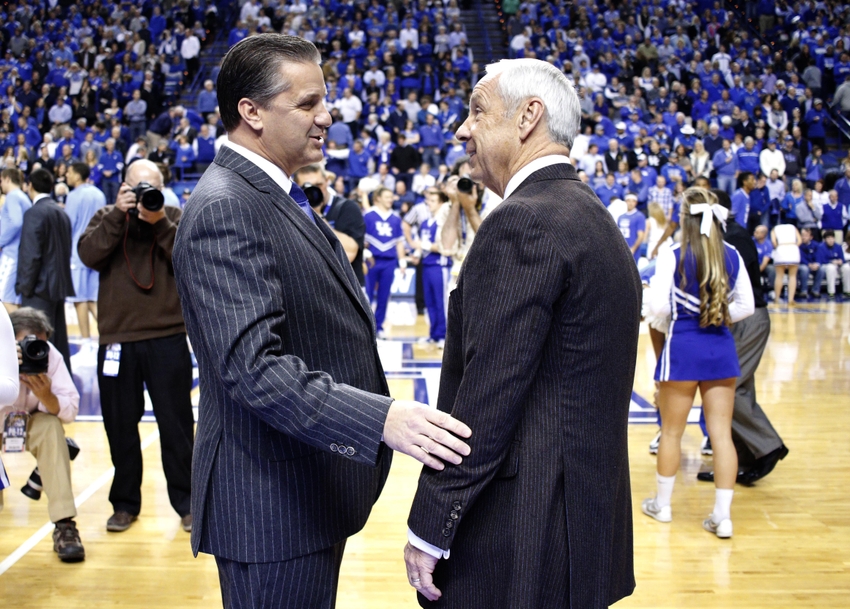 In honor of one of the greatest pairings in all of sports, Keeping It Heel looks at the top five teams of both Roy Williams and John Calipari
If you haven't heard, North Carolina plays Kentucky this Saturday in the CBS Sports Classic in Las Vegas, Nevada.
Yours truly, the KIH rankings guru, will be there to enjoy this once-in-a-lifetime experience.
So to get all of you primed and ready for this weekend, we here at KIH wanted to do a series of articles pitting the Tar Heels against the Wildcats.
Today, we look at the top five Calipari teams vs the Top five Williams teams.
5
2010-11 Kentucky
Wildcats
(29-9, 10-6)
Coming in at No. 5 for the Wildcats is a team that made the Final Four. The team scored 75 points per game. Led by Brandon Knight, these Wildcats had four players average double figures for the season. Terrence Jones was also on this team. In the tournament. Kentucky outscored opponents by only 17 total points in five games. After the season, Knight went pro, but Jones stuck around surprising many. It was Calipari's second season with the Wildcats.
5
2011-12 North Carolina
Tar Heels
(32-6, 14-2)
This is one of three Williams teams that had a legitimate shot of winning it all but came up short. This team also has the distinction of being the only championship caliber squad to not make the Final Four. The team averaged 81 points a game. Led by Harrison Barnes, the team had three players in double-digits. They had two players average over nine rebounds a game and one of the greatest assist men of all-time in Kendall Marshall. They were deep at every position except point guard. That, in turn, was the team's ultimate downfall. They went into the tournament having won nine of their last ten and beat their first two opponents by a combined 33 points. It was that second game where things went south. Marshall got injured and the Heels had no one capable of running the point. What was considered by some to be the best team in the nation lost in the Elite Eight and watched a Kentucky team that they played to the wire, go on to win the national title.
So who wins? This is a tough one as the Tar Heels were really good. However, a similar version of this UNC team lost to this same Kentucky team in the Elite Eight the season before. With that in mind, even though the Heels were older, the edge goes to Kentucky, barely.
4
2013-14 Kentucky
Wildcats
(29-11, 12-6)
This was the surprise team in the tournament. Two seasons after a national title and a season after losing in the first round of the NIT, this Kentucky team had an up-and-down season. They finished second in a weak SEC and all three matchups with rival Florida. The Wildcats entered the tournament as a No. 8 seed and not many expected much from them. This is the season that Calipari convinced people he could coach when it mattered. Led by Willie Cauley Stein's defense, Kentucky won five straight games by a total of 18 points. They met up with a Huskies team in the final that was a No. 7 seed for one of the lowest-seeded matchups ever in an NCAA tournament game. This Wildcats team averaged 75 points per game and is known as the foundation for the juggernaut that followed a season later as only one of the team's top players, Julius Randle, left early.
4
2015-16 North Carolina
Tar Heels
(33-7, 14-4)
This team is still pretty fresh in the minds of most Tar Heels fans. I won't spend much time on them, but this team was good. They were at least two-deep at every position. Led by All-American Brice Johnson, they had four players who scored in double-digits. Johnson averaged a double-double for the season and came in a close second to Malcolm Brogden for ACC Player of the Year. The Heels averaged 83 points that season which is impressive because they only shot 33 percent from behind the arc. In the tournament, they outscored their first five opponents by 91 points. In the final, UNC trailed by ten with less than five minutes to go. With only 4.7 seconds left, Marcus Paige made one of the most clutch three-pointers in history to tie the game at 74. Unfortunately, Villanova had enough time to get the ball up the court and hit an open three as time expired. This was not an all-time great UNC team, but it was definitely good enough to win it all.
So who wins? Both teams made their respective championship games. Both teams lost those games. However, like before, the tie-breaker makes it a little easier. This same Kentucky team played a much younger version of this UNC team in 2013. The Heels won that game by five in Chapel Hill. Age those UNC players two seasons and Carolina wins this game no problem.
3
2009-10 Kentucky
Wildcats
(35-3, 14-2)
I originally didn't have this team this high. However, after talking to a friend of mine, who is a huge Kentucky fan, I moved them to third overall. The team was Coach Cal's first and was aided by the addition of three super freshmen, John Wall, DeMarcus Cousins, and Eric Bledsoe. All three freshmen, along with Junior Patrick Patterson, averaged double-digits for the Wildcats. The team averaged 79 points a game and was the team that started the one-and-done process at Kentucky. All three super freshman went pro after just one year in Lexington. The trend has defined Calipari's Kentucky career and has now influenced Coach K in his recruiting as well.
3
2007-08 North Carolina
Tar Heels
(36-3, 14-2)
Like the third-ranked Kentucky team, I had this UNC team a lot lower on this list. That was until I actually looked them over. This team was really good. I mean really good. Led by National Player of the Year, Tyler Hansbrough, these Tar Heels averaged 89 points a game and opened the season with an 18-game win streak. After an 11-point loss to Duke in Chapel Hill, the team won 15 straight games before losing in the Final Four. With four players averaging double-digit points, they steam-rolled through their first four tournament opponents by a combined 101 points. The team's biggest flaw was probably their goal was the Final Four. Once they got there. they got steam-rolled by Kansas by 18 points, in a game that was never that close. The biggest news was all four of their stars came back for another season leading to a championship the next year.
So who wins? Unlike the first two matchups, there was no meeting by either of these two teams. Kentucky, like usual, probably had more NBA talent. However, as I said, this UNC team was really good. Experience is the deciding factor here as the Tar Heels get the nod.
2
2014-15 Kentucky
Wildcats
(38-1, 18-0)
This team would've been No. 1 if that "L" had come during the season and not in the Final Four. Regardless, the team was stacked. Led by future No. 1 overall pick Karl-Anthony Towns, this team was loaded with McDonald's All-Americans and future first-round draft picks. The team averaged 74 points a game, but only had three players in double-digits, with Aaron Harrison as the team's leading scorer. This had to do with Kentucky going ten guys deep that season. Coach Cal said the team's goal was to go 40-0. They came up two games shy. Kentucky fans still celebrate the 34-0 regular season with t-shirts and other paraphernalia. Apparently, they think that no NCAA Tournament was held at the end of the 2015 season.
2
2004-05 North Carolina
Tar Heels
(33-4, 14-2)
The first of Roy's two national titles started off with an 11-point loss to Santa Clara in Oakland California. The Tar Heels would lose only three more games all season. Led by Final Four MOP Sean May, the team had five players average in double-digits. UNC averaged 88 points a game and got redemption for that team's seniors. Those seniors, Jawad Williams, Jackie Manuel, and Melvin Scott were all freshmen on the 8-20 team. However, they stuck it out and were rewarded with a national championship. Raymond Felton ran the point and the Tar Heels meticulously won the title beating their six opponents by only 14 points per game, including three that were six points or less. Again not an all-time great team, but the team was pretty strong, going 4-0 against teams from the Big Ten and winning 14 straight games after that opening loss to the Broncos.
So who wins? This one was tough. The Heels had experience and unlike Kentucky won a championship. However, it is hard to look past all the talent at UK that season. I have a soft spot for that '05 Championship team as I was their for the 8-20 season. However, the Wildcats are probably too much for the Tar Heels who would've struggled with Kentucky's size, defense and depth.
1
2011-12 Kentucky
Wildcats
(38-2, 16-0)
This was an easy pick as it is Coach Cal's only national championship team. Led by National Player of the Year freshman Anthony Davis, this Wildcats team averaged 78 points per game with five players who scored in double digits. Three of those players were true freshmen. They lost two games that season by a combined eight points. One of those losses was a one-point loss at the the buzzer in Bloomington, Indiana. Ask Tar Heel fans how hard it is to win there. They didn't dominate the tournament, winning by an average of just 12 points per game. However, they pretty much went wire to wire as the No. 1 team in the nation. It was quite a feat and worthy of top status for the Cats.
1
2008-09 North Carolina
Tar Heels
(34-4, 13-3)
As good as the 07-08 team was, this team was better. The team had five players who scored in double-digits and averaged 90 points a game. Led by Psycho T and Ty Lawson, the team is considered by some the last great team in college basketball. Their four losses came by an average of just four points a game. They had two winning streaks of at least ten games and won the ACC regular season by two full games over Duke and Wake Forest. This team was focused and dominant. They averaged 42 rebounds a game and shot nearly 40 percent from three. Despite starting the ACC season 0-2, they won 15 games and beat teams by an average of 11 points in conference play. Though they did lose in the ACC tournament, but they steamrolled through the NCAA tournament. They won their six games by a combined 120 points. This included wins over Oklahoma's Blake Griffin and Michigan State's Draymond Green. This wasn't just a great team. This was an all-time great team and an easy choice for the top spot.
So who wins? Both teams won a National title. Both teams had All-Americans and National Player of the Year players. However, only one team was considered an all-time great team. Plus this same Kentucky team needed an Anthony Davis block to beat the No. 5 team on this list by one point in Lexington.
As usual, the Kentucky team had more future stars. However, the Tar Heels that season beat a lot of future NBA players. In addition to Griffin and Green, they also beat a Virginia team with Mike Scott, a Georgia Tech team with Iman Shumpert, and a Duke team with Gerald Henderson, twice.
This Carolina team was loaded with juniors and seniors who were motivated to win it all. Davis was special, but the core of the Tar Heels was something that no Kentucky team has ever had under Coach Cal. UNC is the pick here and honestly, the game would probably not even be close.
More from Keeping It Heel
This article originally appeared on