UNC Basketball: Tar Heels suffer first loss of season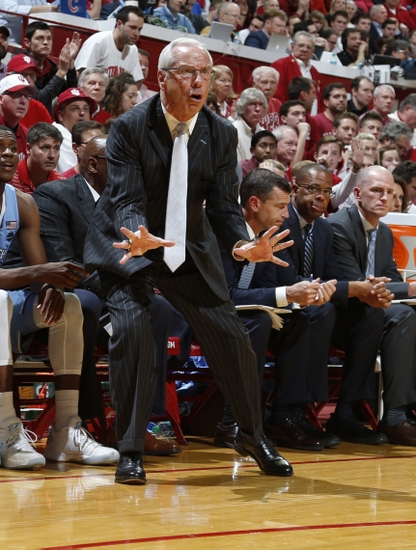 UNC has poor showing in Bloomington as they lose to the Indiana Hoosiers on Wednesday
Just throw this game right out of the damn window.
That's all that can be really said about the North Carolina Tar Heels' disappointing loss to the Indiana Hoosiers on Wednesday.
The Tar Heels struggled from the start, falling behind by double-digits early on and never leading in the game. The Hoosiers controlled from the tip and looked like that team that beat Kansas earlier in the year.
As for the Tar Heels? Well it was their worst performance of the season in a hostile environment.
UNC was outrebounded in the first half and didn't score a fast break point until under the 10 minute mark in the second half. They started the game shooting just 35.7 percent in the first half as they trailed 41-29 at the break.
The Tar Heels simply couldn't get anything to drop but the biggest concerns came on the boards and on defense.
Indiana seemingly got anything they wanted down low as UNC struggled with spacing.
37-possession 1st half: UNC had an oRtg of 78.4 and a dRtg of 110.8.

— Adrian Atkinson (@FreeportKid) December 1, 2016
The Hoosiers also did a great job of getting their shooters open and they knocked down three-pointers to jump out to the lead. Their poor play saw them fall behind early and even trailed by 17 at one point.
UNC's second half was a little better as the Tar Heels rallied back and cut the lead down to 5 with just a few minutes left.
But on Wednesday, the Hoosiers were simply better.
Indiana had all five starters score in double-figures, led by O.G. Anunoby who scored 16 on the game. James Blackmon Jr. had 14, Thomas Bryant 12, Robert Johnson 11 and Josh Newkirk 10.
UNC was led by Justin Jackson who scored 21 and kept UNC in it late. Kennedy Meeks was the only other Tar Heels player that scored in double-figures.
A loss was bound to happen and the first one of the season is always the toughest, but the Tar heels have some things to clean up.
The Tar Heels just didn't play well and even struggled at the free throw line, something we aren't used to seeing so far this year.
The good news is that it's only November and they still have 6 non-conference games left and should be favored in 5 of them. The lone one they wont be is when they take on Kentucky in Las Vegas.
UNC will be back in action on Sunday, December 4 when they host Radford.
More from Keeping It Heel
This article originally appeared on