UNC Basketball: Tar Heels improve despite loss of Johnson and Paige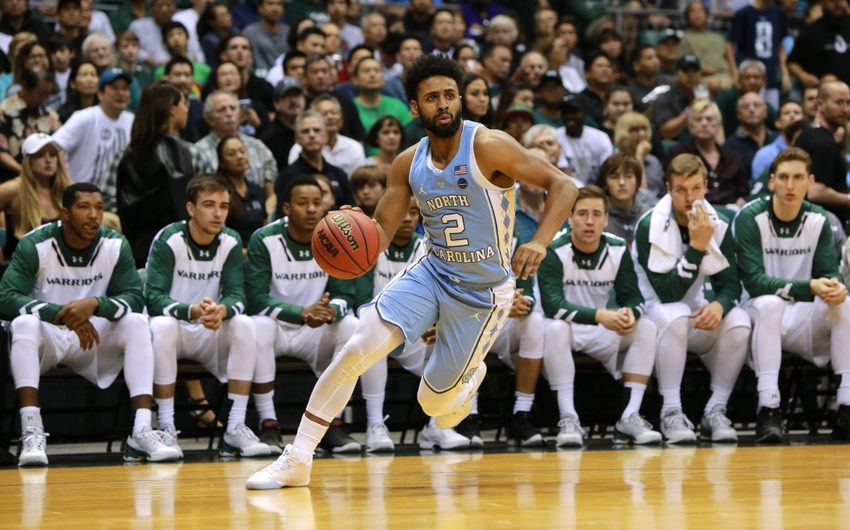 Despite losing decorated All-Americans, Tar Heels pick up where they left off
We could have assumed after losing the national title game that UNC would begin the 2016-17 season undefeated through its first seven games. We could have assumed that Kennedy Meeks would be a better all-around player and one of the best offensive rebounders in the country. We could have assumed that seldom-used sophomore guard Kenny Williams would blossom and become one of the Tar Heels' most reliable shooters.
Only, we didn't.
We all expected UNC to experience a drop in productivity and efficiency after saying goodbye to seniors Brice Johnson and Marcus Paige. We all thought that the Tar Heels would take a step back from the successes of the 2015-16 season that saw their national title hopes dashed by a last-second three-pointer off the hands of Kris Jenkins. Even the most ardent of UNC fan figured the Tar Heels' front court would struggle after the departure of their first team All-American power forward.
And those who deny the aforementioned are lying to themselves and everyone else.
The pitfalls of UNC teams in recent years would surely follow them into this season, wouldn't they? Experience and maturity wouldn't solve the loss of senior leadership and the emotional blow of losing the national championship on a last second shot, right?
There's no way that the Tar Heels would be able to hit outside shots, play stifling defense and eliminate turnovers despite losing key members of its unit from the season before. There's no way that Isaiah Hicks would stay in games and out of foul trouble. There's no way that Kennedy Meeks would become a ball hawk and grab nearly ever rebound in his area, game after game. There's no way that freshman big man Tony Bradley would come into the season playing at an elite level.
But that's exactly what has happened.
But how? How could a team that loses so much talent and experience play better, more efficient basketball? Why would a team flourish despite the departure of their leader and best player?
Perhaps it was the tendency of players to rely too heavily on Johnson and Paige. Maybe there was a little bit too much standing around on offense while guys waited for Paige to make a play. And maybe the effort to set screens for a struggling jump shooter was just too great.
Paige, who was a second-team All-American in his sophomore season, experienced an inexplicable and undeniable shooting slump throughout his senior year. Too often, players stood idly waiting for him to make a play. Understandably so. At the height of his UNC success, Paige was one of the most prolific three-point shooters in North Carolina history.
And Johnson, with his ability to score, rebound and inject intensity into his teammates, had a historically great season for the Tar Heels as a senior. He could take over a game in an instant, whether it be offensively, defensively or with a loud scream following a thunderous dunk.
And though it is beyond his control and certainly not his fault, his dominance seemed to make other players a bit apprehensive and less aggressive in their approach. His teammates were less reactive to rebounds or loose balls, knowing that Johnson would come up with the rebound or slam home the put back. "Just pass it to Brice" seemed to become a mantra not only for the fans, but for the team as well.
And make no mistake, this is no slight to Johnson or Paige. They were both excellent players and contributors to a program and fan base that would love nothing more than to see them back in Carolina blue for another four years. But it's because of that, that players are now coming into their own and showing their full potential without the comfort of the aforementioned to fall back on.
Joel Berry II has fully embraced his role as the Tar Heels' leader, putting together what looks to be an All-American caliber season. The junior point guard is averaging 17.1 points, 4.3 assists and 4.3 rebounds per game through the first three weeks of the season. On top of that, he's hitting over 47 percent of his three-point attempts and better than 93 percent from the free throw line. Maybe most importantly, his leadership role extends beyond the court.
Kennedy Meeks is experiencing his best seven-game stretch at UNC and his numbers prove it. Through the first seven games, Meeks is averaging a double-double with 13.7 points and 10.7 rebounds. He's been one of the best offensive rebounders in the country to this point, and his ability to control the boards has been evident during the Tar Heels' winning streak.
Isaiah Hicks is yet to get into serious foul trouble this season, having been called for four fouls only once in a game. Last season, he played just 18 minutes per game but averaged three fouls per contest. This season, he's playing over 26 minutes a game and averaging two-and-a-half fouls. Against Chaminade, he didn't get called for a single foul while scoring 22 points and grabbing six rebounds. His ability to play aggressively but under control has been remarkable compared to his first three seasons in Chapel Hill.
Former VCU commit turned UNC rising star Kenny Williams struggled to get into games as a freshman. He logged only 122 minutes in his first year at Carolina. He's already played 146 minutes in seven games this season and proven that he can knock down shots, hitting 8-of-18 from three-point range (1-of-13 last season).
With no disrespect intended for Johnson and Paige, the Tar Heels are ahead of schedule and seemingly better than they were a year ago. They've shown maturity in the early goings of the season and their experience combined with their skill is guiding them to blowout wins and mounting confidence.
Will it continue and how far will it take them? Nobody knows. But rest assured that while the Tar Heels miss Brice Johnson and Marcus Paige, they aren't actually missing them.
More from Keeping It Heel
This article originally appeared on