UNC Basketball: Tar Heels blow out Oklahoma State to advance to finals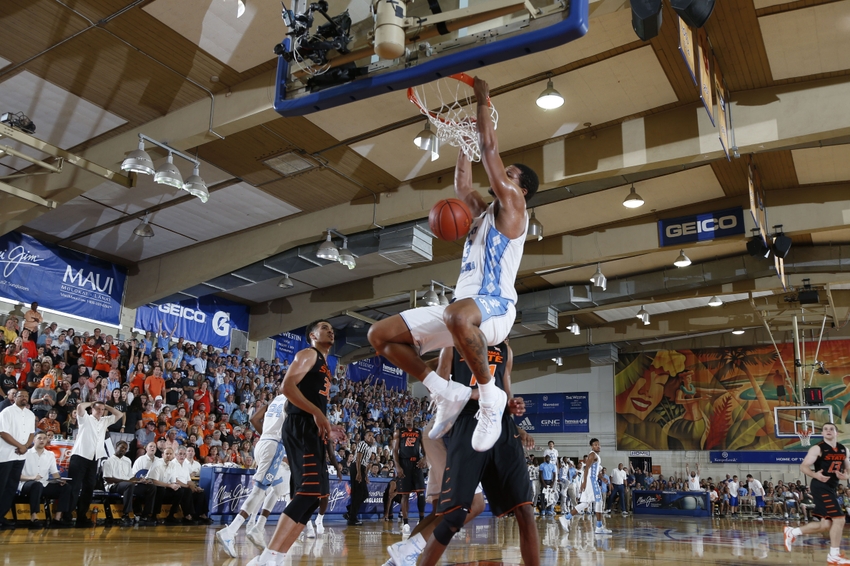 UNC dominates from the start against Oklahoma State to advance to Maui Invitational finals
The North Carolina Tar Heels are off to the Maui Invitational finals after beating Oklahoma State 107-75.
It was all Tar Heels from the start as they jumped out to a double-digit lead just minutes in and never looked back.
UNC made the most of their second chance opportunities, especially in the paint as Kennedy Meeks and Isaiah Hicks continued their impressive play from the night before.
Heading into the game, head coach Roy Williams challenged his team and praised the Cowboys, calling this opponent "the big leagues."
If that was the first early season test for UNC, they passed with flying colors.
The Cowboys attempted to run with UNC early and often but were dominated on the boards as the Tar Heels controlled the tempo of the game. UNC out-rebounded Oklahoma State 47-31, creating plenty of second chances.
Juniors Joel Berry (24 points) and Justin Jackson (22 points) led the way for the Tar Heels, who had 9 players score in the game. Of those 9 scorers, 6 scored in double digits. Jackson also added 8 rebounds in what was his most impressive performance of the season thus far.
Gotta like Justin Jackson's stat line: 22 points (7-for-12 FG, 1-for-4 3P, 7-for-7 FTs) | 8 rebounds | 6 assists

— Ross Martin (@Boss_Martin247) November 23, 2016
Hicks and freshman Tony Bradley Jr. finished with 13 points as senior Nate Britt added 12. Bradley Jr. has now finished in double-digit points in all six games this season.
Following his big performance against Chaminade on Monday, Meeks had 8 points and 8 rebounds. Cowboys guard Jawun Evans scored 30 points, providing the only big performance for Oklahoma State.
The win puts the Tar heels in the title game of the Maui Invitational for the fourth time as they will play Wisconsin at 9:30 p.m. ET on Tuesday. The game is a rematch of the 2015 NCAA Tournament Sweet 16 matchup in which the Badgers won.
UNC's 6-0 start is their first since the 2008-2009 season in which they won the Maui Invitational and National Championship.
More from Keeping It Heel
This article originally appeared on