UNC Basketball: Perfect Gifts for the Tar Heels basketball team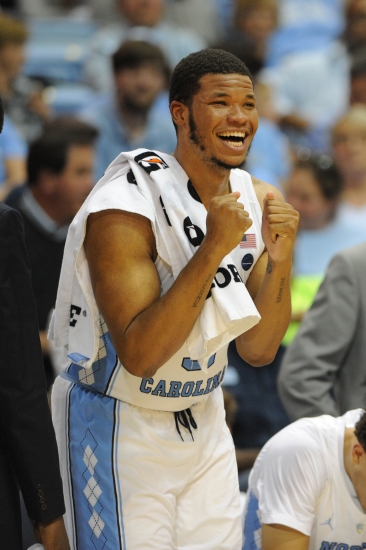 The holiday season starts very soon. As we anticipate spending time with family and friends, we also look forward to receiving presents. Well, some of us.
Let's be honest.
The North Carolina Tar Heels men's basketball team has several characters on their roster. In addition to possessing a great deal of charisma and personality, they are playing at a high level this season.
They deserve gifts for their hard work. If you love the Tar Heels, then you want to see them happy. Everybody knows that gifts put a smile on any person's face, especially Tar Heels.
In this article, we usher in the holiday spirit by discussing perfect gift ideas for the UNC Tar Heels.
Theo Pinson's Gift: Dancing With The Stars Invitation
Theo Pinson may be the best dancer on the team. It doesn't matter if he has two good feet or a broken foot. Currently, Pinson is out of action due to a broken bone in his right foot.
We have 10 to 12 more weeks without the funniest player on UNC's roster. Once he comes back, expect Pinson to be busy on the boards, in transition and defending the opponents' best player.
With Pinson's dancing ability, he has a good shot at winning a 'Dancing With The Stars' competition. Can you imagine him waltzing or square-dancing? I could.
Since Pinson is a jack-of-all-trades on the basketball court, so it is easy to expect him to adapt to any style of dance.
If you have a Christmas party, make sure that you invite Pinson. He has a knack for crashing parties.
Roy Williams' gift: Black blazer
UNC head coach Roy Williams possesses an eye for fashion. He is known for wearing his signature plaid blazers.
This season, Williams should invest in more black blazers because there will be a lot of funerals for any team that faces the Tar Heels this season. Williams' will 'dressed in all black like the omen' as Lil' Kim rapped on Puff Daddy's "All About The Benjamins" many years ago.
Currently, five players average double figures in points and the team averages 96.5 points per game.
Judging the Tar Heels this season, they will annihilate a lot of their opponents. Could it be a dream season for the Tar Heels?
Justin Jackson's gift: The nickname "Iceman Junior"
Justin Jackson averages 16 points, 4.5 rebounds and 3.3 assists per game this season. He shoots 50% from the field, 88.9% from the free throw line and 37% from the three-point line.
Jackson has gotten off to a great start this season. He put up a career high 27 points against Tulane. Jackson has a smooth approach to the game of basketball. His quickness and leaping ability are deceiving. He may not intimidate others with his looks.
However, once you step on the court with Jackson, you will see that he goes hard in the paint…and the perimeter.
He chose the uniform number 44 in honor of George Gervin. Gervin's nickname was "Iceman," because he was so cool on the basketball court.
Gervin was an NBA basketball star in the 1970s. He led the league in scoring for three consecutive years (1978-80). Gervin had the most scoring titles, prior to Michael Jordan. Earlier this year, Gatorade featured Gervin in a commercial with Chicago Bulls' Dwyane Wade.
Jackson models his game after Gervin; hence the nickname "Iceman Junior." 
Joel Berry's gift: The Bob Cousy Award
The Bob Cousy Award is given to the nation's top college point guard. The North Carolina Tar Heels have had three previous winners of this award: Raymond Felton (2005), Tywon Lawson (2009) and Kendall Marshall (2012).
Joel Berry leads the Tar Heels with 16.3 points per game. He averages 4.5 rebounds and 4.5 assists per game, also. Berry makes 52% of his field goals, 93% of his free throws and 45% of his three-point field goals.
Christmas should come early for Berry this season. Nobody is playing the point guard position better than UNC's floor general.
More from Keeping It Heel
This article originally appeared on