UNC Basketball: Orange vs. Tar Heels game preview
Brandon Griffin/FanSided via Keeping It Heel

Fansided
The North Carolina Tar Heels have won 11-straight games at home dating back to last season. Can they make it 12 against Syracuse? What do the Orange bring to the table?
Did you enjoy Foul-A-Palooza? Yeah me neither. Let them play refs.
Hopefully there will be a little more game movement in their next home contest.
Up next for the Tar Heels is another ACC opponent Syracuse, who UNC has won the last four battles against. That includes all three meetings last season. It's the first time this year the Tar Heels have had back-to-back conference home games.
With tipoff set for Monday night, let's talk about what the Orange bring to the table in our game preview.
Syracuse Orange
Head Coach: Jim Boeheim. Career Record 884-342. This is Boeheim's 41st season at Syracuse and his only head coaching stop. He has made the NCAA tournament 32 times, the Sweet Sixteen 18 times, the Elite Eight seven times, and the Final Four five times. He also has a National title.

Last Season: Last season the Orange went 23-14. They went 9-9 in ACC play and finished ninth in the conference. After an opening second round ACC tournament loss, most people were surprised when the Orange snuck into the tournament as a 10 seed.

The Orange surprised many by winning four straight on their way to the Final Four. Their Cinderella run though ended there when they ran into the Tar Heels. The season was also marked by the suspension of Jim Boeheim by the NCAA.
Best Former Player: Carmelo Anthony. Anthony is a nine-time All-Star, six-time All-NBA teamer, and a three-time Olympic Gold Medalist. In his career he has 22,460 points, 5,954 rebounds, and 2,887 assists.
He currently sits 26th all-time in scoring.

This Season: Syracuse is currently 11-7 this season. They started off the year going 4-0, but followed that up with six losses in their next 10 games. That included an ACC road opening loss to Boston College. Since that loss, the Orange have gone 3-1.

Key Players
Syracuse: F Tyler Lydon
Tyler Lydon could've joined his compatriots last season and gone pro. Most mocks had him in the late first round. Instead, he decided to come back and is having a good sophomore season.
The 6 foot 9 forward is averaging nearly 13 points and eight rebounds a game. He also is shooting 43.5 percent from behind the three point line this season.
North Carolina likes to play two bigs. If Lydon can hit the three, it will spread out the Heels and cause Roy to consider going with a smaller line-up.
North Carolina: F Theo Pinson
Pinson is a stat stuffer. In his game against Florida State, he finished with 12 points, 10 rebounds, and three assists in 24 minutes of play. Theo does the little things the Tar Heels need. He is also heart of this team. His passion is infectious. Look at how the stadium responds to his one-handed jam:
While he was injured UNC was tournament worthy. Now that he is back, the Tar Heels are Final Four good.
Freshman Spotlight
Syracuse: G Tyus Battle
Against Boston College, the 6 foot 6 point guard from Edison, NJ had a career-high 21 points. He also has two assists and a rebound in 33 minutes of play. The Tar Heels have had struggles against bigger guards this season. This could be another big game for Battle.
North Carolina: G Brandon Robinson
Against the Seminoles, Robinson only played four minutes. During that time he did absolutely nothing. Seriously, he had zero points, rebounds, assists, and free throws made. He did have a turnover when he caught a pass tossed to him by Berry before stepping over into back court, though it was attributed to Berry.
The only thing Robinson did do well, was being aggressive during his four minutes. He got his two foul shots driving to the basket on a fast break. He also had a lay-up blocked on a reverse after receiving a wide open pass down low. Since most of his season has been this game, any sign of life is a positive for Tar Heel nation.
Three Questions
Is UNC's "Death" Line-up their best unit?
With Tony Bradley out, UNC went super small. With four minutes left in the first half, Roy Williams sent out a line up of Justin Jackson, Theo Pinson, Nate Britt, Kenny Williams, and Joel Berry II. After giving up four points early, the unit started to gel.
With the Tar Heels only up two with two minutes to go, the small ball Heels outscored the bigger Seminoles 7-0 to go into halftime with a nine point lead. The unit also had four rebounds, two assists, and a steal during that stretch.
The unit was very reminiscent of the Golden State Death Line-up that won 140 games the last two years. Will Roy continue to use it? Only time will tell, but early returns are exciting.
Can Isaiah Hicks stay out of foul trouble?
Against Florida State, Isaiah Hicks had a season-high 22 points in just 22 minutes of play. He also had seven rebounds. He also only committed three fouls. Hicks has struggled to stay on the floor this season, having gotten four or more fouls eight times this season. When he can keep his wits, he can be a very valuable contributor to the Tar Heels this season.
Will this contest be a Final Four repeat?
Sure it was last season. Sure a lot of the players are no longer the same. But that game could be very telling. UNC won that game 83-66. The Tar Heels are averaging 89 points this season, the Orange 76.
UNC also outrebounded Syracuse 43-31. Again this season the Tar Heels are averaging 45 rebounds per game compared to the Orange's 38. That game additionally saw UNC record 18 assists to just Syracuse's five.
A lot can still happen, but if Syracuse doesn't find ways to keep up with the Heels scoring and boards, this may end up being another blow out for the Tar Heels.
Prediction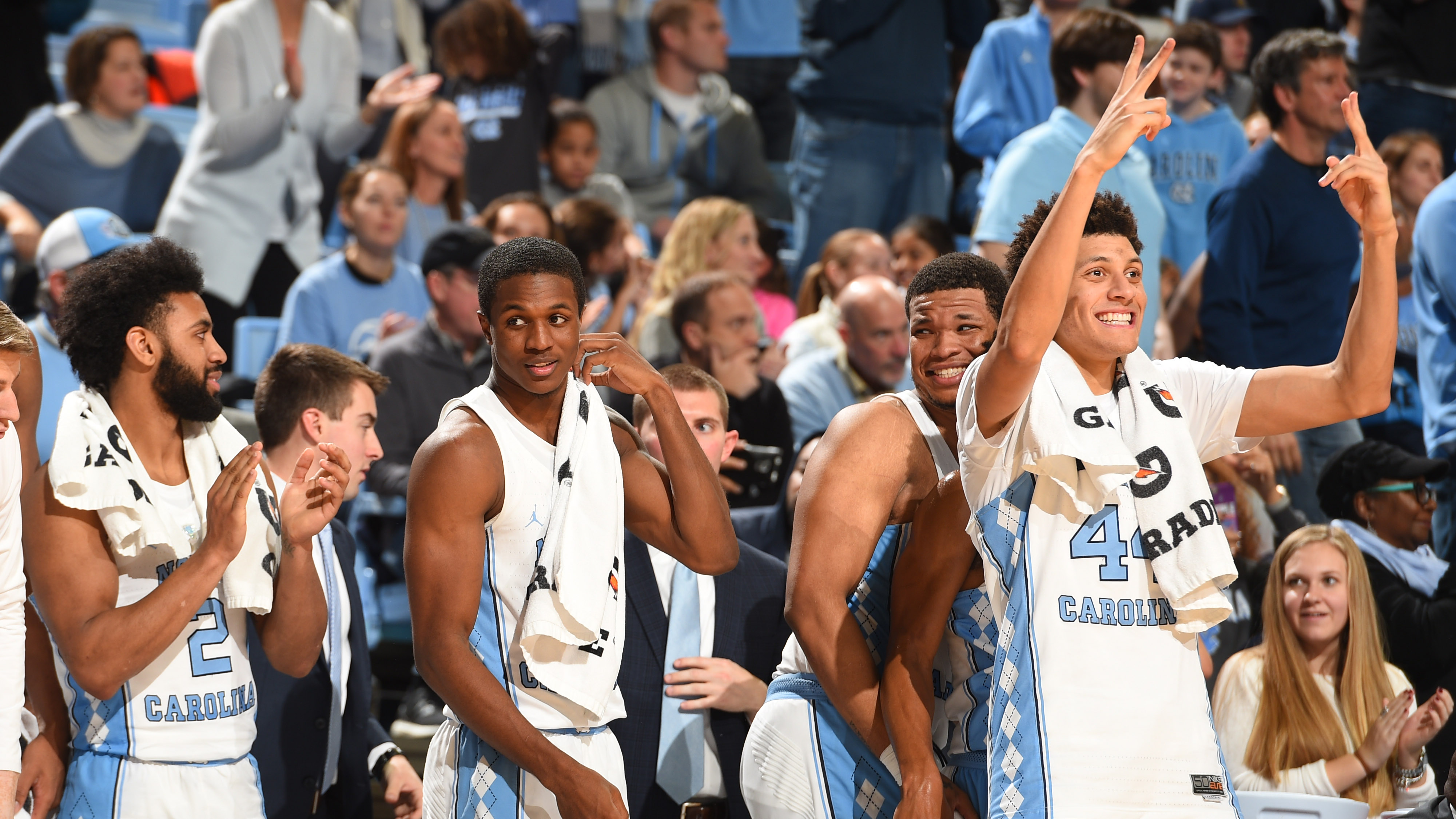 Syracuse has played better since the conference season started. However, all their wins have come in the confines of the Carrier Dome. Meanwhile, UNC has gone 9-0 at home this season. Sometimes it is that simple.
Final Score: 96-75 UNC over Syracuse. Sure the Orange are better, but NC State was better too. Both teams have failed to record an ACC road win. Both teams have a freshman point guard as well. North Carolina comes out hot and Syracuse never really recovers.
More from Keeping It Heel
This article originally appeared on