UNC Basketball: Kenny Williams season preview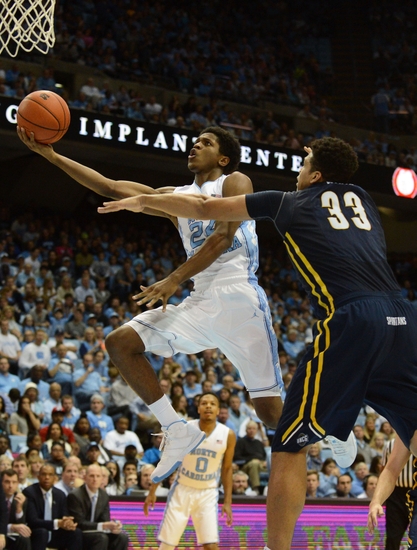 We continue our UNC basketball player preview with sophomore Kenny Williams
Shea Rush | Brandon Robinson | Seventh Woods | Tony Bradley Jr.
Kenny Williams is a 6-foot-4, 180-pound sophomore from Richmond Virginia.  The UNC shooting guard will wear number 24.
Williams saw limited action last year as a freshman for the North Carolina Tar Heels. He played in 30 games but averaged only about four minutes a game.
He did have valuable minutes in the ACC tournament,  Williams came in for five second half minutes against Pittsburgh.   In that game, he had an assist and scored his first collegiate three-pointer to give Carolina an 11 point lead.
Williams also was called upon in the ACC Championship game against Virginia to help guard player of the year Malcolm Brogdon.  During that playing time Williams helped keep Brogdon under control with Brogdon only getting one field goal and having a turnover.
In high School Williams help lead the L.C. Bird Skyhawks to 89 wins in his four years there. In his senior season, he averaged 17.9 points, 5.7 rebounds, 3.4 assists and 3.3 steals.  In that year he lead the Skyhawks to a conference championship and a 23-3 record.
He set a school record with 50 pints in one game and was able to shoot 38 percent from three point range for his high school career.  William is an excellent perimeter defender and during high school had as many steals as assist with 247.
Last week Theo Pinson suffered a broken foot during practice. Pinson had surgery this week and a timetable for his return his not set.
With Pinson out this will give Kenny Williams more playing time.
During Wednesday's ACC media day head coach Roy Williams was asked about the Theo Pinson injury and who would be starting in his absence.
While coach Williams was hesitant to name a starter he did have a lot of positive things to say about Kenny Williams.
According to Lindsey Sparrow at Inside Carolina coach Williams said that,
"He is a complete player…He is one of our best if not our best perimeter defender"
Coach Williams also talked about early struggles in his shooting  last year that bothered Kenny Williams.  He was hopeful that the experience from last year would greatly benefit Kenny this year.
With coach Williams confident that Kenny Williams is a top defender and  the injury to Theo Pinson, he will be sure to see a huge increase in minutes.
The increase in minutes should build his confidence and hopefully help his shooting touch.
I think Kenny Williams will be a huge factor in the success of Carolina basketball this year and will take that next step the Tar Heels need him to.
More from Keeping It Heel
This article originally appeared on