UNC Basketball: Justin Jackson season preview 2016-2017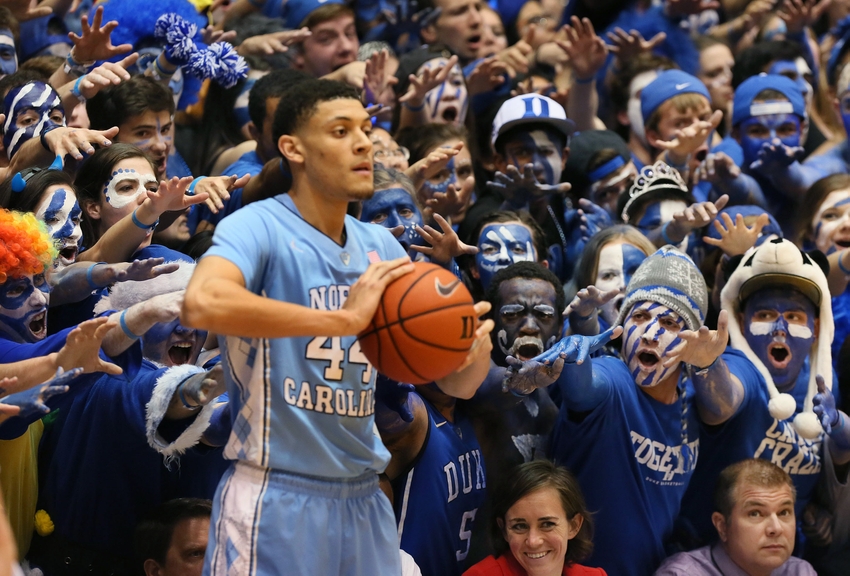 Justin Jackson looks to find consistency in his junior season at UNC
Shea Rush | Brandon Robinson | Seventh Woods | Tony Bradley Jr. | Kenny Williams
Now in his third year at the University of North Carolina, former McDonald's All-American Justin Jackson is poised to have a breakout season that will likely propel him into the NBA Draft's first round.
And it's not unrealistic to think that he'll have that kind of season. After all, he's got the skill, maturity and leadership to do so.
The Tar Heels lose seniors Marcus Paige and Brice Johnson but have a strong cast of returning players including Isaiah Hicks, Kennedy Meeks, Nate Britt, Joel Berry, Theo Pinson and Jackson.
If Jackson can find his shooting touch early in the season, it will raise his draft stock while greatly increasing the Tar Heels' potency on offense. His ability to hit threes will help spread defenses out, giving shooters more room on the perimeter and big guys more space down low.
Looking back at 2015-2016
In his first two seasons at UNC, the 6-foot-8, 210-pound small forward averaged 11.5 points, 3.8 rebounds and 2.6 assists per game.
As a sophomore, he saw career highs in points, rebounds and assists per game. However, he hit career lows in shooting percentage from the floor, beyond three-point range and the free-throw line.
Despite the ups and downs, Jackson's role on the Tar Heels over the last two seasons has been invaluable thanks to his leadership, smooth mid-range game and solid defensive presence.
He was an integral part of a team that made it all the way to the national title game a season ago.
Strengths
Jackson has one of the best mid-range games in all of college basketball. His floater, whether it be left-handed, right-handed, off-balance or in stride, is without question the most developed part of his game. It's not always pretty, but it works.
He's also got good size and athleticism that helps him on both ends of the floor.
His 6-foot-8,  210-pound frame stacks up nicely with other perimeter players, helping him match up well offensively and guard effectively on the defensive end.
Finally, Jackson's got terrific instincts and a high basketball I.Q. Even when his shot isn't falling, he knows where he needs to be on the court to put himself and teammates in the best position to succeed.
Weaknesses
Jackson's difficulties from three-point range have been well documented. It's no secret that he's struggled shooting anything beyond mid-range throughout his first couple of years at North Carolina.
In two seasons with the Tar Heels, Jackson has shot 29.7 percent from deep, hitting just 63 of his 212 three-point attempts.
And still, there are those who believe that we haven't seen the best of Justin Jackson's long-range game. Namely, the UNC coaching staff.
Jackson continues to work on his game, each season showing a little more maturity and a little more polish on his game. Perhaps this will be the season that his offensive capabilities are extended out past the three-point line.
It's no exaggeration to say that if they are, Jackson stands to have a terrific junior season. And if he does, look for UNC to ride his hot shooting deep into March.
Jackson's role in 2016-2017
For the third consecutive season, Jackson will be the Tar Heels' starting small forward.
Unlike previous seasons though, in which his offensive output was somewhat optional, he'll have to produce solid numbers to give UNC its best opportunity to get back to the Final Four.
With the departure of Paige and Johnson, two of UNC's primary scoring options last season, it will be the veteran Jackson who is called on to help fill the team's void in scoring.
His best contribution would be to give UNC another three-point shooter. With the Tar Heels' best long-range threat also being their point guard, they'll need other capable shooters who aren't trying to facilitate the offense.
If UNC can shoot well from deep this season, the losses of Paige and Johnson will be much easier to absorb.
What to expect from Jackson in 2016?
Look for Jackson to take the next step in his progression as a basketball player this season.
With an improved shot from long distance, he'll put pressure on defenses to guard him straight up rather than sagging down and causing additional traffic in the lane.
He's already fundamentally sound with a terrific mid-range game. With the addition of the three-point shot, he will be a legitimate all-around threat that opposing coaches and players are forced to respect.
More from Keeping It Heel
This article originally appeared on