UNC Basketball: Joel Berry II season preview 2016-2017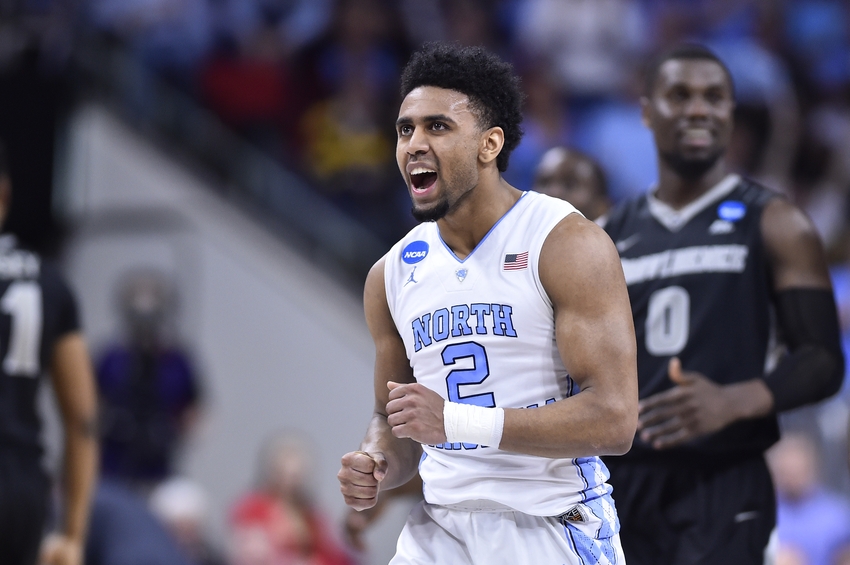 Joel Berry II could be the best point guard in the nation and a key piece for the Tar Heels
Fresh off of a 33-win season and NCAA title game appearance, the Tar Heels are hungry to come back and take what they feel is rightfully theirs.
Led by junior point guard Joel Berry, their unquestioned leader and best player, they have a chance to do just that.
But how will the team fair after losing seniors Marcus Paige and Brice Johnson?
Only time will tell, but Berry has all the makings of an All-American point guard who can help the Tar Heels pick up right where they left off.
Looking back at 2015-2016
Berry had a breakout sophomore season when he took over the point guard position for Marcus Paige. He increased his per-game averages in every major statistical category including points, rebounds, assists, steals, blocks, shooting percentage and three-point shooting percentage.
His performance in the National Championship game was nothing short of amazing, single-handedly keeping the Tar Heels in the game (and in control) in the first half. He also hit a three-pointer in the closing minutes of the second half that pulled UNC within three points of Villanova.
Perhaps more important that anything else though, Berry showed that he had the leadership qualities necessary to run the team and motivate his teammates.
UNC will need that leadership just as much as they'll need his play-making abilities on the court. If the Tar Heels hope to finish what they started last year, they'll need Berry at his best.
Strengths
Joel Berry is a high energy player with the speed, strength, skill and athleticism to be one of the top point guards in the nation this season.
He's a score-first point guard with good instincts and leadership skills to match. His ability to run the offense, get others involved and create his own shot make him a versatile weapon in Roy Williams' system.
Berry is a good shooter with an improving three-point shot. He's quick to cut into the lane and collapse a defense, giving him the option to finish strong at the rim or dish the ball out to an open teammate.
Weaknesses
If there's a weakness in Berry's game, it's that he isn't the prolific passer that Carolina fans are so accustomed to seeing at the point guard position. Much like Paige, he's more of a gifted scorer than distributor.
That's not to say that he can't efficiently facilitate the offense, because he can. But he's far more likely to look for his own shot or drive the lane for an easy bucket than he is to toss a precision pass into traffic.
And it's not that he's a selfish player. He's just an aggressive point guard with a knack for scoring. He carried a solid 2.38 assist-to-turnover ratio as a sophomore, his first year in the lead guard role. And in year two as the primary point guard, Berry will presumably log more assists than he did as a sophomore.
However, he's likely to be starting alongside junior wing man Theo Pinson, who's proven over time that he is a gifted passer. Pinson's ability as a ball handler and facilitator should lighten the load for Berry and allow him to look for his own shot.
Berry's role in 2016-2017
Berry showed last year that he was more than capable of running the offense and leading the team from the point guard position. He'll look to do that and more this season.
We saw him take on more of a leadership role last year as the season went on. He was able to seamlessly transition into the role without a lot of pressure since Marcus Paige and Brice Johnson were already the established leaders of the team.
This season, that responsibility will primarily be on him. Other upperclassmen will help shoulder some of the leadership duties this season, but none as vocal as Berry.
This is his team and his time to shine. And as Berry goes, so too do the Tar Heels.
What to expect from Berry in 2016?
Berry is already the best guard in the ACC, and he could be the best in the nation (Iowa State's Monte Morris may have something to say about that, though).
He'll be a heavy favorite for first team All-ACC and compete for All-American honors as well. He'll also be a strong contender to win the Cousy Award, given to the nation's top point guard.
This very well could be Berry's final season in Chapel Hill. Expect him to go out with a bang.
If he does, we may very well see the Tar Heels in the same position that they were last season; with a chance to win it all.
More from Keeping It Heel
This article originally appeared on