UNC Basketball: Hoosiers vs. Tar Heels game preview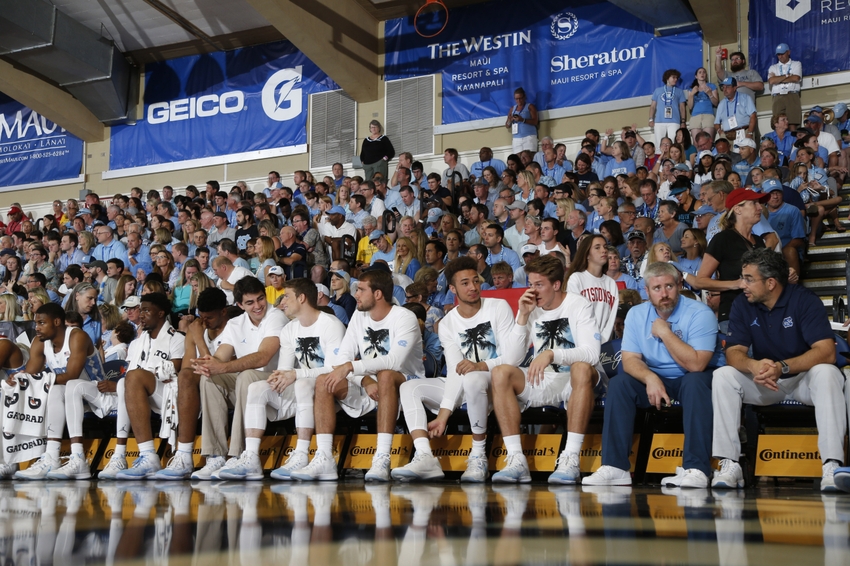 UNC takes on Indiana in Bloomington as part of the ACC/BIG Ten Challenge. What do the Hoosiers bring to the table? 
It has been almost a week since North Carolina ran through the Maui Invitational on their way to another title.
With time to have rested and spend with family, UNC now finds itself on the road for the Big Ten Challenge. It will be the Tar Heels toughest opponent to date this season and a road game on top of that.
Indiana is the team.
What do the Heels need to know about the Hoosiers?
Indiana Hoosiers
Head Coach: Tom Crean. Career record 338-213. Crean is in his ninth season with the Hoosiers where is 148-119. This is his second head coaching stop, he previously coached at Marquette. Crean took the Golden Eagles to the Final Four in just his fourth season. He has never made it past the sweet 16 since.
Conference: The Indiana Hoosiers play in the Big Ten conference. Last season they finished first in their conference with a 15-3 record. They lost in the quarterfinals of the Big Ten Tournament but made the NCAA tournament as a five seed. Their season ended with a 105-86 loss to the Tar Heels in the sweet 16.
Best Former Player: Isaiah Thomas. Indiana has had several good former players but Thomas is their best. The former NBA point guard is a two-time NBA Champion, 12 time NBA All-Star, and a five-time All-NBA player. The former NBA finals MVP finished his career with 18,822 points, 9,061 assists, and 1,861 steals. He is also a hall of famer and a former NBA coach.
This Season: Indiana is 4-1 this season. They have only played one game out of the Hoosier state. That was their opener, a win in Hawaii against Kansas in overtime. Their one loss came on the road to IPFW. The Hoosiers are averaging 88.6 points per game and will be looking for their second big win over the number three ranked team in the land.
Key Players
Indiana: G James Blackmon Jr
The Junior guard leads his team in points scored and minutes played. He has also hit more three pointers despite missing his last game with an injury. The injury has made Blackmon questionable for the game against the Heels. He didnt play in the game against North Carolina in the 2016 Sweet 16 round.
If he doesn't play, UNC will have one less thing to worry about.
North Carolina: Joel Berry II
The Maui Invitational MVP has been on a tear this season. He leads the Heels in points, assists, steals, and three pointers made. He's also tops the free throw percentage and three point percentage as well. He does all this despite throwing up a stinker against Hawaii (two points, four turnovers, 0-5 from three).
Additionally, he has been able to get some rest thanks to the stellar play of the Heels. His leadership is a big reason why the Heels are 7-0 so far this season.
Impact Freshmen
Indiana: G Curtis Jones
The freshman guard is averaging 6.6 points, 1.6 rebounds, and 2.0 assists in 14.4 minutes of play. In his last game he tied a season high with 17 minutes. He also scored nine points on 3 of six shooting coming off the bench. At 6'4 he could cause some problems for North Carolina's smaller guards Joel Berry II, Nate Britt, and Seventh Woods.
North Carolina: G Brandon Robinson
The freshman guard is averaging 3.9 points, 2.4 rebounds, and 1.6 assists in just 12.3 minutes per game. He has fallen to third on the depth chart behind both Kenny Williams and Nate Britt, two guys he was competing for Theo Pinson's spot with.
When Williams starts, Carolina loses that spark plug off the bench. Robinson can be that spark plug. He just needs to watch out for picking up quick fouls that keep him on the bench. He also could help the Heels if this becomes a three point shootout.
Three Questions
Can Indiana put UNC in a hole?
North Carolina has trailed in only two games this season. Neither contest was more than three points and neither was for very long. In the Maui Invitational they led the entire tournament. That is four games of not trailing.
What does this mean? UNC has not faced real adversity this season. They don't know how they would respond if they were put in a hole and had to fight back. Indiana will be the best team the Heels have faced this season. If they can get an early lead at home, will the Heels be able to respond?
Can UNC prevent Indiana from getting an offensive rebound?
North Carolina and Indiana currently rank sixth and second respectively in rebounds per game. This is a good sign teams are boxing out and getting the defensive rebounds as they make up a larger portion of a teams rebounds.
Against Wisconsin, another Big Ten team, Carolina held the Badgers to just four offensive rebounds. If Thomas Bryant gets into early foul trouble, it is possible that Indiana may have similar troubles on the offensive glass.
Could both teams break triple digits?
I know this sounds crazy but here me out. Both teams have already cracked 100 points twice this season. Both teams like to run. This creates more possessions. More possessions create more opportunities to score. I am not saying this will happen but if both teams are hot from the field it isn't that crazy at all.
Prediction
If the game had taken place after the Fort Wayne game, this would be a lot scarier for the Heels. Luckily there was a game in between. Indiana lives and dies by the three and against good teams that can be dangerous.
Final Score: 92-87 UNC over Indiana. This will be the toughest test UNC will face this season. Indiana will give Carolina problems. However, both teams want to run and that is usually a plus for the Tar Heels.
More from Keeping It Heel
This article originally appeared on