UCLA Women's Basketball Beat Pacific in Season Opener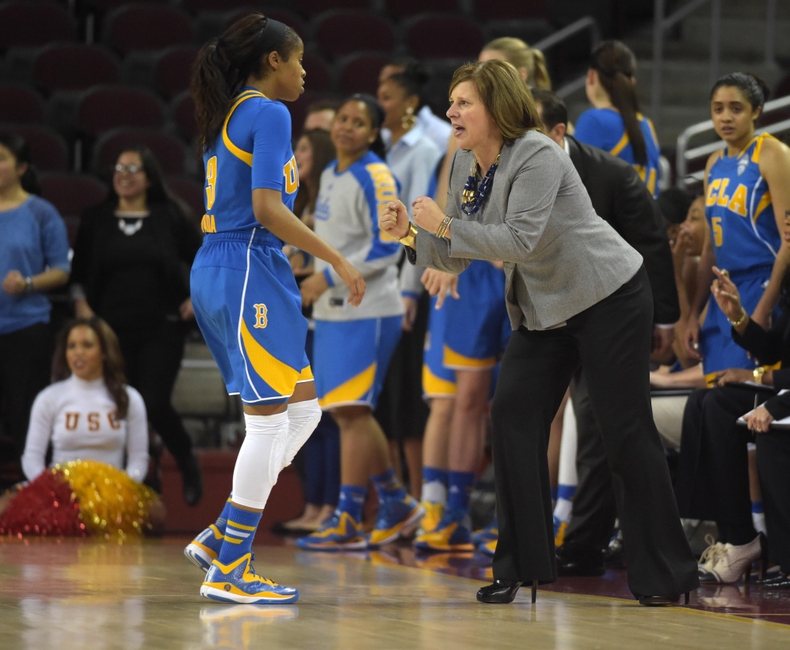 The UCLA Women's Basketball team used a second half push to defeat Pacific 82-55 in their first game of the 2016-17 season.
And so the UCLA Women's Basketball team is right back where they left off, winning. Except for that loss to Texas in the Sweet Sixteen, which the Bruins almost won.Still, they are back on track.

55

82
With the new season under way, Head Coach Cori Close has a very talented squad on her hands and Bruin fans got to see them in action. The Bruins have started this season as the #9 team in the nation and proved it on Friday night in their double-header with the men's team as both took on Pacific.
The Women of Westwood had a tough time shaking the Tigers in the first half as Pacific was neck and neck with UCLA. At halftime, the Bruins had a narrow 38-32 lead. That quickly changed after the half.
In the 3rd quarter, the Bruins roared ahead and scored 32 points (compared to Pacific's 12). The Bruins had a lot of production from every one of their payers that hit the court. Nine players played, nine players scored.
Even better, four Bruins scored in double-digits. Even better than that were two Bruins collecting their first double-double of the season. Point guard Jordin Canada had 15 points and 12 rebounds while forward Monique Billings put up 15 points and 11 rebounds.
Nicole Kornet and Kennedy Burke also added in 15 and 10 points, respectively.
Though UCLA started slow (they only made 32.6% of their field goals int he first half), they proved to be a second half team (46.9% in the second half) and the faster they played and adjusted to the game allowed them to overpower Pacific.
Here's the highlights of our 82-55 season-opening win over Pacific! #GoBruins #BruinGrit pic.twitter.com/vHktgLez6j

— UCLA W. Basketball (@UCLAWBB) November 12, 2016
It was a great way to start the new season and UCLA definitely has the horses to play. As we have said before, if you have not checked out the UCLA Women's Basketball team, I think it is time you made plans to do so. Go Bruins!
This article originally appeared on