UCLA Basketball: Wooden Legacy Tournament – Round 1 Preview vs. Portland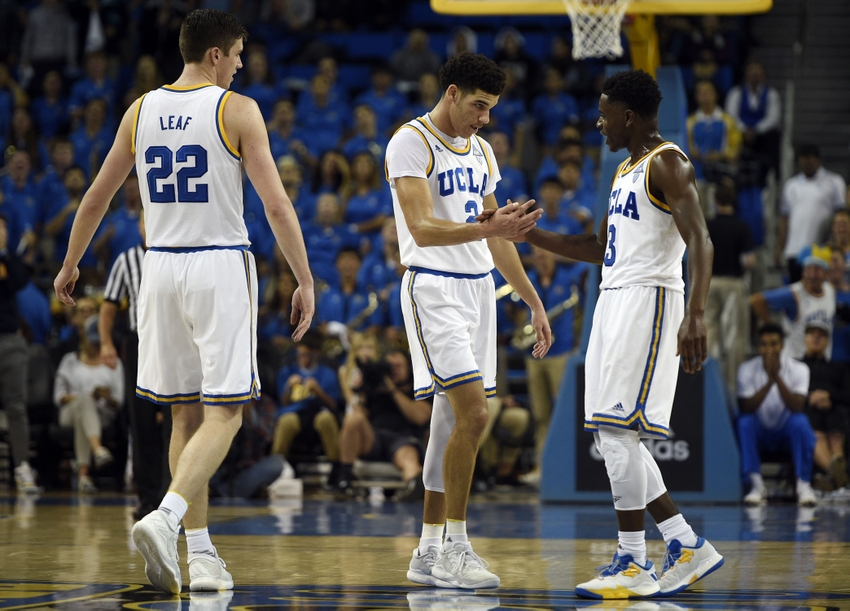 The UCLA Basketball team starts their trek in the Wooden Legacy tournament with a late-night Thanksgiving affair against Portland.
The UCLA Basketball team has four games under their belt which has resulted in four wins. All by a margin of victory of 28.8 points per game. That is easy to do when you are the top scoring team in the country as UCLA is.
Through four games, the Bruins are averaging 105.8 points per game. That is something else.
Their first four games were all against cupcakes, so the Bruins will be challenged in the next four days in the 3-round tournament that is taking place at Cal State Fullerton and the Honda Center.
#16 UCLA Men's Basketball vs. San Diego Toreros
Records: Portland Pilots 3-0, UCLA Bruins 4-0
Location: Titan Gym at Cal State Fullerton (Cap.: 4,000)
Tipoff: 8:00 p.m. PT
Tickets: espnevents.com
TV: ESPN2
Radio: AM 570 Los Angeles
On-line Radio: Tune-In
Live Stream: WatchESPN
Betting Line: UCLA -15.0, O/U: 169
Projected UCLA starters: Lonzo Ball, Bryce Alford, Isaac Hamilton, TJ Leaf, Thomas Welsh
Projected Portland starters: Alec Wintering, Jazz Johnson, Gabe Taylor, Jarrell Marshall, Phillip Hartwich
The Portland Pilots like to get up and down the court, just like UCLA. In their wins, they are averaging 82.7 points per game.
All of that starts with point guard Alec Wintering who is leading the Pilots in points (19.0) and assists (8.0).
Wintering has several weapons at his disposal, but his two main targets are forward Gabe Taylor and guard Jazz Johnson. Taylor is second in scoring with 17.3 ppg and leads the team in rebounds  with 8.0. Johnson comes in third in scoring with 14.3 ppg, and is doing so as the Pilot with the best 3-point shooting percentage, .667.
Here is the thing, Portland will be able to score, but how much? UCLA is not known for their defense, though there have been slight improvements. Portland is a team that can work the ball around and find the open shot. Unfortunately, if they do not play any defense, they are going to have to heavily depend on outscoring the Bruins.
As mentioned above, UCLA is the best scoring team in the nation. Though the Bruins have not really faced a defensive power early in this season, it will be hard to slow them down no matter what. The Bruins have all of their starters and Aaron Holiday scoring in double-digits. That is not going to be easy to hold off.
Family & friends

Turkey

Basketball #WoodenLegacy starts today pic.twitter.com/tjgNSiXx7I

— The Wooden Legacy (@TheWoodenLegacy) November 24, 2016
And these Bruins are not just scoring, they are putting on highlight dunk after dunk. Expect more of the same in this game as it is the first time UCLA will be on the ESPN Network this season. That is right, the entire country can watch UCLA Showtime! Prepare for take off!
Prediction: UCLA 101 – Portland 82
This article originally appeared on