UCLA Basketball: The Re-Birth of Bryce Alford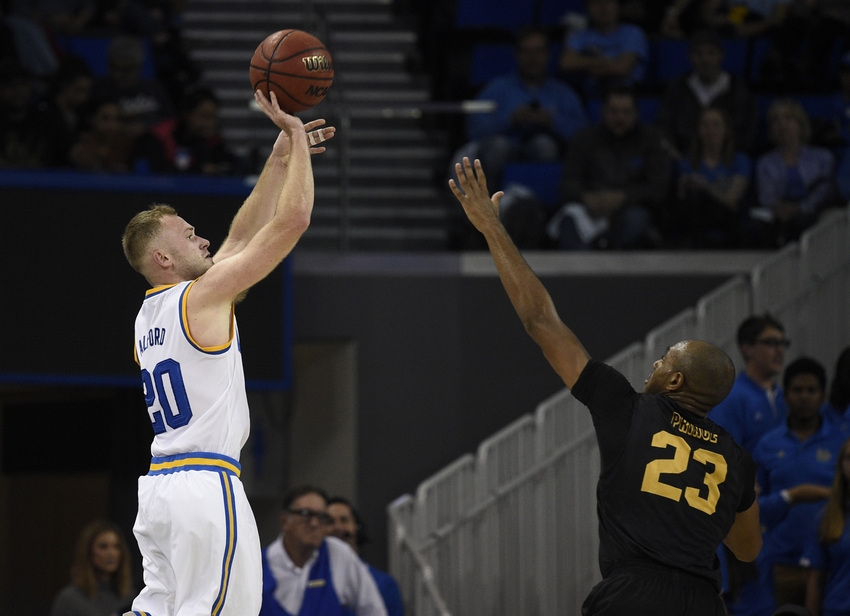 With less responsibilities to handle this season for the UCLA Basketball team, senior Bryce Alford has embraced the shooting guard spot and is thriving.
This is a new Bryce Alford. An Alford that is a huge part of the UCLA Basketball teams' early season success.
Who knew the Bruins would have such a weapon on their hands? (Raises hand slowly…)
Things are clicking for the Bruins and it is due to several factors: freshmen phenoms, a working uptempo style, slightly better defense and having all the players buying into the concept of team basketball.
In regards to that last item, for Alford, that meant handing the reins at point guard over to Lonzo Ball who is more equipped to handling the 1 spot. So what does Alford do? Slides over to the 2 spot and is owning it.
Last season, Alford did a little too much as a "shoot first" point guard. From running an often stale offense to battling double and triple-teams, things were just not working out for Alford and the Bruins who finished 15-17.
This season is different. The offense is different. Bryce Alford is different.
Though it may be early in the season, Alford is having his best year as a Bruin. By making the shooting guard spot his own, Alford is becoming one of the better shooters in the Pac-12, and if I may gloat, that is something I stated early this year.
Alford is currently second on the team in scoring with 17.0 ppg, the most in his four years. He currently has a free throw shooting percentage of .938, the best in the Pac-12 this season and in his career.
Alford is shooting .442 from behind the arc, another best for his career. He is also shooting remarkably better than last season (.385) with a career-best .479.
So how has this happened? With Alford playing off the ball, he is able to move freely around the court. He can pick his shot and fire at will, especially since he is avoiding double-teams and is less apt to take closely contested shots.
This is a new Alford and he is deadly. If he keeps up this type of production, not only will he help UCLA return to the NCAA Tournament, but he could also help his NBA Draft stock. Yeah, I said it.
The entire Bruin squad is really buying into this philosophy and it is very important that a veteran like Alford is setting an example for that. Not only is UCLA getting better because of his new role, but so is he.
This article originally appeared on