UCLA Basketball: The Bruins Will Push The Tempo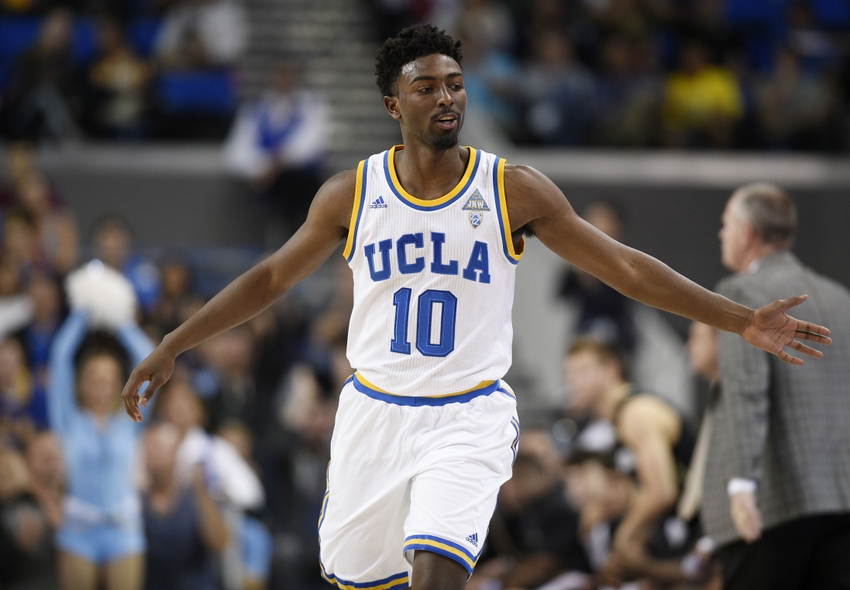 The UCLA Basketball team wants to play fast this season and after watching them in their exhibition, they look more improved (and definitely faster) than last year.
Run, run, run. Fast, fast, fast. Now, now, now! That is going to be the mindset of UCLA Basketball this season.
On Tuesday, the Bruins displayed their new offense which will push the tempo with freshmen point guard Lonzo Ball running the show. Ball immediately made his presence known as he made the offense flow like we haven't seen since Kyle Anderson was here. The difference, Ball is not Slowmo. Ball is Fastmo!
Ball is quick on offensive, but was also very active on the defensive end. He finished with 2 steals, 10 rebounds and had a block that he chased down on a Master's Univeristy fast break. He also dropped in 14 points.
With Ball dictating the pace, he made the other Bruins around him move. That is a good sign for two reasons: (1) UCLA has the players to work this system and (2) the chemistry is solid.
We know the Bruins have the talent, but it cannot be underestimated how important building chemistry is, especially with a new player running the offense.
The players around Ball understand the system. Steve Alford has been trying to run this style of offense since he got to Westwood, so the veterans know exactly what is expected, especially Bryce Alford.
Alford has a hot hand, always has. Last year it seemed he had a little too much to handle. I have stated before that if Ball runs the point, Alford would be free to move around and create his own shot and that is exactly what we saw.
Alford hung around the three-point line and knocked down 4-of-7 shots from beyond the arc and finished with a team-high 22 points. If run effectively, this Ball-to-Alford combo will be deadly.
Isaac Hamilton fits in the same way, except instead of setting up outside shots, he is slashing and attacking the rim. He ended with 17 points on 6-for-11 shooting. His strength is being the guy that can score when no one else can. Last season, Hamilton scored in double digits in 29 consecutive games.
Inside and outside, there will be a lot of buckets in Westwood this season.
As for the big men, though they could do a little better muscling themselves in under the basket, they will have a lot of scoring opportunities. Thomas Welsh has really improved his shot and is automatic from eight feet out. He is also developing a nice hook shot reminiscent of one Lew Alcindor/Kareem Abdul-Jabbar.
Freshman T.J. Leaf is very athletic and very graceful. He has excellent footwork and body control. What does that mean? Leaf can move in and out of defenses with ease and score in a variety of ways. In the Bruins' exhibition game, he was the spark the offense needed in the second half when others hit a lull. With his moves, in this offense, UCLA will be able to score quickly under the basket.
This should be a very efficient and well run team. There are a few concerns, which I have previously addressed (defense, letting up on pressure), but hopefully Head Coach Steve Alford will address this as the season progresses. For now, know that this team will have no problem scoring. Inside and outside, there will be a lot of buckets in Westwood this season.
This article originally appeared on