UCLA Basketball: How Lonzo Ball Has Impacted the Bruins Early in the Season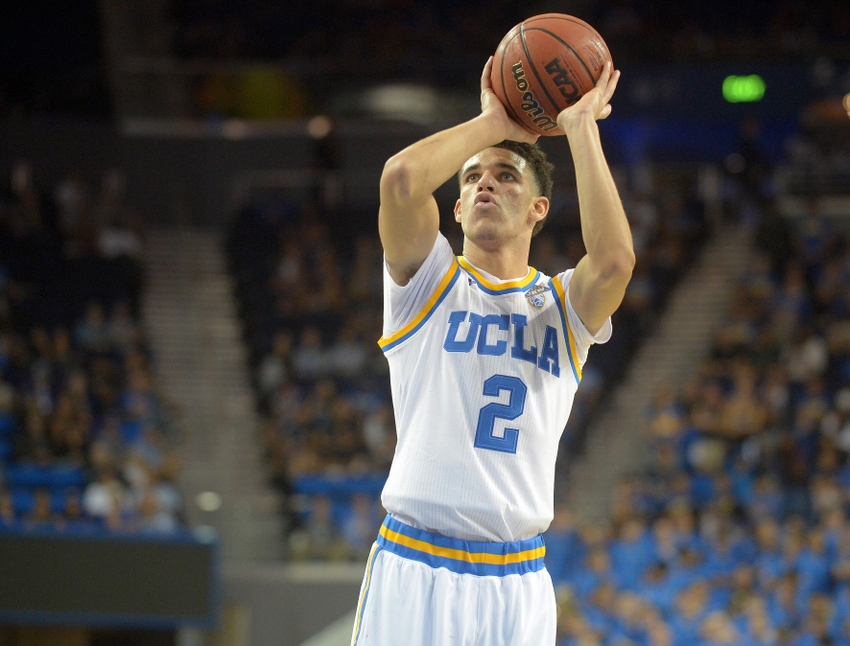 Lonzo Ball has been living up to the hype he received as a recruit through the first seven games of the season, but just how much has he impacted the UCLA Basketball team this year?
Lonzo Ball has had a great year so far early in the season and has led the UCLA Basketball team to a #11 AP ranking and a 7-0 record while posting a gaudy amount of points and highlights.
So how has Ball has transformed the 15-17 team from last year, to the promising team it is today?
Let us take a look.
By the Numbers
There is almost nothing that isn't impressive about Ball's statistics so far.  He currently leads the nation in assists with 9.1 per game.
Perhaps equally important however, is that he's been doing it on an exceptional 3.76 assist-to-turnover ratio.
Ball has also proven to be great scorer with 16.0 ppg game, but once again its his efficiency that really makes this number stand out doing it on a a ridiculous 57.4% from the floor and 48.6% from the 3 point line.
Demonstrating his all around versatility, Ball also leads Bruin guards in rebounding with a solid 5.3 boards a game.
The stats show that Ball has the ability to dominate a basketball game in a variety of different ways, but in my opinion, this is secondary to how he has elevated the play of the entire team.
Squad Goals
A lot of the things that could be said about Lonzo Ball, are actually true for the Bruins as a team. Earlier before the season I wrote an article talking about how in addition to a star player, UCLA would be getting a new offensive philosophy this season. The new selfless, sharing-is-winning, system has been embraced by every member of the team.
It isn't just Ball distributing the ball, UCLA as a team leads the nation with 24.1 assists per game.  In fact the nation's leader  in assists per game (9), only notches 37.5% of the team's assists.
Sharing the ball so much has given quality shooters open looks, and the Bruins are scoring buckets with remarkable efficiently.  UCLA is ranked 1st in the country in field goal percentage, and 4th in 3-point field goal percentage 54% and 45% respectively.
If you told me a year ago that UCLA, a team that dribbled too much and often took questionable shots, would lead the nation in assists and field goal percentage the following year, I would have laughed. The entire roster and coaching staff deserve credit for buying into this system and then executing as well at they have.
However, as guard Issac Hamilton discussed in this interview (clip starts at 3:19), Ball's presence has been a huge factor in why the team has changed to this selfless, flowing style of basketball.  This culture change has been absolutely critical to the team's success, and if Ball served as a catalyst for it, he deserves a ton of credit for how the Bruins are playing right now.
UCLA is the most fun (not biased) college hoops team to watch this year, and you can catch more vine worthy clips like the one above tonight (November 30th) as UCLA takes on UC Riverside in Pauley Pavilion.
This article originally appeared on