UCLA Basketball: Bryce Alford to have monster season in new role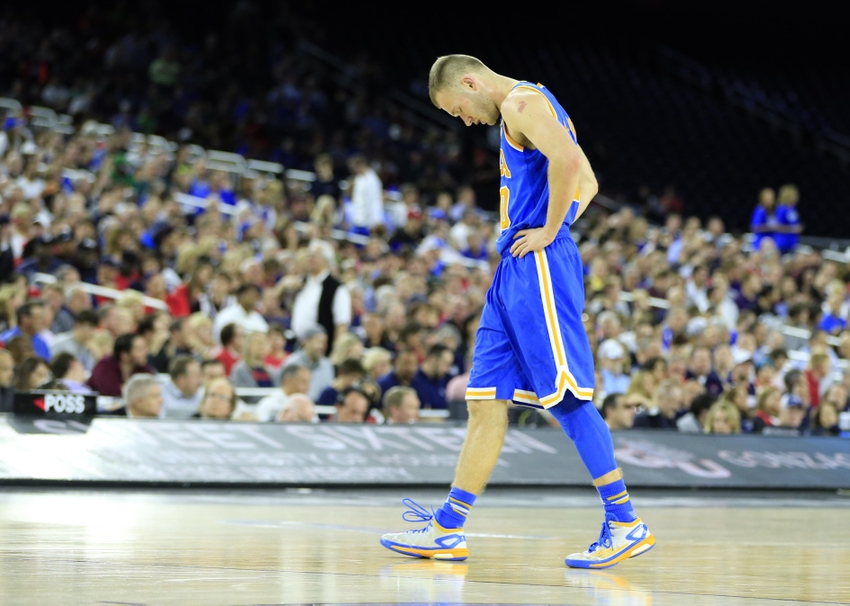 UCLA basketball guard Bryce Alford will play off the ball more in 2016-17.
Over the next few weeks, Busting Brackets will be breaking down players who are set to rebound following a disappointing 2015-16 campaign.
Our "Comeback Season" series will highlight top players across the country who are set to positively re-emerge into the national spotlight.  
While he was criticized at times for his streaky shooting, UCLA guard Bryce Alford did have a solid 2016 campaign. In a year where UCLA struggled as a team, Alford provided occasional bright spots in an otherwise disastrous season for the Bruins.
Alford averaged over 16 points and five assists per contest. He was part of UCLA's dynamic backcourt that included fellow junior Isaac Hamilton and freshman Aaron Holiday. Alford led the team in assists, and trailed only Hamilton in scoring.
Despite some impressive per game averages, it is worrisome that Alford seems to have plateaued as a college basketball player.
There wasn't much of a difference in Alford's numbers from his sophomore to junior season. The only noticeable difference was his three-point shooting, which trended in the wrong direction. After hitting 39 percent from deep in 2015, he dropped to 36 percent last season.
Alford's shooting struggles last year, and throughout his UCLA career, can be attributed to the fact that he has never played with a pass-first true point guard. Alford has never shot over 40 percent from the field because he all too often has to create his own shot.
Although Alford has been forced to log considerable minutes as UCLA's primary ball handler the last two seasons, he is much better off the ball. Alford's strengths lie in his ability to shoot coming off screens and in his off-ball movement.
The problem is, Alford has not played with an elite distributor since playing with pass-first, point-forward Kyle Anderson in his freshman season.
Anderson did a great job of getting his teammates involved as a 6'9″ small forward, averaging 6.5 assists in his final year with the Bruins. Alford benefited from Anderson's precision passing when they were on the court together.
Next season, Alford will be playing with an outstanding passer in freshman point guard Lonzo Ball. Ball was the fourth best high school senior in the country last season, according to ESPN, and averaged over 11 assists per game. Alford will be able to spend the majority of his minutes looking for passes coming off pin downs and still will be able to showcase his playmaking ability when Ball is on the bench.
Alford expressed his excitement about playing with a playmaker of Ball's caliber, saying last week that Ball is one of the best passers he's ever played with.
UCLA is coming off their lowest win total since 2010. The Bruins finished 15-17 and head coach Steve Alford was so embarrassed by their down year that he gave back his contract extension. All the talk has been about how Ball and five-star freshman TJ Leaf will be able to lead UCLA's turnaround.
But if UCLA really wants to be a contender in the Pac-12 this season, nobody is more important to their success than Bryce Alford. He's headed towards a monster year in his new role.
This article originally appeared on