UCLA Basketball: Bruins Rise in the AP Poll After Win Over Kentucky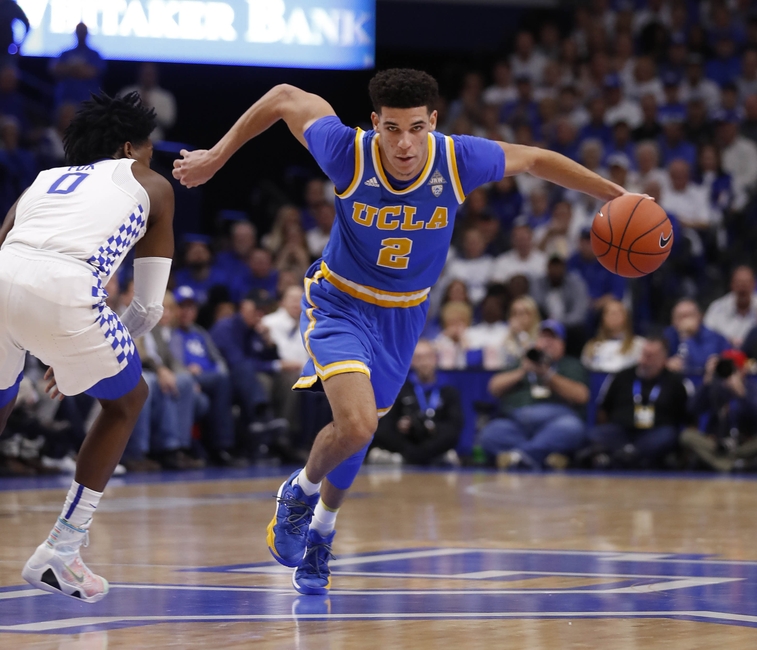 The UCLA Basketball team has risen to the #2 spot in this week's AP Poll after beating former #1 Kentucky and starting 9-0.
The UCLA Basketball team is very good and now the entire nation knows. After beating Kentucky in their own house, UCLA has jumped from #11 to #2 in this week's AP Poll.
RELATED STORY: The UCLA Basketball All-Time Team
The Bruins are on fire right now. Just over a week ago they ran through three teams to capture the Wooden Legacy championship. Last week they took out UC Riverside right before shocking the nation and beating the #1 Kentucky Wildcats
The Bruins are the second best scoring teams in the nation with 97.0 points per game. They are the most accurate shooting team as they lead the country in field goal percentage with 55.1%.
On top of that, they are sharing the ball and it's not just Lonzo Ball (who is leading the nation in assists with 9.3) who is doing most of the work as collectively the Bruins are producing 24.0 assists per game. That is also best in the nation.
So yes, UCLA is one of the best basketball teams in the nation.
The Bruins only have four games remaining in their nonconference schedule as they next play Saturday at Pauley Pavilion against Michigan. They then face UC Santa Barbara, Ohio State (in Las Vegas) and then Western Michigan before the start Pac-12 play against Oregon on December 28.
#UCLA has jumped to the No. 2 spot in this week's @AP_Top25 Poll. #GoBruins

AP POLL: https://t.co/8yMHvCUWu4 pic.twitter.com/JKDjBk4QaM

— UCLA Basketball (@UCLAMBB) December 5, 2016
Other Pac-12 teams that made the AP poll are #20 Arizona and #24 Oregon. Former #1 Kentucky has fallen to 6th.
This article originally appeared on