UCLA Basketball: Bruins Need Another Second Half Effort to Pull Away In Win Over UC Riverside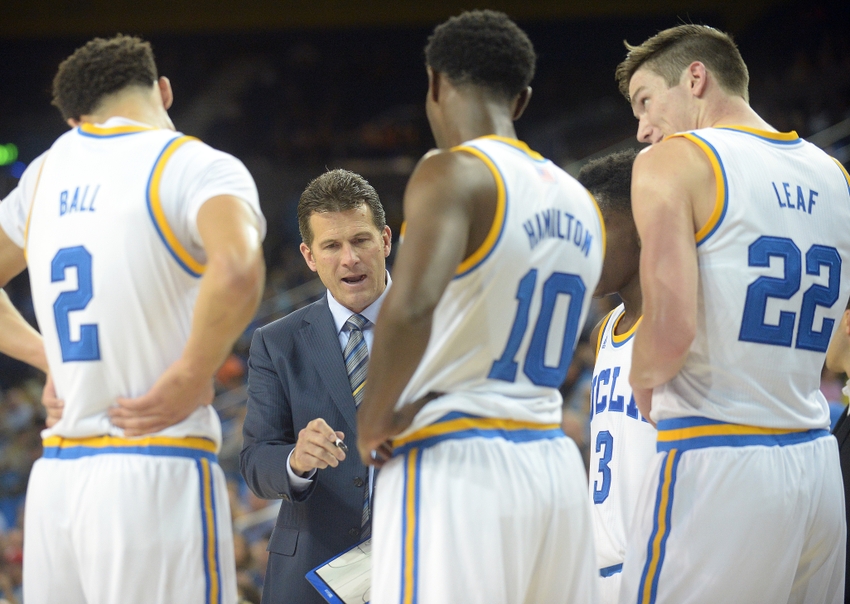 The UCLA Basketball team is proving they are indeed a second half team as they once again found a spark after halftime to pull away, this time beating UC Riverside, 98-56.
It was a little concerning that the UCLA Basketball team gave UC Riverside plenty of chances to score in the first half. As luck would have it, the Highlanders are not great shooters and could not hang with the Bruins.
Though they exploited UCLA's defense throughout the first half, the Bruins were able to fight back with their uptempo style, though not every one got involved early, which was part of the trouble.
Halfway through the first half, only three Bruins had scored: Thomas Welsh, TJ Leaf and Isaac Hamilton.
Welsh started the game off with 10 points on his way to his fifth double-double of the season, adding 12 rebounds. Leaf also chipped in another double-double performance with an impressive 18 points and 10 rebounds.
FINAL: UCLA 98, UC Riverside 56.#GoBruins #UCRvsUCLA pic.twitter.com/KaWybfxEBa

— UCLA Basketball (@UCLAMBB) December 1, 2016
As for Hamilton, well he gets the game ball as he had a game-high 27 points on 9/15 shooting, which 7/12 came from behind the arc. He had the hot hand that helped keep UCLA in front until the rest of the team decided to show up.
Bryce Alford and Lonzo Ball did not sink a basket until almost half, which the Bruins led 42-27. Good, but it was In the second half where everyone got in on the action.
If anything, UCLA is showing that they can make adjustments and have a stronger second half than their first. After halftime, the Bruins scored 56 points on their way to 98. Collectively, UCLA finished the night shooting 59.7% from the field. As defense was still questionable, the Bruins were able to slow the Highlanders to 30% shooting (21/70).
The Bruins were more aggressive in the second half, when they really started to out run UCR, which is something they might need to do Saturday when UCLA travels to Kentucky.
Lonzo Ball, who had a quiet scoring night (6), broke a UCLA freshman record tonight with 13 assists. Before the game, he was averaging 9.1, the most in Division I hoops.
As for the team themselves, UCLA matches their best start in the Steve Alford era with a 8-0 record. Alford first went 8-0 in his first season in Westwood.
Highlights Alert Check out the top plays from tonight's 42-point win in Pauley. #UCRvsUCLA #GoBruins pic.twitter.com/nRMbLbznXv

— UCLA Basketball (@UCLAMBB) December 1, 2016
Lonzo Ball's single-game freshman record 13 assists tonight was just 3 shy of tying a program record.#GoBruins #UCRvsUCLA pic.twitter.com/oYX74EVfRU

— UCLA Basketball (@UCLAMBB) December 1, 2016
Isaac Hamilton scored a season-best 27 points by tying a career-high with 7 3-pointers.#GoBruins #UCRvsUCLA pic.twitter.com/pkLu8746Fq

— UCLA Basketball (@UCLAMBB) December 1, 2016
Next Game:
UCLA will take on #1 Kentucky at 9:30 a.m. PT at Rupp Arena this Saturday, December 3. It is the second of a home-and-home series as UCLA shocked #1 Kentucky last season at Pauley Pavilion, 87-77. It will be the third season in a row UCLA and UK meet, having first played in the CBS Sports Classic in 2014 when UCLA were run out the building, 83-42.
This article originally appeared on