UCLA Basketball: Bruins drop 102 in victory over Michigan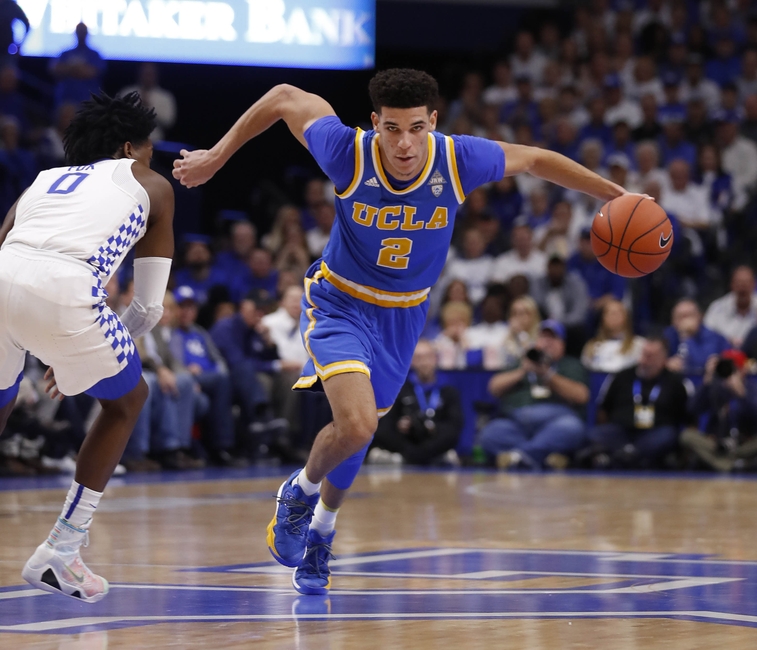 UCLA basketball once again showed us why they have one of the best offenses in the nation.

102

84
UCLA won a highly contested shootout, 102-84, against Michigan at Pauley Pavilion on Saturday evening. Impressive 3-point shooting and unselfish play from both UCLA and Michigan made for a close game for about 30 minutes, but the Bruins were eventually able to put the game away behind impressive performances by Lonzo Ball (19 points), Bryce Alford (18 points), Aaron Holiday (17 points) and TJ Leaf, who finished with 21 points and eight rebounds.
Through the first half both teams put on a shooting clinic, racking up 100 total points and combining to hit 22-of-30 3's. The Bruins used a quick 12-5 run with 12 minutes left in the half to jump ahead, 29-22. UCLA was paced by Ball and Leaf, who shot 3-of-3 and 4-of-6 from the field in the game's first ten minutes respectively.
Michigan would storm back however. Zak Irvin would hit two of the Wolverines' 12 first half 3's to put Michigan on top 44-39. He would finish the half with 13 points, shooting a perfect 3-of-3 from beyond the arc.
Michigan enjoyed production from their role players as well. Six of their seven active players would finish the first half having contributed at least five points, with Irvin and Moritz Wagner leading the way.
UCLA Basketball: Bruins Rout Michigan After Dominant Second Half
What was easily the most exciting half of college basketball so far this season would end accordingly: Ball burying a three from well beyond the NBA 3-point line to tie the game at 50.
UCLA carried that momentum over into the second half, opening with a 10-2 run. Both teams cooled off a bit from 3-point range down the stretch, and UCLA's lead would hover around 8-10 points until there were just four minutes to go in the game.
Holiday made another strong argument for more playing time, hitting all five of his 3-point attempts to total 17 points off the bench. His presence made the Bruins' offense more elite. He took over the point for Ball and Alford, allowing them to catch their breath a bit and hit shots.
Another fast 7-0 run, which saw a huge Bryce Alford three go down, would give the Bruins a comfortable 16-point lead with under four minutes to play.
While they eventually lost by nearly 20 points, Michigan showed they could hang with UCLA at least through the first half. Their balanced attack, which saw five players finishing in double figures, proves that they are playing well together and should earn them some quality wins throughout the season.
They will need D.J. Wilson to step up. He appeared sluggish on defense and put up just eight points. When he is on his game, this will be a very dangerous team.
More from Busting Brackets
This article originally appeared on