Two Blue Devils Join Womens' Naismith Trophy Watch List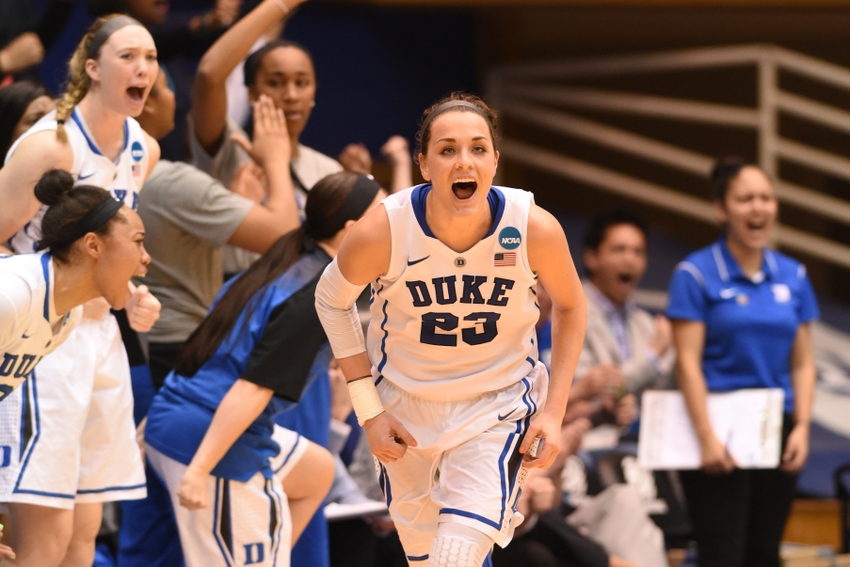 Two guards for Duke Women's Basketball were selected to the preseason Top 50 early season watch list for the Naismith Trophy this season.
The Naismith Trophy named Duke guards Lexie Brown and Rebecca Greenwell to their Women's College Player of the Year watch list. The list contains the top 50 players for the season for best college basketball player, and will be trimmed later this season in February to 30.
Both players have excelled for Duke so far this season. Brown and Greenwell, also known as the "Splash Sisters", account for a majority of the team's scoring. They lead the team in points and have each already recorded 30+ point games this year. Junior guard Lexie Brown is averaging a well-rounded 18.4 points, 3.0 rebounds, 4.3 assists, and 3.1 per game shooting 48% from the field. Brown is in her first season with the Blue Devils after transferring from Maryland where she was an All-American. The 5-9 guard was unstoppable against Old Dominion scoring a career-high 33 points.
Redshirt junior shooting guard Rebecca Greenwell has starred for Duke Women's Basketball this year averaging 22.0 points, 6.8 rebounds, 2.6 assists and 1.8 steals a game. She is one of the best scorers in the country shooting 48% overall and 42.6% from three. Greenwell recently scored a career-high 31 points against Pepperdine where she made a school-record eight three pointers in 16 attempts. Her previous high was set earlier this season with 30 points against Longwood, where she also became the 32nd player in Duke history to reach 1,000 career points.
Duke Women's Basketball will be back in action tonight competing against Rutgers in the women's ACC-Big Ten Challenge. The Blue Devils are currently 7-1 this season with a tough schedule coming up at Rutgers and then hosting #3 South Carolina this weekend. Fans will have a lot to look forward to for the women's program this season with the Splash Sisters!
This article originally appeared on