The Go Joe Bruin 2016-17 UCLA Basketball Preview (Men's)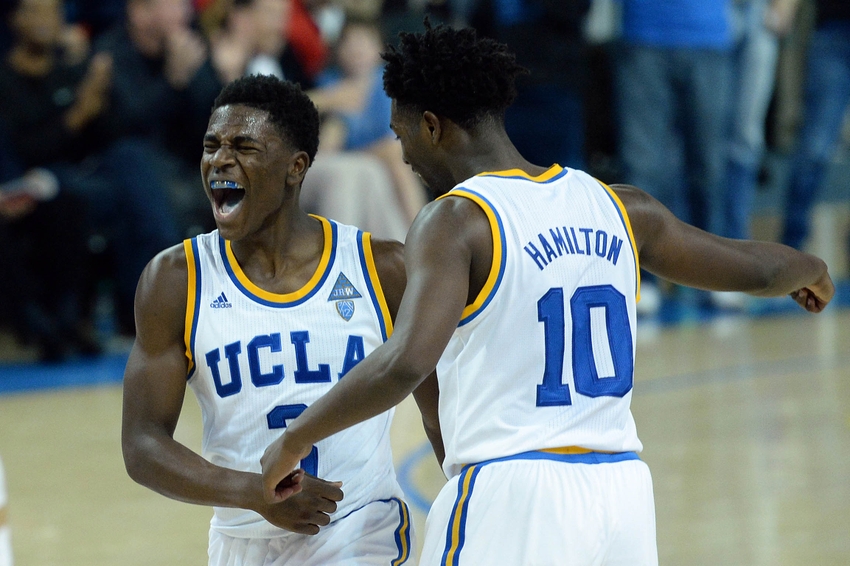 UCLA Basketball Preview (Men's)
What a difference an off-season makes. After finishing the the season 15-17, UCLA Basketball fans were calling for the termination of Head Coach Steve Alford.
The Bruins lost their last five games, they went 2-8 in their last 10 games, finished 10th in the Pac-12 with a 6-12 record, lost for a third time in the season to USC with a first round exit in the Pac-12 and missed the NCAA Tournament completely.
That did not sit well with Bruin fans. There was an outpour of displeasure that was aimed at the UCLA Athletic Department complete with a fan petition. A few die hard fans even rented planes with banners and trucks with billboards that made their way around the UCLA campus. It was a bit of a mess.
UCLA retained Alford in an announcement in an awkward press conference by Athletic Drector Dan Guerrero. That was preceded by a few days by a letter Alford wrote to the UCLA fan base. Alford took responsibility for the performance of his team and vowed change. To show how sincere he was, Alford even gave back his extension he was awarded after the end of his first season. Despite a displeased fan base, the UCLA Basketball team was moving into the future.
Last season was not great, but things were looking up, especially with a Top 10 recruiting class coming to Westwood. Lonzo Ball, T.J. Leaf and Ike Anigbogu are all expected to contribute and help make UCLA an elite force. They will help a veteran core of Bryce Alford, Isaac Hamilton and Thomas Welsh try to right the ship and avoid an embarrassing season like last year.
We saw how the Bruins worked together in a three-game tour of Australia and things look promising. With both momentum (and recruiting) on the upswing, can Alford have the UCLA Men's Basketball team make the jump to the next level in 2016-17 (we asked the same question last season)?
Here is the 2016-17 Go Joe Bruin UCLA Men's Basketball season preview…
Table of Contents
Either click "NEXT" to advance the slideshow, or if you wish to jump to a specific section, click one of the links below.:
1. UCLA Men's Basketball Preview
4. Schedule
5. The Keys
8. Ticket & Social Media Information

Roster & Projected Line-up
| Number | Name | Position | Ht. | Wt. | Year |
| --- | --- | --- | --- | --- | --- |
|  0 | Alex Olesinski | F | 6'10" | 200 | So. |
| 2 | Lonzo Ball |  G | 6'6″ | 190 | Fr. |
| 3 | Aaron Holiday | G | 6'1″ | 185 | So. |
|  4 | Isaac Wulff | G | 6'3″ | 175 | Fr. |
| 5 | Armani Dodson |  G | 6'5″ | 190 | Fr. |
| 10 | Isaac Hamilton | G | 6'5″ | 195 | Sr. |
| 13 | Ike Anigbogu | F/C | 6'10" | 250 |  Fr. |
| 14 | Gyorgy Goloman | F | 6'11" | 215 | Jr. |
| 15 | Jerrold Smith | G | 6'0″ | 165 | Sr. |
| 20 | Bryce Alford | G | 6'3″ | 185 | Sr. |
| 21 | Alec Wulff | G | 6'3″ | 185 | Jr. |
| 22 | TJ Leaf | F | 6'10" | 225 | Fr. |
| 23 | Prince Ali | G | 6'3″ | 190 | So. |
| 34 | Ikenna Okwarabizie | C | 6'9″ | 250 | Jr. |
| 40 | Thomas Welsh | C | 7'0″ | 245 | Jr. |
Projected Line-Up
Starters: PG Lonzo Ball, G Isaac Hamilton, G Bryce Alford, C Thomas Welsh, PF T. J. Leaf
Bench: PG Aaron Holiday, SG Prince Ali, F Gyorgy Goloman, F Alex Olesinski, F/C Ike Anigbogu, C Ikenna Okwarabizie
The college basketball gods giveth and the college basketball gods taketh away. A year ago it looked like UCLA was going to have one of the deepest teams in the Alford era. After 5-star power forward T.J. Leaf committed, the Bruins were over the 13 scholarsbip limit.
How were Bruins going to balance this out? By pulling Bryce Alford's scholarship and making him a walk-on. As great of a plan as it was, UCLA did not have to go this route. As a matter of fact, they did not even come close to it.
After last season, junior guard Noah Allen transferred to Hawaii. In the summer, less than a week into his time at UCLA, freshman Kobe Paras left the university due to academic concerns. A few weeks after that, sophomore Jonah Bolden left the program to go play professionally in his native Australia.
C'Est la Vie.
But the cupboard is not bare UCLA fans. The Bruins have a full squad that, when healthy, could have a solid eight-man rotation. The veterans of that group, who are also the top three returning scorers, Isaac Hamilton, Bryce Alford and Thomas Welsh accounted for 56.5% of the scoring last season. With all three projected as starters, the Bruins will need to continue to rely on them for scoring. The good news is, they are not alone.
Go Joe Bruin projects that the two players starting with the vets will be freshmen Ball and Leaf. Ball is one of the best point guards coming out of high school while Leaf is one of the best low post scorers. Together, all five will lead an uptempo style of play.
Holiday will be the most important player that does not start. He should backup Ball (though we expect Bryce Alford being thrown into the point guard mix) and will be the best defender in the back court.
Ali, who is out with a meniscus tear until (at the earliest) late November, will bring some speed and a hot hand off the bench.
Another crucial injury will have Anigbogu out for about a month, also with a meniscus tear. When healthy, he will most likely back up Welsh. Anigbogu might just be your new favorite player as he hustles and brings a fire to the front court, Ben Howland-style. Not only does he attack the rim with ferocity, but will bring some much needed defense.
Goloman is a big question mark. He could contribute this season but how much is unknown. Last season his development was hampered by a stress fracture in his leg and he never seemed to be in rhythm. Olesinki and Okwarabizie were at times out of sync with the team and played minimally last season. Unless they have a dramatic improvement in their development, their roles will stay the same this season.
Coaches and Staff
Head Coach – Steve Alford
Assistant Coaches – Duane Broussard, David Grace, Ed Schilling
Video Coordinator – Kory Alford
Director of Scouting/Player Development – Kory Barnett
Director of Operations – Tyus Edney
Director of Basketball Administration – Doug Erickson
Athletic Performance Coach – Wes Long
With any other school, the season after a team goes 15-17 would surely have the coach on the hot seat, at technically, Alford is. After the end of the 2015-16 season, Alford did not have much to prove that he was worthy of one of the most coveted (and difficult) coaching position in college basketball.
But things were looking up with recruiting. The Bruins landed a Top 5 class, as well as a 2017 class is shaping up to be the best in the country.
So Alford has the talent coming to Westwood, but how will his coaching affect the team? That is the question and what exactly will determine success for these Bruins in 2016-17.
Schedule
One thing you have to give to Alford credit for is how he schedules tough. It does not always work out for the Bruins, but the games are tough nonetheless.
The biggest game on the schedule will be at Kentucky. It will be the second of a home-and-home, but will also be the third season in a row the two teams have faced each other. In 2014, UCLA was run off the floor by UK in the CBS Sports Classic, 83-44. Last season at Pauley Pavilion, UCLA shocked the #1 Wildcats in what looked to be a coming out party for the Bruins.
This season, it will be an all out battle with two of the most exciting teams in college hoops squaring off for the first time in Rupp Arena. Other noticeable non-conference games will be against Michigan at Pauley and against Ohio State in Las Vegas in the CBS Sports Classic.
The biggest question mark will be how the Bruins play in the Pac-12. Last season, UCLA was riding high on a 9-4 non -conference record with wins over Kentucky and Gonzaga. Then they ran into a wall that was the Washington schools to start conference play. It did not get much better. UCLA ended their Pac-12 journey 6-12 and in 10th place.
And once again, Alford ended a season without a road sweep. Can things change in 2016-17?
2016-17 UCLA Men's Basketball Schedule
Tue, Nov 1, 7:30 p.m. vs Master's University – exhibition (Pac-12)
Fri, Nov 11, 6 p.m. vs Pacific (Pac-12)
Sun, Nov 13, 6 p.m. vs CSUN (Pac-12)
Tue, Nov 17, 8 p.m. vs San Diego (Pac-12)
Sun, Nov 20, 7 p.m. vs Long Beach State (Pac-12)
Wooden Legacy (tournament)
Thu, Nov 24, 8 p.m. vs Portland at Fullerton (ESPN2)
Fti, Niov 25 vs Dayton or Nebraska (ESPN2)
Sun, Niov 27, Final Round (ESPN2)
Wed, Nov 30, 8 p.m. vs UC Riverside (Pac-12)
Sat, Dec 3, 9:30 a.m. at Kentucky (CBS)
Sat, Dec 10, 5 p.m. vs Michigan (ESPN2)
Wed, Dec 14, 7:30 p.m. vs UC Santa Barbara (Pac-12)
Sat, Dec 17, 12 p.m. vs Ohio State (in Las Vegas) (CBS)
Wed, Dec 21, 8 p.m. vs Western Michigan (Pac-12)
Wed, Dec 28, 6 p.m. at Oregon (ESPN2)
Fri, Dec 30, 8 p.m. at Oregon State (Pac-12)
Thu, Jan 5, 6 p.m. vs Cal (ESPN or ESPN2)
Sun, Jan 8, 5 p.m. vs Stanford (FS1)
Thu, Jan 12, 8 p.m. at Colorado (FS1)
Sat, Jan 14, 3 p.m. at Utah (Pac-12)
Thu, Jan 19, 8 p.m. vs Arizona State (FS1)
Sat, Jan 21, 1 p.m. vs Arizona (CBS)
Wed, Jan 25, 8 p.m. at USC (FS1)
Wed, Feb 1, 6 p.m. at Washington State (Pac-12)
Sat, Feb 4, 7:30 p.m. at Washington (Pac-12)
Thu, Feb 9, 7 p.m. vs Oregon (ESPN)
Sun Feb 12, 2 p.m. vs Oregon State (FS1)
Sat, Feb 18, 7 p.m. vs USC (Pac-12)
Thu, Feb 23, 6 p.m. at Arizona State (ESPN or ESPN2)
Sat, Feb 25, TBD at Arizona (ESPN or ESPN2)
Wed, Mar 1, 8 p.m. vs Washington (FS1)
Sat , Mar 4, 6:30 p.m. vs Washington State (ESPNU)
Wed, Mar 8, Pac-12 Tournament Begins
"The Keys"
Key Returners
Isaac Hamilton – 16.8 ppg, 4.2 rpg, 3.3 apg, .472 FG%
Bryce Alford – 16.1 ppg, 5.2 apg, 3.8 rpg, .385 FG%
Thomas Welsh – 11.2 ppg, 8.5 rpg, 1.1 bpg, .590 FG%
Aaron Holiday – 10.3 ppg, 3.0 rpg, 4.0 apg .394 FG%
Key Losses
Tony Parker (graduated)
Noah Allen  (transfer)
Jonah Bolden (left to play pro ball in Australia)
Recruits (rankings per Scout.com)
Lonzo Ball – 5-star, Naismith Player of the Year, Gatorade Player of the Year
T.J. Leaf – 5-star, #22 Player in the nation (Scout), 2nd Team All-American (USA Today)
Ike Anigbogu – 5-star, #17 Player in the nation (Scout), #1 Center in CA
2017 Commitments (as of November 1, 2016)
Jaylen Hands – PG, 5-star, 6'2″, 170 lbs., El Cajon, CA (Foothills Christian HS)
Cody Riley – PF, 4-star, 6'7″, 250 lbs., Chatsworth, CA (Sierra Canyon School)
Jalen Hill – C, 4-star, 6'8″, 200 lbs., Corona, CA (Centennial HS)
LiAngelo Ball – SG, 3-star, 6'6″, 220 lbs., Chino Hills, CA (Chino Hills HS)
2015-16 Result
Overall: 15-17
Pac-12: 6-12
Home: 11-6
Away: 3-7
Neutral: 1-4
Pac-12 Tournament: 1st Round loss to USC
NCAA Tournament: Was not invited
The UCLA Basketball team had a lot of momentum going into last season. Despite losing Norman Powell and Kevon Looney to the NBA, the Bruins appeared to have enough firepower to be contenders. After chomping on some early-season cupcakes, the Bruins found their measuring stick during the Maui Invitational.
UCLA quickly found out how they measured up against other teams as bad losses to Kansas and Wake Forest put them in their place. It seem like it could be a long non-conference season but then the Bruins hit their stride.
Shocking wins over Kentucky and Gonzaga, with plenty of defense of effort, signaled that the Bruins had seemingly turned a corner. They finished the non-conference schedule 9-4 and were looking to take on the Pac-12.  Unfortunately that didn't go as planned.
UCLA started Pac-12 play on the road at Washington and Washington State and lost to both teams.  It got worse from there. The Bruins were only able to win six games against their conference opponents and slid down the 10th place after losing their last for regular-season games.
Adding to that embarrassment came in the form of two losses to crosstown rival USC. The Bruins added a third loss and the opening round exit in the Pac-12 Tournament. The Trojans dismantled the Bruins 95-71. UCLA's season was mercilessly over.
2016-17 Outlook
There is excitement in the air and for good reason. Why is that? Freshmen.
What the new focus on the UCLA Basketball team, Head Coach Steve Alford is looking to run a fast-paced offense and utilize all of his players to get the ball in the hoop. This year, the Bruins have a lot of talent and they are going to benefit from all of it.
UCLA is going to shoot the ball a lot from the outside. They are going to attack the rim. They are going to pass the ball a lot. This is going to be a very cohesive and tightknit squad, especially since they had the advantage of working together in the summer in Australia.
It cannot be emphasized enough how much the addition of Lonzo Ball is to the Bruins. UCLA had talent last year, but it wasn't used to it's potential. Ball brings that skill of making his teammates better and will make UCLA better.
The biggest concern to start the season are all the exits. Though UCLA had three players leave and two are out to injury, they should really start to dominate when Ali and Anigbogu return to the lineup.
They will have a few tough non-conference games, but for the most part, UCLA should come out with a good record. The concern might be conference play. Last year the Bruins were not prepared at all. Alford has acknowledged this and will hopefully make adjustments for the Bruins to contend for the Pac-12 regular season championship.
As far as postseason aspirations, the Bruins should also aim for winning the Pac-12 Tournament. They will  most likely return to the NCAA tournament and though I will not go as far as to say this is a Final Four team, the Bruins should at least be able to get back to the Sweet 16.
Projected Record:25-6, 14-4
Ticket Information
Visit UCLABruins.com for ticket information for single-game tickets, mini-plans and season tickets.
Follow UCLA Men's Basketball on Social Media:
Twitter – @UCLAMBB
Facebook – UCLA Men's Basketball
Instagram – UCLAMBB
GO BRUINS!
This article originally appeared on