Texas A&M Basketball: Aggies Take Down American University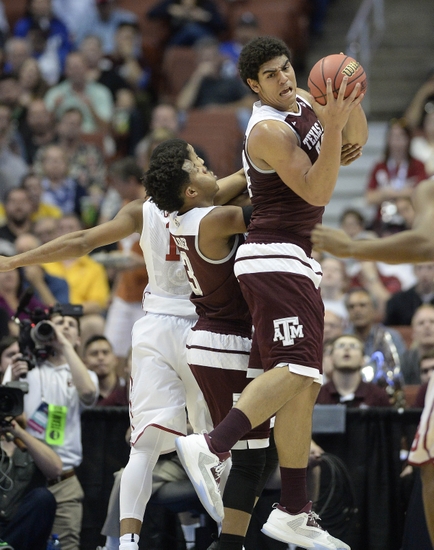 The Texas A&M basketball team remained perfect on the season after another runaway victory, this time over American University.
Starters
DJ Hogg – 12 points, 9 rebounds, 4 assists
Tonny Trocha-Morelos – 0 points, 1 rebound, 1 block
Tyler Davis – 17 points, 4 rebounds, 1 assist
Admon Gilder – 9 points, 5 rebounds, 5 assists
JC Hampton – 7 points, 2 rebounds, 1 assist
Bench
Tavario Miller – 7 points, 3 rebounds, 1 assist
Eric Villa – 8 points, 3 rebounds, 2 assists
Robert Williams – 10 points, 2 rebounds, 2 blocks
Caleb Smith – 6 points, 1 rebound, 1 assist, 1 steal
Chase Carlton – 0 points, 1 rebound
Kobie Eubanks – 0 points, 2 rebounds
Recap
It seemed like Tyler Davis was able to work a three point play every time he touched the basketball on Monday night. The sophomore leader scored 17 points, just one short of tying a career high.
Freshman Robert Williams had another outstanding showing in front of the home crowd. After leading the team in blocks in Friday's game against Northwestern State with 5, Williams picked up two more against the Eagles. He picked up a pair of defensive rebounds and might have had the alley-oop dunk of the night, skying over an American defender for the slam.
The Aggies were able to get 11 different players playing time in the lopsided victory. All of those players registered at least five points except for Chase Carlton, Tonny Trocha-Morelos, and Kobie Eubanks
Other Notable Results and a Look Ahead
Villanova outlasted Purdue 79-76 in the only match-up of top 25 programs on Monday night. Two schools, West Virginia and Rhode Island topped the 100 point mark. There were no SEC teams in action.
Texas A&M will welcome the USC Trojans to Reed Arena on Friday night. Southern Cal, which made the NCAA tournament last year as an eight seed, will be the first real test for Texas A&M this season. The Aggies will hope to use this game as a tune up for the DIRECTV Wooden Legacy tournament coming up in two weeks.
***Stats from ESPN***
This article originally appeared on