Texas A&M Basketball: Aggies Crush Northwestern State in Home Opener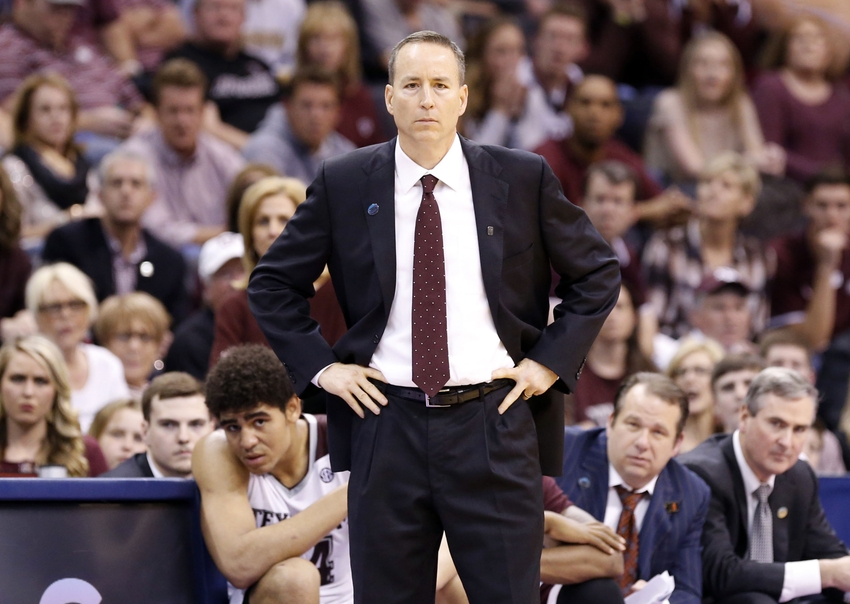 Before a packed house in Reed Arena the Texas A&M basketball team cruised to a 72-44 victory against the Northwestern State Demons.
Starters
DJ Hogg – 7 points, 4 rebounds, 3 assists
Tonny Trocha-Morelos – 11 points, 4 rebounds, 1 assist
Tyler Davis – 16 points, 10 rebounds, 2 assists
Admon Gilder – 8 points, 4 rebounds, 5 assists
JC Hampton – 6 points, 1 rebound, 2 assists
Bench
Tavario Miller – 5 points, 7 rebounds, 1 block
Eric Villa – 5 points, 5 rebounds, 1 steal
Robert Williams – 6 points, 7 rebounds, 5 blocks
Caleb Smith – 6 points, 1 rebound, 1 steal
Chase Carlton – 2 assists, 1 steal
Chris Collins – 2 points, 1 rebound
Kobie Eubanks – 2 points, 1 rebound
Recap
The Aggies took a 12 point lead into halftime before turning on the jets and smoking the Northwestern State Demons behind 16 points from center Tyler Davis.
Davis was an obvious mismatch in the paint, grabbing seven offensive rebounds and one block on the other end of the court. The sophomore leader lead the team in scoring while committing just one turnover.
There were 12 different players that saw minutes in the win. Getting as many players on the court as you can is an important part of early season non-conference games as the coaches work to assess what players and combinations give them the best chance to win later down the road.
All in all, the team shot 45.9 percent from the field and just 20.8 percent from behind the night. You won't win most of your mediocre shooting nights by 28 points, but a win is a win. The Aggies start their season 1-0.
The victory was the 100th career win for coach Billy Kennedy at Texas A&M. Kennedy joins Shelby Metcalf as the only coaches in school history to reach the 100 win mark. Metcalf had 438 wins in 26 years.
Other Notable Results
Elsewhere on Friday night, conference foe Tennessee lost at home to Chattanooga 82-69 and the Texas Longhorns barely escaped with a five point win against Incarnate Word 78-73.
The Aggies were 21 point favorites against Northwestern State and kept a double digit margin for most of the game. The Aggies might not be ranked, but that will change if they keep playing basketball as well as they did against the Demons.
This article originally appeared on