Tennessee Lady Vols Not in the Top 10 of Women's Preseason Coaches Poll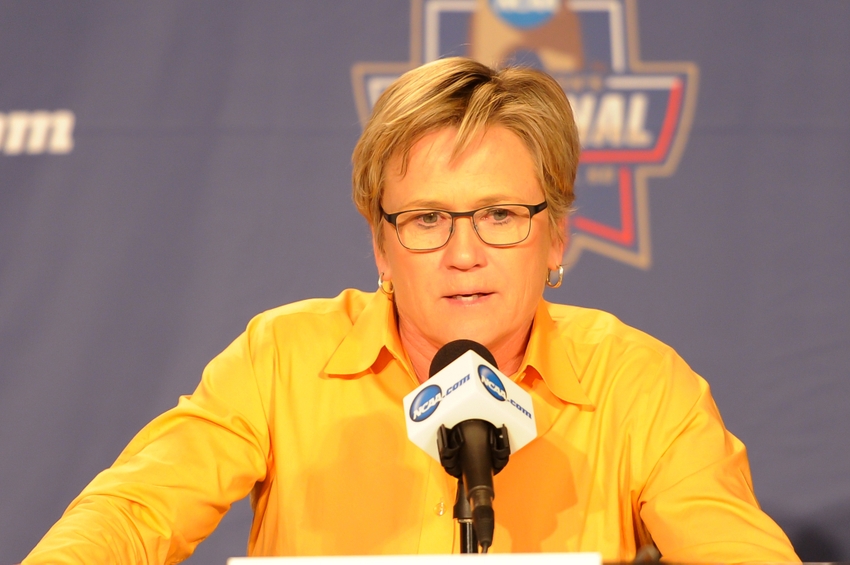 The Women's Basketball Preseason Coaches' Poll is out, and the Tennessee Lady Vols were not in the Top 10 this year. They weren't even the top SEC team.
Talk about falling from grace! Entering her fifth year as head coach of the program with no Final Four appearances yet to show for it, Holly Warlick's Tennessee Lady Vols are not in the Top 10 of the Women's Basketball Preseason Coaches Poll.
The women in orange came in at No. 14 in the poll, which you can see here. That should be no surprise after an Elite Eight appearance last year and a less than stellar recruiting class.
Of course, the UCONN Huskies came in at No. 1 despite losing a ton of talent. There are two other teams in the SEC that also began ahead of the Lady Vols.
The South Carolina Gamecocks are No. 3, and the Mississippi State Bulldogs came in at No. 11.
Syracuse, who managed to blow the Lady Vols out in the Elite Eight, came in one spot ahead of them at No. 13.
Tennessee's non-conference schedule this year includes four teams in the Top 10, the Baylor Bears, Stanford Cardinal, Notre Dame Fighting Irish, and Texas Longhorns.
They also have to face South Carolina on the road, meaning half the Top 10 is on their schedule.
Meanwhile, they have to play Mississippi State twice, the Florida Gators twice, and the Kentucky Wildcats and Texas A&M Aggies once each. All of those teams are also in the Top 25.
That makes for 11 games against preseason Top 25 teams, which is a brutal schedule.
Can the Tennessee Lady Vols build off of the NCAA Tournament momentum they got last year? Or will this be another under-achieving season.
In the first season following the tragic death of Pat Summitt, perhaps they could summon her magic and wisdom from above.
It would be an insult to her legacy not to drastically exceed these expectations.
More from All for Tennessee
This article originally appeared on