Tennessee Basketball: Vols Lose to Wisconsin Badgers in Hard-Fought Opener at Maui Invitational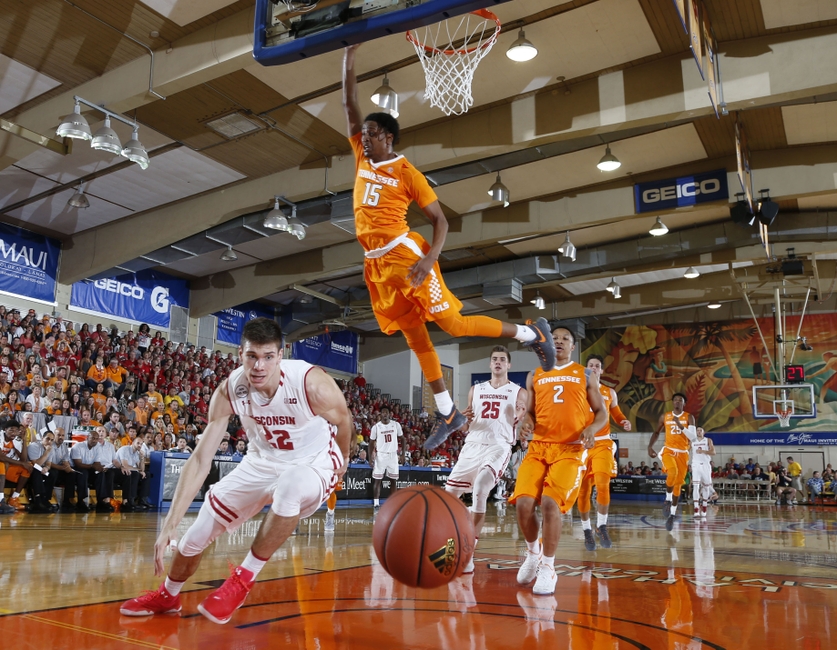 Tennessee basketball put up a fight for much of the game, but the Volunteers fell to the No. 16 ranked Badgers in the first game of the Maui Invitational.
Rick Barnes's young Tennessee basketball team gave everything they had in the opener of the Maui Invitational against the Wisconsin Badgers, even taking a lead multiple times in the second half.
But youth and size were too much to overcome, and the Vols lost to the Badgers to fall to 1-2 on the season.
Shembari Phillip led the Vols with 16 points on 5-of-9 shooting, including three three-point shots and going 3-3 from the free throw line. Robert Hubbs III added 12 points, and Detrick Mostella also scored 12 off the bench.
Wisconsin scored the first 12 points in the game and jumped out to a 26-9 lead. But the Vols were able to fight back after and went into the second half down by only eight, 40-32.
They then opened the second half on a furious run, scoring 10 straight to take a 42-40 lead. The two teams continued to trade buckets after that, and the Vols held a 46-44 lead at the 12-minute mark.
But that was the best they could do.
Wisconsin finished the game on a 30-16 run to win the game. Red-hot outside shooting by the Vols late in the first half then turned into red-hot shooting by the Badgers.
Nigel Hayes and Bronson Koenig drained three three-pointers apiece and finished with 17 and 21 points respectively.
Meanwhile, Wisconsin's inside game was too much for Barnes's team to overcome, as Hayes added 10 rebounds and three blocks, playing a huge role in Wisconsin out-rebounding the Vols 36-26.
With the loss, Tennessee basketball fell to 1-2 on the season, but remember this is still one of the youngest teams in the league, and they are a bunch of three-star recruits. It's not like Barnes loaded up on freshman phenoms.
So there's going to be a lot of growing pains, which explains their 18 turnovers in the game.
However, Tennessee did show that they have some fight in them, which could bode well down the stretch. The Vols' next game will be Tuesday, Nov. 22 at 1:30 p.m. between the loser of Georgetown and Oregon.
This article originally appeared on