Tennessee Basketball Destroys Georgia Tech 81-58: 5 Takeaways from Vols' Win vs Yellow Jackets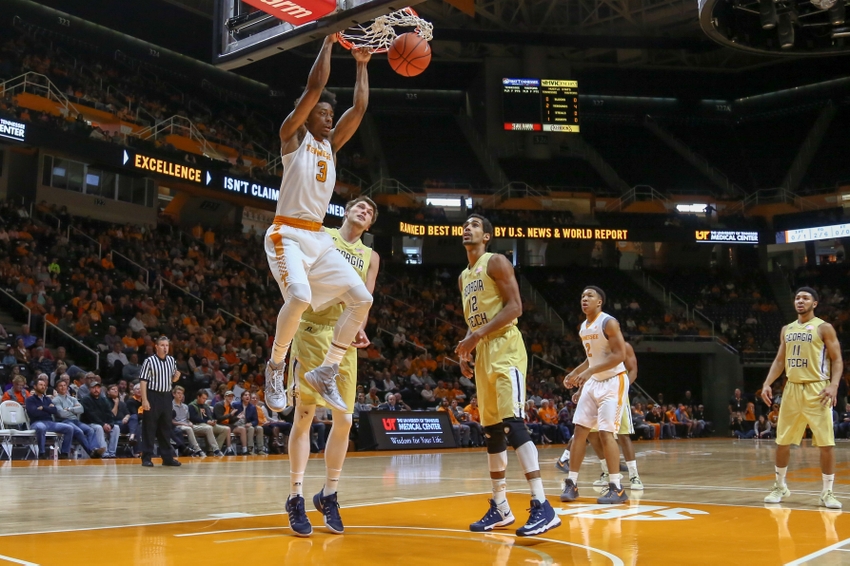 Tennessee basketball dominated the Yellow Jackets Saturday afternoon in Knoxville 81-58. Here are five takeaways from the Volunteers' victory.
Rick Barnes got the best of Josh Pastner in a huge way on Saturday afternoon at Thompson-Boling Arena, as Tennessee basketball destroyed the Georgia Tech Yellow Jackets Saturday.
With the win, the Vols moved to 3-3 on the year and won their second straight game.
Despite Jordan Bone's injury and Admiral Schofield's suspension, the Vols never really struggled in this game after the first five minutes.
They had four players score double-figures and nine guys overall see significant minutes despite being short-handed.
Here are five takeaways from Tennessee Basketball's 81-58 victory over the Yellow Jackets.
1. Tennessee's newcomers look like the real deal. 
Jalen Johnson didn't play and Kwe Parker didn't do much, but everybody else looks legitimate. We already know that Jordan Bone will be valuable when he gets back. But the Vols have also enjoyed lots of value from the other newcomers. Lew Evans is a perfect finesse guy inside, Grant Williams and Jordan Bowden both stepped up the scoring without Bone, reaching double-figures, and then there's one guy who has become a surprise star.
That leads us to our next takeaway in this game.
2. John Fulkerson is turning into a star.
Nobody saw this coming. A 6'7″ forward out of North Carolina, John Fulkerson was supposed to develop this year behind Armani Moore. But with Moore still serving a suspension, this freshman has become a surprise fan favorite.
Fulkerson reached double-figures for the second time in three games, and the only other time he didn't score double-figures was when he had eight points on four-of-six shooting against Chaminade. Rick Barnes wants Tennessee basketball to be a team centered around a point-forward. With Schofield out, Fulkerson is becoming a reliable one in his own right. But there's another point player earning recognition.
3. Shembari Phillips is turning into a great true point guard.
Against the Georgia Tech Yellow Jackets, the sophomore guard had 14 points, seven assists, and only one turnover. Filling in for Jordan Bone, he is becoming a star in his own right. The guy has now scored double figures in four of six games this year.
And amidst all the concern that he was not a true point guard, he has really developed from an off-guard into a distributor. When Bone comes back, he may have lost a starting job due to Phillips. And with Pastner's in-your-face athletic defense, seven assists and no turnovers is very impressive.
4. Rick Barnes's offense is getting more consistent.
Last year, in his tempo-based offense, the concern about Tennessee basketball was that they could not handle consistency on offense. That is slowly changing this year. The Vols still go in offensive spurts, but they aren't as likely to blow a 15-point lead so quickly because of a drought.
With a young team, that is one of the best things about what Barnes is doing this year. The talent is there. And if the scoring continues to pick up, Tennessee could be a very dangerous team.
5. Tennessee basketball is very deep.
This is a huge deal for Rick Barnes's tempo-based offense. When you are out two starters and still beat an ACC team by over 20 points, you clearly have lots of depth. This is where Barnes's recruiting did come into play.
He brought in guys with lots of talent that just need to develop. It's early, and there will still be growing pains, but we are seeing flashes of that talent. When it all comes together, the Vols can go 12-deep now. That's going to be a huge deal when Tennessee basketball enters conference play.
More from All for Tennessee
This article originally appeared on