Tennessee Basketball: 5 Takeaways from Vols Overtime Loss to No. 12 Oregon Ducks at Maui Invitational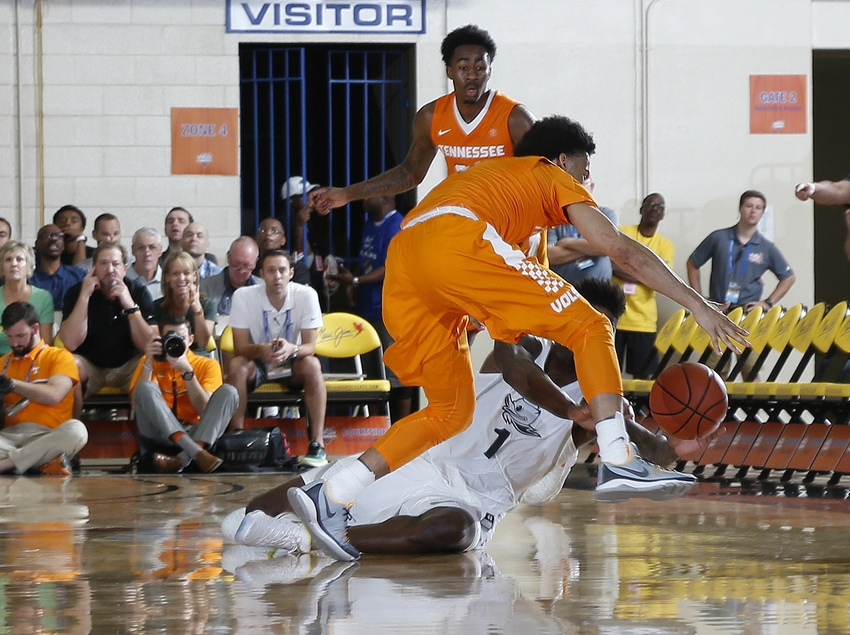 Tennessee basketball lost to the No. 12 ranked Oregon Ducks 69-65 in overtime at the Maui Invitational. Here are five takeaways from the Volunteers' defeat.
For the second straight day, Tennessee basketball put up a fight against a Top 15 team at the Maui Invitational.
This time, the Vols came up short in heartbreaking fashion, losing to the Oregon Ducks 69-65 in overtime.
The game was tied at halftime and tied at the end of the second half, with Tennessee battling back from an 11-point deficit with under 10 minutes to play.
With the loss, the Vols fall to 1-3 on the year, but they have continued to get better each game. They'll face the loser of the UConn Huskies-Chaminade Silverswords game in the next round, their final game in the tournament.
Here are five takeaways from Tennessee's loss.
1. John Fulkerson may be Tennessee's only reliable big man.
We don't know what's going on with Admiral Schofield, Lew Evans seems like a waste of a transfer pickup at this point, and Kyle Alexander doesn't look like he's developed at all since last year.
Because of all these issues, Rick Barnes may have to turn to John Fulkerson off the bench to be the Vols' reliable big man. He had a double-double against the Oregon Ducks with 12 points and 12 rebounds. And he is a reliable free throw shooter. It's still early, but going forward, Fulkerson is a major bright spot for the Vols.
2. Robert Hubbs III is STILL too passive.
He was a five-star recruit and battled injuries his first two years while changing systems each of his first three years. As a result, we gave Robert Hubbs III a pass for being a major under-achiever up to this point.
But now, there's no excuse. The five-star is a senior and playing in his second year in Barnes's system while being fully healthy. Yet he only took seven shots, had only six points, and committed five turnovers. That's unacceptable. But the worst part was the end of the game. With the Vols down by three and needing a chance to tie, Hubbs refused to be assertive and demand the ball. That's not okay.
3. Depth is getting better.
Tennessee didn't play Jordan Bone or Admiral Schofield on Tuesday afternoon. They had one guy foul out, another four finish with four fouls, and another have three fouls. But they still managed to take the Oregon Ducks into overtime while running 10 guys, nine of whom saw at least 10 minutes.
With that type of depth, the Vols could really have something in the future thanks to all the young talent Barnes brought in. These guys just have to develop and get better. But the growing pains are okay to live with for right now.
4. Guard play remains wildly inconsistent.
The effort is there, but the efficiency is not. You saw that when the Vols could not get a good look at a three-pointer needing that to tie late in the game. The Vols are having too many issues moving the ball right now on the outside.
They had 25 turnovers to only nine assists. We trusted Rick Barnes for not going after any true point guards to lead the team, and maybe Jordan Bone being out was a killer. But that's a problem that has to be fixed if the Vols are going to do anything this year.
5. Nobody is being out-hustled.
Tennessee basketball is undersized, inexperienced, and wildly inconsistent. But they manage to stay in games because of their effort. When you have a nearly 3-1 turnovers to assists ratio, shoot under 38 percent from the field, and have five players finish with four or more fouls while your leading scorer fouls out, you shouldn't be in any game, much less against a Top 15 team.
But the Vols stayed in this game until the end due to their heart. They somehow out-rebounded the Oregon Ducks. They used tempo to force Oregon into making mistakes. And in the process, they nearly pulled out an impossible victory. So there's good news to draw from here. And that is the effort that we're seeing from Rick Barnes's team.
More from All for Tennessee
This article originally appeared on