Tennessee Basketball: 5 Takeaways After Vols Blew 15-Point Lead Lead in 73-71 Loss to No. 7 North Carolina Tar Heels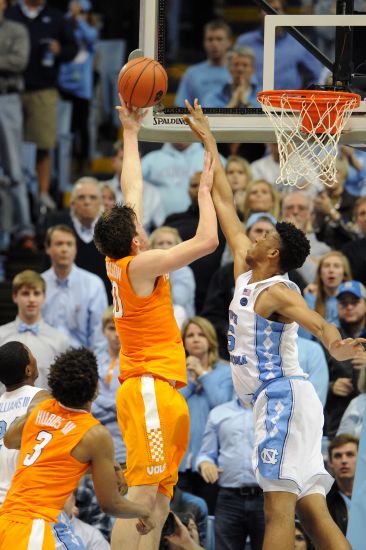 Tennessee basketball blew a 15-point lead to lose 73-71 to the No. 7 North Carolina Tar Heels. Here are five takeaways from the Volunteers' loss.
After the Memphis Grizzlies and Tennessee Titans won, it seemed like Tennessee Basketball could pull off the trifecta for the state when coming to unexpected major upsets this past weekend.
But Rick Barnes's team could not hold on in the end. The Vols blew a 15-point lead to lose to the North Carolina Tar Heels 73-71.
UNC began the comeback early in the second half, but the Vols never went away.
Tennessee constantly stayed with North Carolina until the end on the road. With the loss, they fell to 4-4 on the year.
North Caroline moved to 10-1 and 5-0 at home.
Here are five takeaways from the Tennessee basketball loss to the Tar Heels.
1. This team is loaded with mental toughness.
Usually, when an underdog in college basketball blows a big lead on the road, they are ready to pack it in and call it quits. But not this team. Sure, they lost to the Tar Heels, but as North Carolina made it close early in the second half, the Vols kept extending the lead. It wasn't until the 2:14 mark that they took the lead for good.
And they still had to hold on for dear life until the end. Yes, this loss is heartbreaking for the Vols, but they deserve credit for never quitting.
2. Robert Hubbs III continues to look like the superstar recruit he once was.
Maybe its because he has reached his senior year and knows this is his last chance to do anything, but Robert Hubbs III is slowly morphing into a superstar. He finished the game with 21 points on 9-of-11 shooting.
What's more is Hubbs didn't take any threes. He went to the basket on all of his points and added three free throws. Simply put he was unstoppable driving. Barnes probably wants to use that more to his advantage in the future.
3. The loss of Jordan Bone was finally exposed.
Shembari Phillips and Lamonte Turner appeared to be doing a great job running the point guard over the past few weeks. However, they struggled against a real team on Sunday, and it wasn't pretty.
Both players combined for eight turnovers at the point guard spot, and they only had three assists. That simply won't cut it, so Barnes and the Vols have to hold their nose when getting through the next few weeks against great teams if that continues. However, while Turner struggled at the point, he did show a positive side…
4. Lamonte Turner looks like he could indeed be a combo guard.
This was up for debate early, and his inconsistency is still a big issue. After all, going 3-of-11 is not something to brag about on top of the one assist to four turnovers.
But Lamonte Turner showed in the first half what he can be. He is still shaking off the rust of not playing a full season, but he finished the game with nine points. Turner as a scoring guard is exactly what the Vols need. He just needs to improve. But he's giving Tennessee basketball a bright future.
5. Tennessee basketball's forwards can play very aggressively.
Even when they're not scoring, the Tennessee basketball forwards will do all the little things to keep the Vols in the game. They completely out-hustled the Tar Heels as much as possible, and they also had some efficient play under the basket.
John Fulkerson was 4-for-4 from the field and added four rebounds and a block. Grant Williams added 7 points and six rebounds. Then came Lew Evans and Admiral Schofield off the bench. They didn't rack up too many stats but they were involved in the game when they were there, and as both can slowly get back into their groove, they should be great going forward.
More from All for Tennessee
This article originally appeared on