TCU Basketball: Will the Horned Frogs emerge from the Big 12 basement?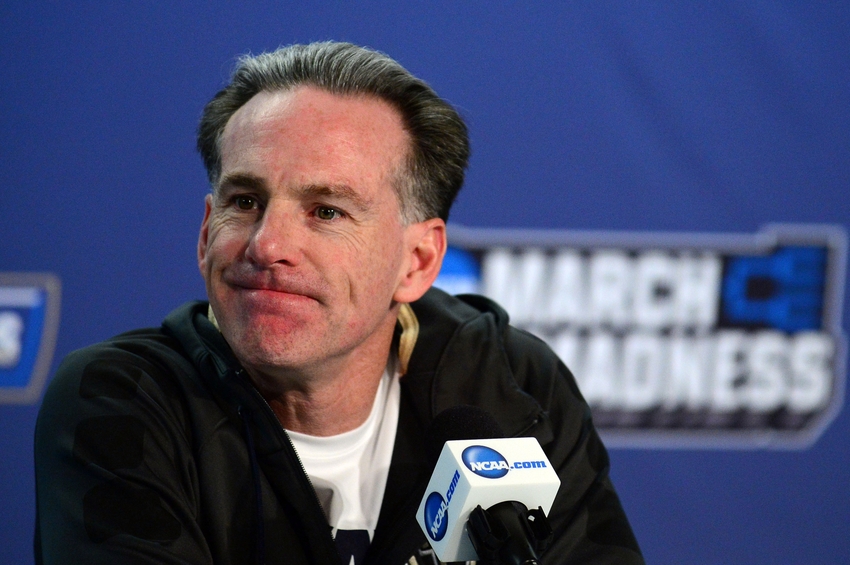 What will TCU basketball's rotation look like in Jamie Dixon's first year on the job?
Very little has gone right for TCU since joining the Big 12 in 2012. The Horned Frogs won just eight conference games in four years under Trent Johnson, so out he went this past spring.
Former Pittsburgh coach and TCU alum Jamie Dixon comes to Fort Worth in hopes of making the program relevant nationally.
It helps that the squad lost just 25 percent of their scoring with the departures of Chauncey Collins to the pro ranks and Devonta Abron to graduation. The remaining talent isn't overwhelming, but plenty of guys are still around to form a core with gritty potential. I like what I see developing down in Fort Worth.
Nine guys saw a solid amount of minutes last season, eight of whom got at least 19 a night. Dixon played about 10 at Pitt, but only three averaged more than 20 minutes per game. I'd expect a fairly deep rotation this season as TCU combines explosive new talent with gritty returnees.
Point guard: Jaylen Fisher
Jaylen Fisher is one of the highest recruits TCU has had in several years. Jamie Dixon's first big signing was rated as the 2nd best point guard in Texas and the eighth best nationally. He chose the Horned Frogs over multiple schools, including Baylor and Indiana.
The 6'2″, 175 pound floor general is a true point guard who will run Dixon's new system effectively. Right now he is good at pushing the ball up the court in transition and slashing to the hoop.
Like many guards his age, distance shooting and stronger ball handling are focus areas for the moment.
Fisher has a tremendous opportunity on a team that just saw it's former point guard jump to the pros. I'll put the freshman down for 7-9 points and 3-5 assists in 25-28 minutes per night.
Backup point guard: Alex Robinson
The former Texas A&M Aggie, Alex Robinson, will be a huge part of TCU's rebuild even if he backs up the true freshman Jaylen Fisher. Robinson was once the 63rd rated player in the ESPN class of 2014.
He was already in house when Jamie Dixon took over, but hasn't yet played a game in Forth Worth.
The 6'1″, 176 pound guard from Arlington, TX averaged 5.2 points, 2.3 rebounds and 2.6 assists for the Aggies in 2014-2015. He also had a solid three point stroke, as he shot 36 percent.
Fisher has the higher pedigree, but Robinson has more experience from his brief time in College Station. I can see the sophomore mirroring the 7-9 points and 3-5 assists in 25-28 minute a game that I projected for Fisher.
Shooting guard: Brandon Parrish
Brandon Parrish was one of the more consistent Frogs last season and is an important part of the back court rotation this time around. The senior has been a steady presence in his first three seasons, but more might be needed in his final campaign.
The 6'6″ guard is a solid defender because of his size. He put up 8.7 points and 3.5 boards in nearly 31 minutes an evening. Parrish was the best distance shooter at 42 percent and was the fourth option on offense for TCU last year.
I like Parrish flanking either Jaylen Fisher or Alex Robinson most of the time. 11-14 points and 4-5 rebounds per game are not just possible, but potentially necessary if Parrish wants to help TCU compete on the perimeter.
Backup shooting guard: Malique Trent
Malique Trent is the leading returning scorer, but I think he will start on the bench because of last season's inefficient shooting numbers. One thing counting in the junior's favor is that he led all Horned Frogs in steals a year ago.
The 6'2″ Virginia native contributed 11.6 points, 3.0 rebounds, 2.7 assists and 2.1 steals per game last year. Those are perfectly fine numbers except for shooting 25 percent from three, 39 percent from the field, and committing 2.8 turnovers per game.
I have no doubt Trent will have a role on the team, but better decision making has to come in year three. 8-10 points, 2-3 assists and two steals a night are about what I'll project right now for Trent.
Like the other shooting guards on the team, having true point guards passing the ball will help the offense run smoothly.
Utility guard: Michael Williams
Michael Williams is one of several seniors that will be needed this year. The Horned Frogs have some talented underclassman that could star, but experienced guys like Williams are useful in many situations during a season.
Williams saw 26 minutes per game last year in 28 of the team's 32 contests. The 6'2″ senior averaged just 4.2 points, but added 2.1 rebounds and 2.6 assists per game. He wasn't particularly efficient at just 24 percent from deep and 35 percent overall, but he was more of a facilitator and defender when he got out on the floor.
4-5 points and 2-4 assists are the numbers I'll give Williams for now. His minutes are entirely dependent on how capable the two point guards are early on, but anywhere from 15-25 minutes per night is possible.
Small forward: Kenrich Williams
Junior Kenrich Williams missed last season with knee problems, but was an important piece in 2014-2015. His recovery is something to watch as Williams seeks to return to the new TCU rotation.
At 6'7″, 205 pounds, the former junior college product was a solid scorer and one of the better defenders on TCU two years ago. Williams averaged 8.6 points on 47 percent shooting (35 percent from beyond the arc), along with 6.7 boards and 1.0 blocks per game.
Even with a potential logjam on the perimeter, those are reasonable numbers for a guy coming off a knee injury. He averaged nearly 28 minutes prior to the injury, but 23-25 minutes per game are more likely this year.
Backup small forward: Josh Parrish
Brandon Parrish's younger brother has some competition on the perimeter, but he can draw from his brother's experience to get a potential leg up on other players. He was one of the better recruits in Texas after a stat line of 20.7 points, 8.5 rebounds and 2.8 assists as a senior for Seguin High in Arlington.
Listed at 6'5″, 220 pounds, the younger Parrish has an excellent frame for his age. He looks like the type of guy who can develop into a huge contributor for head coach Jamie Dixon down the road. However, a small role focused on defense is in store for year one.
10-15 minutes and 3-5 points per game is all I'll project for this guy right now.
Power forward: Vladimir Brodziansky
Vladimir Brodziansky from Slovakia struggled through much of Big 12 play, but picked up his pace towards the season's end with three straight double-figure performances. He'll have to get more consistency if he wants to remain a starting option.
At minimum, the junior forward could greatly benefit from Jamie Dixon, who has put multiple bigs in the NBA in Steven Adams (OKC) and Aaron Gray.
At 6'11", 220 pounds, Brodziansky has the height to defend at a high level, but needs to continue his weight regimen to get stronger on the block. He contributed 9.7 points and 4.5 boards in just under 22 minutes an evening last year. He also swatted exactly one shot per game.
A similar stat line is reasonable for the solid junior.
Backup power forward: JD Miller
Sophomore JD Miller could end the season as one of the most improved players on the squad. He was surprisingly aggressive for a freshman, finishing fifth on the team in total points. Jamie Dixon's new scheme could really help Miller and the rest of what should be a mostly young TCU rotation.
Last season, Miller put up a stat line of 6.8 points and 4.3 rebounds per game. The 6'8″, 235 pound standout from Dallas was remarkably effective in just 19 minutes an evening, finishing the year as the team's most productive offensive rebounder.
Several upperclassman and a promising freshman will push Miller, but 7-9 points and 5-7 rebounds in 20-24 minutes a night is feasible for the emerging double-double threat.
Center: Karviar Shepherd
Karviar Shepherd was the best recruit Trent Johnson managed to sign in his four years on the job.
Despite his pedigree, Shepherd ended up in the doghouse near the end of last season. He was held out of four games and played 20 or fewer minutes in his final eight contests. Much more is needed from the former four-star recruit.
The 6'11", 230 pound forward averaged 7.1 points and 5.2 rebounds in just 20.5 minutes during 2015-2016. His total rebounding numbers just barely edged out Vladimir Brodziansky for best on the team.
I believe that Jamie Dixon will give the senior a chance in his system though.
Competition in the TCU rotation will be tight, but 9-11 points and 6-8 boards is what I'm giving Shepherd for his last year. Those would be his best averages since his freshman year when he averaged 30 minutes a game.
Backup center: Chris Washburn
Chris Washburn was inactive at the beginning of last season due to a thumb injury. He then struggled through nine straight single-digit scoring performances. The team hopes for a bounce back season for what had been a player on the rise.
During his junior campaign, Washburn put up just 6.6 points, 4.3 rebounds and 1.0 blocks in 24.3 minutes. Those numbers were all down from a promising sophomore season.
The thumb injury may have effected Washburn much more than people might have expected, but he still has the size (6'8″, 240) to compete for a rotation spot.
I'll keep his numbers right where they were last season until I see otherwise.
This article originally appeared on