Takeaways From LSU's Victory Over The Southern Miss Golden Eagles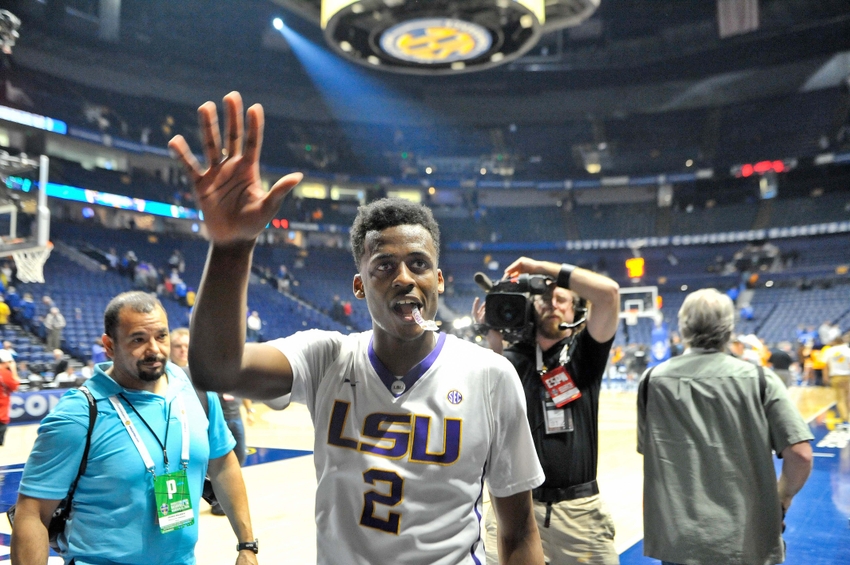 After starting the season off with a win over Wofford, the LSU Tigers grabbed a 78-61 victory over Southern Miss on Tuesday night at the Pete Maravich Assembly Center.
The Tigers led from just about start to finish, but the Golden Eagles did a nice job of hanging around until the very end. LSU was not able to put USM out of reach until an 11-3 run secured a Tiger victory.
Antonio Blakeney led with 26 points, Brandon Sampson had 11, and Duop Reath and Wayde Sims dropped 10 each.
It was a relatively routine win over a program LSU is expected to beat with ease, but as the Golden Eagles kept it close for much of the game, there are still several things that can be taken away from Tuesday's action.
Inability To Pull Away
As I mentioned earlier, the Tigers struggled to pull away from Southern Miss for much of the night. LSU was never in any real danger of seeing the Golden Eagles take the lead and pull away, but they were unable to take their 8-10 point lead and extend it to 15-20 to put the game away for good.
It's just the second game of the season, so it's not a terribly concerning issue at this point. But when the quality opponents begin to pop up on the schedule, this is something that will have to be changed.
Conference opponents are not going to just hang back while LSU struggles to take control. When the Tigers get a lead, they have to be able to extend it quickly and not give the other team any chance of coming back.
Complacency After Big Runs
This goes with my last point in a sense. I pointed out LSU's inability to take control of the game and pull out of reach, but that doesn't mean the Tigers didn't have their fair share of lopsided runs. Multiple times throughout the night we saw this team go all-out and produce a quick run somewhere along the lines of a 12-3 difference.
The Tigers would force a few turnovers and hit a couple of big shots, and suddenly they were bordering on a 15-20 point lead. But just as soon as they had extended the margin with an explosive spurt, Southern Miss would produce one of their own.
LSU seemed to get complacent after going on a big run, and that's a problem, no matter what team you are going up against. It is almost impossible to increase your lead if every time you widen the gap you lose focus and give it right back up. 
Turning It On When It Matters Most
For all the issues the Tigers had with pulling away from Southern Miss, the team's ability to forget all of that and take it to an entirely different level is not something that should go unnoticed. LSU struggled all night long to widen the gap to a point that wrapped up a victory, but as the final minutes hit, they locked in and got it done.
While you'd definitely like to see the team put lower quality opponents down sooner rather than later, it's certainty great to see the guys show a killer instinct late in the contest. As the LSU Tigers are tested later on in the season, that's an asset that will certainly help them in competitive games.
More from Death Valley Voice
This article originally appeared on