Syracuse Basketball: What's Now On Tap For SU's 2017 Recruiting Class?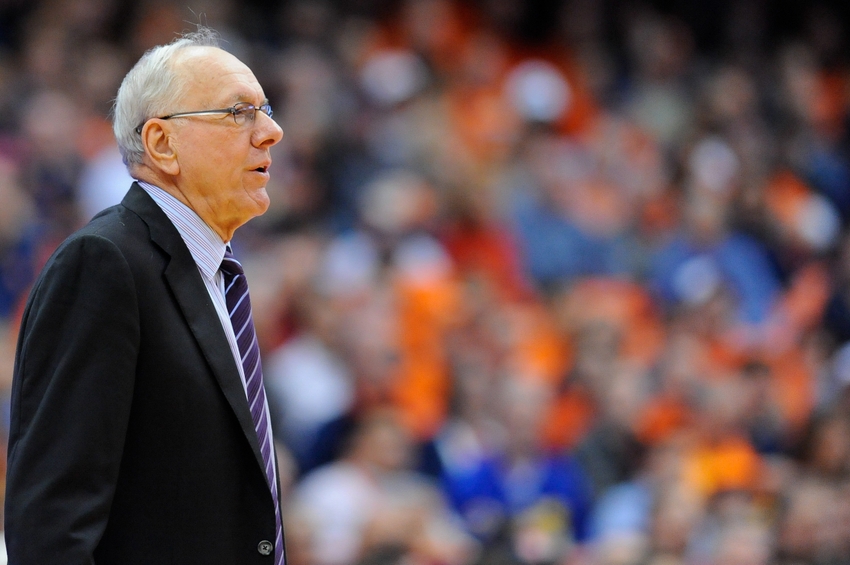 The 2016-17 Syracuse basketball season is in its infancy, but that hasn't stopped Neil Adler from looking ahead to 2017. What's on tap for the Orange?
The past few weeks have proven extremely busy on the recruiting front for Syracuse's basketball squad.
We've had some big-time misses, most notably Quade Green, along with Shai Alexander, Billy Preston, Nick Richards and Lonnie Walker.
On a positive note, the Orange has secured commitments from Oshae Brissett and Bourama Sidibe, two lower-ranked, yet extremely promising, prospects.
The early signing period is over. So how might 'Cuse's 2017 class eventually shake out come spring?
First, let's set the scene for what Syracuse is losing after this season. Graduate transfers John
More from Inside the Loud House
Gillon and Andrew White III, along with seniors Dajuan Coleman and Tyler Roberson, are gone. We know that much.
It's up in the air whether freshman Tyus Battle and sophomore Tyler Lydon come back. Both could certainly declare early for the NBA Draft.
Expected to return are sophomore Paschal Chukwu, sophomore Frank Howard, freshman Matthew Moyer, who is redshirting this year, and freshman Taurean Thompson.
That's four players likely on next year's roster, and possibly up to six, depending on what Battle and Lydon do. For the 2017-18 season, SU will have 11 scholarships. That's plenty of available schollies left to dole out.
The frontcourt, as it stands, has pretty good depth. I think we can all agree that the Orange needs more guards.
That's where Green's decision to pick Kentucky over Syracuse really hurts. Head coach Jim Boeheim and his staff made Green their number-one priority, recruiting him for the better part of two years. By expending so much energy on Green, the SU coaches had to shy away from other elite point-guard prospects.
So who are the Orange's options?
One possibility is 6-2 combo guard Howard Washington. A Buffalo, N.Y., native, Washington had been a member of the 2016 class, committing to Butler. According to Syracuse.com, Washington reneged on that commitment and has reclassified to the 2017 class.
An interesting thing to note here: he currently attends Athlete Institute Prep in Mono, Ontario, playing alongside Brissett.
Washington "absolutely loves Syracuse," his high-school coach recently told Syracuse.com. ESPN.com gives him a grade of 80, while over at 247Sports, Washington is listed as a three-star prospect and ranked No. 15 at his position.
According to both ESPN.com and 247Sports, he holds offers from about a dozen programs.
Jordan Tucker, a 6-7 small forward, has the Orange among his finalists. The four-star recruit, a native of White Plains, N.Y., plays at Wheeler High School in Marietta, Ga., near Atlanta.
Tucker is a top-40 prospect nationally, according to ESPN.com and 247Sports, with both Web sites listing him as the No. 8 small forward.
Syracuse.com notes that Tucker "is an excellent shooter who could easily play both small forward and big guard, especially in Syracuse's system."
Some powerhouse programs are eyeing him, including Arizona, Indiana, Louisville, Maryland and Villanova.
In the 247Sports Crystal Ball, Syracuse is listed as the front-runner for Tucker's services, at 67 percent. It's unclear how aggressively SU coaches are recruiting him at present.
The Orange is also on the short list for two of the highest-remaining recruits in the 2017 class who have yet to commit, although realistically Syracuse isn't likely to land either of them, especially after Green made Big Blue Nation his college destination.
Five-star center Mohamed Bamba and five-star shooting guard Hamidou Diallo are both considering 'Cuse. But Bamba is also weighing offers from the likes of Duke and Kentucky, while Diallo's final six is Arizona, Indiana, Kansas, Kentucky, Syracuse and UConn.
Green has said in media interviews that he plans to court Bamba and Diallo to the Wildcats.
Given all of this, Tucker and Washington appear as SU's best bets.
Another alternative is to scour the grad-transfer market again. Even though this season is in its infancy, I don't think it's an overstatement to say that Gillon and White represent terrific additions to the existing roster.
Undoubtedly, graduate transfers will present themselves as options, but please temper your expectations. We aren't likely to snag players as talented as Gillon and White in consecutive go-rounds.
While graduate transfers can have an immediate impact, we need some solid recruits who will stick around for three to four years.
As it stands, our two-man 2017 class is slotted at No. 57 across the country by 247Sports. If we secure another commitment or two, that ranking surely will move up.
Do we all want a much more highly touted class, chock full of stud recruits? Of course, we do.
But, despite so many Syracuse fans lamenting about Green and others shunning our beloved Orange, the sky isn't falling down.
Says who, you ask?
I'll tell you who.
The snarky curmudgeon who has led SU hoops for four decades, bringing us a national title, multiple Final Fours and close to 1,000 wins (hi, NCAA).
Yes, I'm talking about the one and only, James Arthur Boeheim.
In his post-game press conference after crushing South Carolina State on Tuesday night, he addressed his team's recruiting efforts. This is worth a read:
"Let's not get too upset over a recruit or two. We've lost 50-60 recruits over the years. We'll continue to lose recruits. We've got commits from two very good players, which is pretty good. We'll continue to recruit. … It happens all the time. You lose many, many times. Many times we lose key recruits, or supposedly, key recruits. It happens every day and, uh, geez, we're still here. It's not a disaster. There's no disasters that have happened."
Well said, JB.
This article originally appeared on