Syracuse Basketball: Taurean Thompson Shouldn't be Rushed Back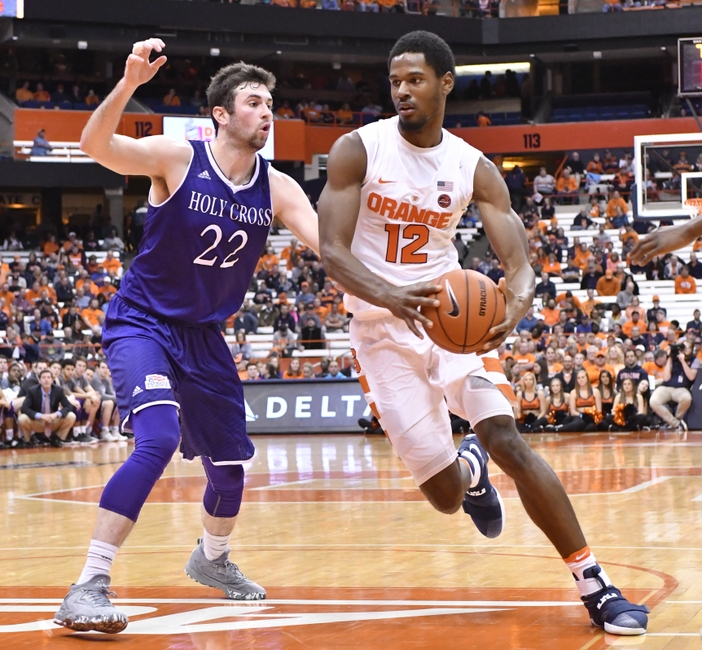 This Syracuse basketball team is deep and because of that they shouldn't rush Taurean Thompson back into the lineup, despite his immense talent.
With under five minutes remaining in the Syracuse basketball team's 71-50 win over Monmouth, freshman Taurean Thompson went down with an injury.
In 16 minutes a game this season, Thompson has given Syracuse great production. The Orange
More from Inside the Loud House
are loaded at the forwards with Tyler Roberson, Andrew White, and Tyler Lydon. As a result, it was unclear whether or not Thompson would see much time this season. But Thompson has certainly earned playing time early on in the season.
In just 16 minutes per game, the 6-foot 10 freshman is averaging eight points per game and just a shade under four rebounds per game. Those numbers are impressive, but what has been the real surprise is his efficiency. Thompson is shooting a whopping 65% from the field. Thompson is 11-17 on the year and about half of those made field goals have come outside the paint. There is no debating that Thompson has been great on the offensive end early on in his Syracuse career.
When Thompson went down late in the second half against Monmouth the crowd held their breath. After the game Mike Lindsley tweeted this:
Thompson on crutches. Leaves building. No word.

— Mike Lindsley (@MikeLsports) November 19, 2016
He is giving the Orange valuable production off the bench and the Orange will certainly miss him during the time he is out. Earlier in the week, we received word that x-rays were negative and Thompson could have a sprained foot. Yesterday, The Daily Orange's, Paul Schwedelson shared this:
Taurean Thompson is full-go at practice today. He missed last couple of minutes against Monmouth with an injury.

— Paul Schwedelson (@pschweds) November 21, 2016
That's obviously good news, you want your players healthy and playing. However, what you don't want is to rush back a young guy like Thompson. A foot injury is something you never want to mess with, and it can be easily aggravated.
Syracuse plays South Carolina State tonight, a team that is 1-2 on the year. South Carolina State has lost to Wichita State and South Carolina by an average of 44 points. The Orange should have no problem against South Carolina State and there is no need to rush back Taurean Thompson for this game.
I think Boeheim and the staff should let him rest today, give him a few extra days to prepare for South Carolina. The Orange will take on a very talented Gamecock team this Saturday. Get Taurean healthy for that matchup and then get ready for Wisconsin on the following Tuesday.
This article originally appeared on